Rent a Las Vegas 11-Passenger Van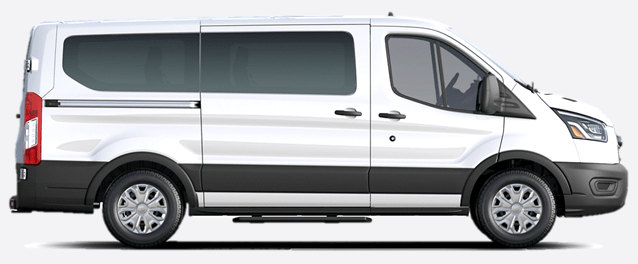 Book a 11-Passenger Van Online:
Las Vegas 11-Passenger Van Rentals
State Van Rental provides comfortable and spacious 11-passenger vans in Las Vegas, Nevada. Our vans from the leading manufacturers in America are perfect for making memories on a journey with peers, friends or family. 
Enjoy traveling from the hotel to any destination to see the West Coast's unique activities and locations. Our 11-passenger vans include adjustable seating and various add-on features to suit all your wants and needs. Prepare for your trip when you reserve your rental van today. 
11-Passenger Van Rental in Las Vegas
Renting an 11-passenger van in Las Vegas, Nevada, is easy with State Van Rental. Our office is minutes from Harry Reid International Airport (LAS). We provide free pickup and drop-offs to make your rental experience as quick and convenient as possible. 
Our 11-Passenger Van Models
We keep each of our 11-passenger vans clean and maintain them above manufacturer recommendations. They come with air conditioning, AM/FM radio, cruise control, remote keyless entry and airbags. Many of them also feature Bluetooth capability. We offer the following options:
Ford Transit: This sleek, modern van features privacy-tinted windows and a spacious interior to make traveling during the day and night comfortable. 
Chevy Express: This van features sliding or barn doors and rear doors that swing open, making it easy to get in or out of the vehicle and load or unload luggage. 
Frequently Asked Questions
Want to learn more about renting an 11-passenger van? Check out these common questions and answers.
The 11-passenger vans suit a group of 11 or fewer people. If you have more travelers or want more room to spread out and store luggage, we recommend renting a 12-passenger van or 15-passenger van for your trip.
At State Van Rental, you can customize your rental vehicle with various add-ons. Here are some options we offer:
Seating options: Add a safety seat for children. 
GPS navigation: Get from point A to point B with confidence.
Wi-Fi hotspots: Keep your group entertained with internet browsing.
Toll passes: Travel efficiently to each attraction with access to toll roads.
To book your rental van, please complete a reservation form with your pickup and drop-off dates and the van you'd like to book. After getting off your plane at the airport, our free shuttles can take you to our office within minutes. You'll receive your keys when you show your photo I.D., the credit card you paid with and proof of insurance coverage.
To avoid any late fees, we recommend that you return the rental van within one hour of the scheduled time. Please remove any garbage and refuel the van. For an added cost, we can also drop off or pick up your rental van at any convenient location. 
Book Your Vacation Vehicle Today
Since 2009, State Van Rental has provided over 110,000 travelers with reliable transportation. We're dedicated to providing the best rental vans for all your traveling adventures. Have peace of mind when you rent an 11-passenger van in Las Vegas, Nevada — fill out a form today!