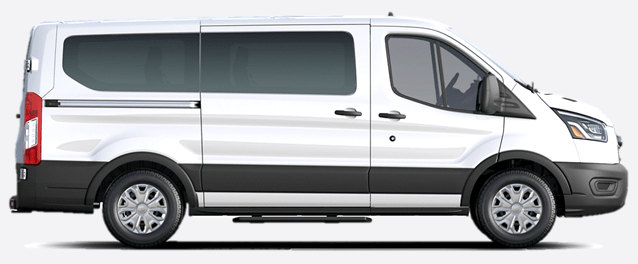 12-Passenger Van Rentals
Any group trip can be an amazing experience, especially when you have a solid plan for transportation as you arrive in a new city. If you're flying into Las Vegas or Los Angeles with a group, a 12-passenger van will ensure you can transport everyone in your group and all of their belongings with ease.
State Van Rental has two convenient locations at Los Angeles International Airport (LAX) and Harry Reid International Airport (LAS) where you can pick up a spacious 12-passenger rental van. We equip our fleet with reliable passenger vans from the manufacturers you know and trust to ensure a smooth group travel experience throughout your trip. State Van Rental is committed to getting you there together, so reserve your 12-passenger van today.
Why Rent a 12-Passenger Van?
Wondering if a 12-passenger van is right for your group trip to Las Vegas? These vehicles provide a few benefits that make them ideal choices for groups of 12 or fewer people. From family vacations to religious retreats, sports trips, corporate getaways and more, a 12-passenger van can be the ideal transportation solution. Learn more about the reasons why you should rent a 12-passenger van for your trip to Los Angeles.
Spaciousness
A 12-passenger van will lend all the space you need for comfortable travel. Entering and exiting the vehicle is easy, and everyone in your group will have a comfortable place to sit. Smaller groups can benefit from the additional luggage space 12-passenger vans provide, too. Larger groups can enjoy extra cargo space with an Extended model. Choose a 12-passenger van to make the journey as pleasant as the destination.
Cost Savings
Travel fees add up fast when you consider fuel, parking and tolls — especially when everyone in your group has to pay individually. Renting a 12-passenger van will enable your group to consolidate expenses for a more affordable trip.
Organization
Any group trip is better when everyone knows the itinerary and sticks to it. Your group will have plenty of time to get on the same page when riding together in a 12-passenger van. Plus, you'll all arrive at the same time everywhere you go.
Time Spent Together
At the end of the day, group trips are all about learning and exploring together. Rental vans open new opportunities for your group to get to know each other and form lasting bonds.
12-Passenger Van Models
The State Van Rental fleet comprises numerous 12-passenger van models from dependable American manufacturers like Chevy and Ford. Every vehicle comes with the features and amenities you expect, like air conditioning, automatic transmission and AM/FM radios. Most units include Bluetooth compatibility.
Chevy Express and Express Extended
The Chevy Express has two front seats and multiple back rows to fit 12 people in total. These vans feature either sliding or barn passenger doors on one side, plus trunk doors that swing open. Extended models feature spacious rear storage compartments for up to seven bags. You can transport your group confidently in a Chevy Express with side-impact and side-curtain airbags for your protection. We also offer the longer Chevy Express Extended for extra storage space.
Ford Transit
The Ford Transit 12-passenger van is a roomy vehicle with a sleek modern design and tinted windows. These vans accommodate up to 12 passengers and one to two bags. The side-impact and side-curtain airbags ensure peace of mind everywhere you drive.
Add-Ons for Your Rental Van
State Van Rental offers extra options that will make your group trip even more enjoyable. Enhance your 12-passenger van with perks like Hotspot Wi-Fi, toll pass modules and GPS tracking systems that are available for a daily fee. We also offer options like child seats and seat removal for a one-time charge.
Our Rental Process
Renting a 12-passenger van from State Van Rental is as easy as submitting an online request. We'll gather some information about your trip to help you determine the right vehicle and plan when you'll pick it up and drop it off. We have free shuttle services to take you from LAX or LAS to our Los Angeles and Las Vegas locations.
When you arrive, present your photo I.D., the credit card used to reserve the van and your proof of coverage to receive your keys. Please return your vehicle within one hour of your return time to avoid being charged an additional day. We ask that renters refuel their vans and remove any garbage before returning the vehicle. We also offer vehicle delivery and pick-up services if that's more convenient for you than visiting our offices.
Do You Need a Special License to Drive a 12-Passenger Van?
The need for a specialized license varies by state and circumstance. For further information, please call our team at (888)-315-6888 or send an email to info@statevan.com.
Choose State Van Rental for 12-Passenger Vans
State Van Rental is here to help you make the most of every trip, so choose one of our 12-passenger vans when you visit Los Angeles or Las Vegas. Our vehicles are comfortable, clean and dependable, and we maintain them beyond industry and manufacturer recommendations.
We offer affordable rental and mileage fees for all customers, plus additional discounts if you're active-duty military personnel or a AAA member. Our fees are always transparent so you know exactly how much you'll expect to pay as you reserve your 12-passenger van. Count on State Van Rental to take you further for your dollar and help you enjoy the journey as much as the destination.
Reserve a 12-Passenger Van Today
State Van Rental is here to give you the mobility you need for a memorable trip to Las Vegas, Los Angeles and the surrounding areas. With two convenient offices near LAS and LAX, you can connect with us at a time and location that fits your itinerary.
We encourage you to reserve a van before your trip or contact us online for further information. Find the right transportation rental for your next group adventure with State Van Rental and you'll enjoy the trip in style and comfort!
From Hollywood to Disneyland, State Van Rental is Here to Jump Start the Magic.
Lucia R.

Auburn, WA

"Customer service is an A+ from the time we called and made the reservation until the end of our rental. The prices are great! We rented a mini van for 8 and it was perfect and clean! Keep up the good customer service! It truly makes a difference. Kindness goes a long way. Thank You, we will return."
Peter G.

Los Angeles, CA

"The experience at State Van Rental was wonderful, the staff was very knowledgeable and fast. I would recommend this company to my friends and co-workers. The rental process was fast and easy. The price was reasonable. I had a wide range of van's to pick from. I really enjoyed the experience at State Van Rental."
Desmond D.

San Francisco, CA

"Recently rented a 12 passenger van from State Van Rental for a baseball tournament. Pete made the process super easy. He came to pick us up from the rental car center (short shuttle ride from airport) to take us to their offices. After a quick inspection and signing of paperwork we were on our way. The return of the vehicle was even easier. We dropped the van off at the airport and Pete personally gave us a ride to our terminal at the airport. One of our guys left a pair of shoes in the vehicle, and Pete made it very easy to coordinate so that we could get them back. The van was clean, process was simple, and customer service was A+. Will definitely use them again in the future. Thanks again!"
Jake W.

Kailua, HI

"State Van Rental is first class! They also provide pick up service before normal operating hours. And even offer late drop-off at no extra cost. Thank you so much on the best Van deal in town. Aloha"
Allan P.

Kennesaw, GA

"We were initially worried about using a smaller company. I contacted State Van in LA and rented a minivan for a week. The price was much lower than the bigger companies and unlimited miles. The van was in great shape. They picked us up from airport and dropped us off when we came home. They also found my lost glasses and shipped them back to me. They were upfront about costs and fees and didn't try to nickel and dime me for add-ons like other larger companies have. Without a doubt I'll use them again next time I come out west. Great Price, Great Service, Great Product."
Tina M.

Las Vegas, NV

"State van is a life saver! I experienced a TON of problems trying to renta van for an emergency last minute trip to California on a Sunday of all days. I was about to give up all hope until my daughter found State Van rentals via a Google search. Thank goodness she did! They are friendly, patient, courteous and just an all around great place to rent a van from. Most definitely will be coming back for ANY rental I may need. These big car rental corporations wcan learn a thing or two from State van, Good Job State Can rentals and keep up the great work!"