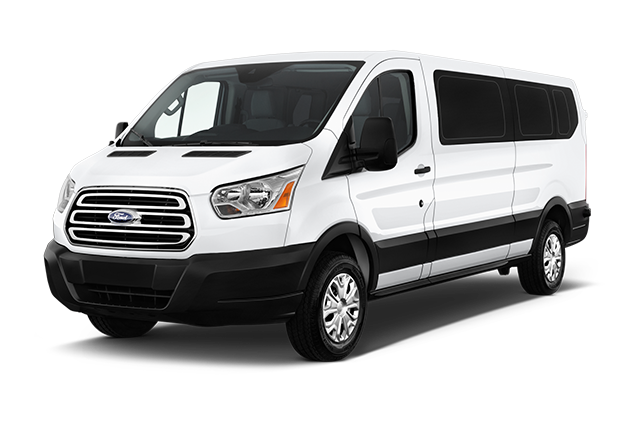 15-Passenger Van Rentals
State Van Rental has luxurious 15-passenger vans from top manufacturers like Ford and Chevy. Rent with us for an affordable rate on a vehicle that will get your entire group to every destination together. We have offices near Los Angeles International Airport (LAX) and Harry Reid International Airport (LAS), so reserve your vehicle before you fly into town.
Why Rent a 15-Passenger Van?
Traveling with a large group is lots of fun, especially when visiting amazing cities like Los Angeles and Las Vegas. Whether you're driving across the city or paving your own adventurous path through the West Coast's valleys and desserts, you'll need a vehicle that seats every passenger comfortably. For the largest tour groups, a 15-seater van is the best way to get around Los Angeles, Las Vegas and the surrounding areas.
When you travel in a 15-passenger van, you know you'll have all the space you need to enjoy your trip. A 15-seat vehicle will have a space for everyone in your tour group. Traveling in a group smaller than 15? It's possible to remove the seats and use the extra space to carry even more luggage.
The benefits of using a 15-passenger van for your tour group go beyond spaciousness. These vehicles help groups have more fun by staying organized and spending more quality time together. Everyone in your group will arrive in unison with plenty of time during the trip to bond and share important itinerary information. What's more, everyone will save money on expenses like fuel, parking and tolls that often drive costs when you're traveling separately.
Our 15-Passenger Van Models
At State Van Rental, we pride ourselves on providing reliable 15-passenger vans from leading American manufacturers. We're sure to keep each vehicle sparkling clean and maintain them above and beyond manufacturer recommendations. Each vehicle is equipped with the necessities like air conditioning, radios, airbags and more. Bluetooth compatibility is available for select models. Our customers can choose a powerful, spacious Ford Transit or Chevy Express passenger vehicle. These models will fit everyone in your group of 15 or fewer with enough storage space for everyone's under-seat carry-on luggage.
Add-Ons for Your Rental Van
State Van Rental offers even more ways for you to enjoy your group's 15-passenger van. You can choose to add unique perks and services that will make your trip all the smoother.
Our Toll Passes enable access to toll roads in California or Nevada to speed up travel times. Add a Wi-Fi hotspot to your rental so your group can surf the web while you cruise along California's coast. We also offer GPS navigation systems so you'll save cellular data and focus on the road.
Traveling with children or need extra space for luggage? You can add a child seat or request seat removal to ensure your van is ready to meet your needs.
Reserving, Picking Up and Returning Your Van
When you're ready to get started with State Van Rental, you begin a new reservation online. At this time, you'll choose either our LAX or LAS location and set the dates and times you'll pick up and return the vehicle. From there, you'll see a list of vehicles available for your date selection. Click on the vehicle you'd like and either choose to pay now or pay later. You can modify or cancel your reservation at any time.
When you arrive at LAS or LAX, we can send a free shuttle to bring you to our office in minutes. Show us your driver's license, credit card and proof of insurance to receive the keys to your rental van. We'll have you off and running fast. State Van Rental can also deliver your vehicle to a location of your choice for a fee.
At the end of your rental period, fill your vehicle's fuel tank and empty any garbage before returning it to our office. Late returns result in an extra day's charge, but we allow a one-hour grace period. Our team is also available to pick up your rental at any location for a fee if that's most convenient for your itinerary.
Do You Need a Special License to Drive a 15-Passenger Van?
Regulations regarding the driver's licenses required to operate 15-passenger vans vary by state and circumstance. We encourage you to call us at (888) 315-6888 or send an email to info@statevan.com for further information.
Rent With State Van Rental
At State Van Rental, getting you there together is our mission, and it's one we've consistently accomplished for more than a decade. How do we achieve van rental services that lead the industry in California and Nevada? We prioritize vehicle quality and pay close attention to the details that count.
We have a massive fleet with scores of luxurious, sparkling-clean passenger vehicles that we maintain above and beyond recommendations from the manufacturers and the rest of the industry. Our stellar customer services team is here to field information about your trip and ensure we provide the right vehicle for your needs at a price you can afford.
Whether you're traveling with your company, embarking on a religious retreat or vacationing with extended family, State Van Rental will give you the mobility to enjoy your trip to Las Vegas, Los Angeles and the surrounding areas.
Reserve Your 15-Passenger Van Today
If you're planning a group trip in Los Angeles or Las Vegas, a 15-passenger van is the best way to get around once you've arrived. State Rental Van has a fleet of clean, comfortable 15-passenger vehicles ready to take your tour group all around Las Vegas, Los Angeles and beyond.
When you have somewhere to be, State Van Rental is committed to getting you there together, so rent one of our 15-passenger vehicles today. We'll be there to shuttle your group right to its luxurious travel vehicle as soon as you land at LAS or LAX. Our customer service team is here to ensure your trip goes according to plan. To get started, start a new reservation online or get in touch to discuss your trip!
From Hollywood to Disneyland, State Van Rental is Here to Jump Start the Magic.
Lucia R.

Auburn, WA

"Customer service is an A+ from the time we called and made the reservation until the end of our rental. The prices are great! We rented a mini van for 8 and it was perfect and clean! Keep up the good customer service! It truly makes a difference. Kindness goes a long way. Thank You, we will return."
Peter G.

Los Angeles, CA

"The experience at State Van Rental was wonderful, the staff was very knowledgeable and fast. I would recommend this company to my friends and co-workers. The rental process was fast and easy. The price was reasonable. I had a wide range of van's to pick from. I really enjoyed the experience at State Van Rental."
Desmond D.

San Francisco, CA

"Recently rented a 12 passenger van from State Van Rental for a baseball tournament. Pete made the process super easy. He came to pick us up from the rental car center (short shuttle ride from airport) to take us to their offices. After a quick inspection and signing of paperwork we were on our way. The return of the vehicle was even easier. We dropped the van off at the airport and Pete personally gave us a ride to our terminal at the airport. One of our guys left a pair of shoes in the vehicle, and Pete made it very easy to coordinate so that we could get them back. The van was clean, process was simple, and customer service was A+. Will definitely use them again in the future. Thanks again!"
Jake W.

Kailua, HI

"State Van Rental is first class! They also provide pick up service before normal operating hours. And even offer late drop-off at no extra cost. Thank you so much on the best Van deal in town. Aloha"
Allan P.

Kennesaw, GA

"We were initially worried about using a smaller company. I contacted State Van in LA and rented a minivan for a week. The price was much lower than the bigger companies and unlimited miles. The van was in great shape. They picked us up from airport and dropped us off when we came home. They also found my lost glasses and shipped them back to me. They were upfront about costs and fees and didn't try to nickel and dime me for add-ons like other larger companies have. Without a doubt I'll use them again next time I come out west. Great Price, Great Service, Great Product."
Tina M.

Las Vegas, NV

"State van is a life saver! I experienced a TON of problems trying to renta van for an emergency last minute trip to California on a Sunday of all days. I was about to give up all hope until my daughter found State Van rentals via a Google search. Thank goodness she did! They are friendly, patient, courteous and just an all around great place to rent a van from. Most definitely will be coming back for ANY rental I may need. These big car rental corporations wcan learn a thing or two from State van, Good Job State Can rentals and keep up the great work!"