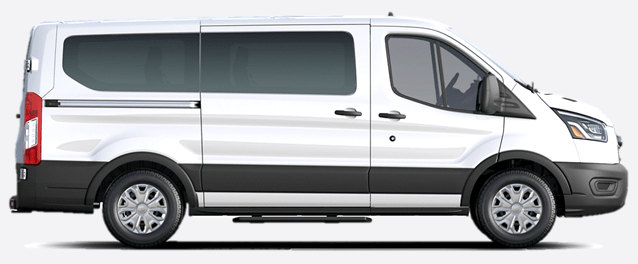 Book a 11-Passenger Van Online:
Rent an 11-Passenger Van
At State Van Rental, we want your next trip to the West Coast to be your most memorable one yet. Whether you're traveling with family and friends, a church group, a sports team or business colleagues, our rentals allow you to make the most of every second of your journey. When you're traveling with a group of 11 people or fewer, our adjustable, spacious vans are the ideal solution to take you down the coast or get you from hotel to destination.
California and Nevada are home to some of the most beautiful cities, monuments and people in the entire United States. These states offer an abundance of activities and unique locations to visit, and whether you're in town for business or pleasure, taking some time to see the sights is a right of passage. Having an 11-passenger van rental that sits everyone in your group allows you to come and go as you please and see everything on your time.
Rentals in 2 Convenient Locations
Our rental locations are conveniently situated just minutes from Harry Reid International Airport (LAS) and Los Angeles International Airport (LAX), allowing you to check off the first item on your itinerary the moment you land. Our team will meet you at the airport and bring you to your van so you can get on the road.
State Van Rental's 11-Passenger Rental Options
Our fleet consists of two low-roof models, American-made for comfort and reliability:
The Chevy Express: This accessible van features sliding or barn doors, swing-open trunk doors and side-impact airbags around the entire passenger space. 
The Ford Transit: The Ford Transit offers a spacious interior with tinted windows for your private or jet-lagged group. Travel day or night in comfort.
For 11-passenger groups, we adjust one of our 12- or 15-passenger vans, removing some seats in the back to provide you with more space to spread out and stow your luggage. Our 12-passenger options also come in Extended versions if your group has extra luggage or heavy equipment to transport.
Add-Ons to Make the Journey Even Easier
Every vehicle in our fleet comes with the standard van amenities like AM/FM radio, cruise control and remote keyless entry. Many of them also have additional features like Bluetooth capability, and we offer a range of add-ons that make your trip easier to navigate, including:
GPS: Get where you need to be easily and avoid traffic or getting lost along the way.
Wi-Fi hotspot: Stay connected to your loved ones on long drives, and find something online to keep all passengers occupied.
Toll passes: Pay for any tolls you encounter now so that you can keep cruising when you happen upon them. 
Safety seats: Traveling with kids? Make sure they stay safe by letting us know to install safety seats beforehand.
Choose the Van Rental Specialists to Get You on Your Way
Since 2009, State Van Rental has facilitated thousands of trips around Nevada and California. We keep our fleet clean and well-maintained so every group can have a fantastic driving experience. Rent an 11-passenger van with us today — you can schedule your reservation online.