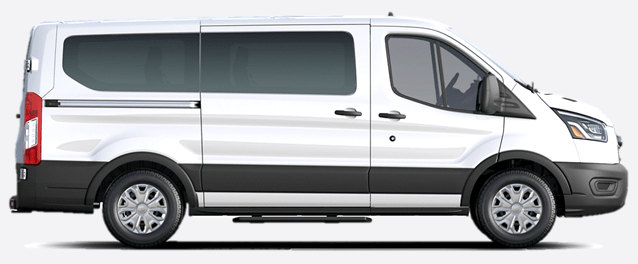 Book a 7-Passenger Van Online:
Rent a 7-Passenger Van
Nevada and California are the homes of many national landmarks, conferences and escapes for tourists worldwide. With so much to do and see every time you visit, you need your own ride to get you everywhere you want to go in the limited time you're here. And when you're traveling in a group, you have the extra challenge of ensuring everyone gets a comfortable ride they can enjoy with their friends while still arriving where they need to be on time.
At State Van Rental, we aim to ensure every group gets the van rental they need to stay together as they traverse the best locales on the West Coast. Your group of seven is the perfect size to secure a spacious travel van you can relax in and keep all your luggage and equipment together.
Learn About Our 2 Locations With Free Shuttle Service
Our locations are just down the road from Los Angeles International Airport (LAX) and Harry Reid International Airport (LAS). When you touch down, our team will pick you up and take you straight to your van so you can continue on your way. From there, you can travel on your own time and simply return your rental van on the way back to the airport. See the most of the area by traveling from LA to Las Vegas (or vice versa) — we'll meet you there!
Looking for a 7-passenger van rental in LA that can accommodate your passengers and luggage? Call today! We also offer Las Vegas 7-passenger van rentals to accommodate groups visiting all that Nevada has to offer.
Van Models for Your Trip
We can remove a number of seats in our vans to give you ample open space and create a 7-passenger van with lots of space for your passengers and luggage. Whether you end up with our reliable Chevy Express or sleek Ford Transit, our low-roof models get professional cleanings and exceed all maintenance standards from the rental industry and vehicle manufacturers. 
Travel in Comfort
Whichever one of our 7-passenger rental vans you end up with, know you'll find a range of amenities to please everyone, including cruise control, air conditioning and power outlets. Many of our vans also come with Bluetooth connections. If all our standard features aren't enough to please, let us introduce our list of add-on features that can make the journey even easier, like:
GPS navigation: A navigational tool in a new city is essential. Make sure you can get everywhere you want to go and save yourself the stress of getting lost.
Toll passes: Don't delay even for a second when you're on the road by adding a toll pass onto your van so you can continue through every stop.
Wi-Fi hotspots: Wherever you go, make sure you stay connected with your group and update everyone back home about the exciting things you're doing.
Safety seat adjustments: If you're traveling with children, we'll make sure they're as safe in our vans as everyone else by installing safety seats before you leave our premises.
Request Your 7-Passenger Van Rental Today
When you travel with State Van Rental, you can rest assured our comfortable, reliable 7-passenger van rentals will take you everywhere you want to go. Round up your itinerary and make your reservation with us today so you can start planning a trip you'll always remember.