Rent a Los Angeles 11-Passenger Van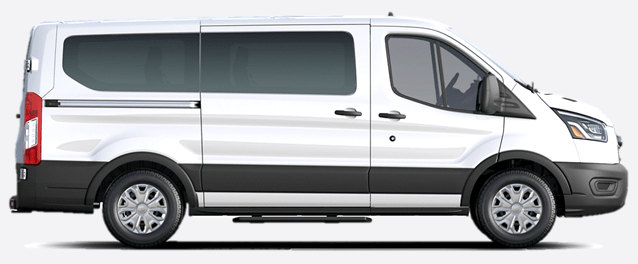 Book a 11-Passenger Van Online:
Los Angeles 11-Passenger Van Rentals
Enjoy making memories on the West Coast when you rent an 11-passenger van in Los Angeles, California. State Van Rental provides the comfortable and spacious transportation you need when traveling with family and friends, work colleagues, a sports team or a church group. 
Renting an 11-passenger van allows your group to make the most of your journey together. Riding in one vehicle makes it easier to follow your scheduled itinerary and store all your belongings together.
LAX Airport Van Rental
Our State Van Rental office is less than 10 minutes from the Los Angeles International Airport (LAX). We offer free pickup and drop-off from LAX to make your rental process as convenient and quick as possible. 
Our 11-Passenger Vans in Los Angeles
We're proud to provide 11-passenger vehicles from America's top manufacturers. We offer Chevy Express and Ford Transit models with spacious interiors and tinted windows. The accessible vans feature sliding or barn doors and swing-open rear doors, making it easy to move in and out of the vehicle with luggage.
If you'd like more space, we recommend renting one of our 12-passenger vans or 15-passenger vans for your trip. We can add seats for children or remove seating to create more storage for souvenirs, bags and luggage. 
Frequently Asked Questions
Discover more information about 11-passenger vans from these common questions and answers. 
State Van Rental provides your rental van solutions when planning any trip, such as a retreat or vacation. Since 2009, we've provided high-quality and dependable transportation to over 110,000 travelers.
We also provide ways to save using discounts, including cost reductions for military members and money-saving programs for AAA members. When you choose a rental van from our company, our transparent pricing policy eliminates any hidden fees or surprise charges. You have peace of mind knowing you can modify or cancel your reservation anytime. 
Each of our 11-passenger vans comes with necessities like air conditioning, radios and airbags. We offer additional products and services such as toll passes, GPS navigation, Wi-Fi hotspots and child safety seats to suit all your travel needs. 
Booking a rental van is easy with State Van Rental. To get started, complete a reservation form and select the rental van you want. Our shuttle can take you to our office when you arrive at LAX. After seeing your photo I.D., the credit card you used for payment and proof of coverage, you'll receive your keys.
When it's time to return your rental van, we recommend arriving within one hour of the scheduled time to avoid any late charges. Please refuel your rental van and remove any garbage before you return it. For a fee, we can drop off or pick up your rental van at any location to make your trip more convenient.
Reserve Your Trip Transportation Today 
State Van Rental offers competitive prices for 11-passenger van rentals in Los Angeles, California. To prepare for your trip, book your rental van today!