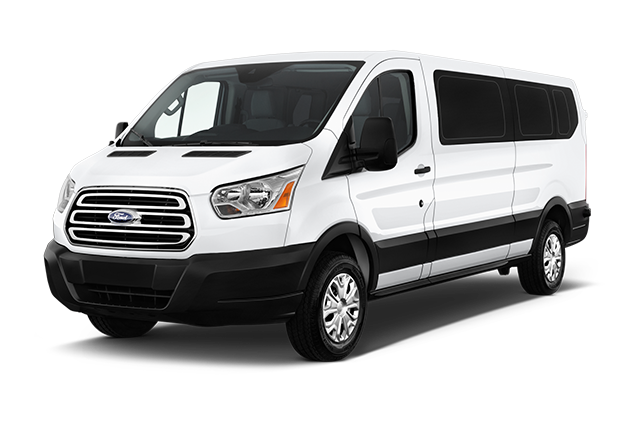 Rent a Chevy Express 15-Seater Van Online in Los Angeles or Las Vegas:
Chevy Express 15-Passenger Van Rentals in Las Vegas and Los Angeles
A good road trip strengthens the bond of any family, team or group, and to get the most out of it you want everyone to be able to travel together. The key is finding a spacious and comfortable vehicle that can get you everywhere you need to be reliably. At State Van Rental, we strive to be an ally to travelers near and far, enabling them to see the best of California and Nevada together.
If your mid-size group is looking for a way to travel together, our selection of Chevy Express 15-passenger van rentals could be the solution. We have two convenient locations just minutes away from Harry Reid International Airport (LAS) and Las Vegas International Airport (LAX). From the moment you arrive in the area until the time you're ready to head home, we'll provide you with accessible transportation, allowing you to get everywhere you need to go.
When Should You Choose a Chevy Express 15-Passenger Van Rental?
A group of 12-15 people is the perfect size for our fleet of Chevy Express vehicles. Our van rentals allow you to make the most of your trip by helping you:
Stay on schedule: When everyone travels in the same vehicle, it's easier to stick to your itinerary or change it where necessary.
Save money: Using one vehicle means you only need the funds to fill one gas tank and pay for tolls and parking once instead of multiple times.
Store luggage: Traveling with fewer than 15 people means you'll have plenty of room to store everyone's things.
Experience the West Coast in Comfort
With extra-wide driver and passenger seats, a center aisle and four rows of adjustable seating available, State Van Rental's 15-passenger van rentals make sure everyone can reach their destination in maximum comfort. Take a look at all the amenities we offer below to keep you satisfied from the moment you get your van until you're ready to return it. Your trips to places like LA, the Vegas Strip and the Grand Canyon will surely be an unforgettable experience in luxury.
Note: In some states, drivers may be required to have a special license to drive 15-passenger vans. For more information regarding how this pertains to your specific journey, please contact us at 888-315-6888 or info@statevan.com. 
Make Your Trip Easier With State Van Rental
At State Van Rental, we take pride in each vehicle within our fleet. Our Chevy Express vans are maintained well above industry and manufacturer standards so that you can feel comfortable throughout your entire trip to the West Coast. These vans are efficient enough to keep to your schedule, reliable enough to win your trust and spacious enough to make every part of your journey enjoyable.
If you know when you're making the trip to Nevada or California, make a reservation with us today. We'll set aside your Chevy Express and make sure it's clean and prepared for your arrival. Let us be your travel ally with affordable deals and attentive customer service. Contact us to learn more about our special discounts for active-duty military and AAA members.