Along with the movie studios and high-end shopping that make it the entertainment capital of the world, Los Angeles is a coveted vacation destination for its beautiful vineyards, national parks and beaches. Traveling by air is one of the most common ways to reach the City of Angels, which will leave you needing transportation once you arrive.
If you're traveling to Los Angeles with a group, getting a van rental can make your experience more convenient and comfortable for everyone. Keep reading to learn more about picking up a van rental at the Los Angeles airport and how you can most enjoy your time in Los Angeles.
                                                   Passenger Van Rentals

Passenger vans can hold a group of eight, 12 or 15 passengers depending on the model and size. If you are traveling with a group that is too small to justify getting a charter bus but too large for a one-passenger car, a van rental is a great solution for keeping everyone together.
Traveling the city via passenger van is ideal for families and teams of professionals. Cargo vans are also available, giving you plenty of options in terms of the van's features.
If you're flying in or out of the Los Angeles International Airport (LAX), book an airport van rental to do a pick-up or drop-off as a complimentary service. State Van Rentals offers this service and has a location about five minutes from LAX. This means less scrambling for reliable transportation into the city once your party lands.
It's also important to find a company with flexible reservation options that give you a service fitting for your needs, whether you require a vehicle for a day, the weekend or a longer period.
Car Rentals
Getting a rental car is a quick, uncomplicated process for travelers seeking to explore Los Angeles. If a passenger van is too large for your group, consider renting a compact car or a minivan instead. The option you select should accommodate your group effectively for the best possible deal.
Renting private transportation is very common for travelers to this city. Picking up a car or minivan rental at LAX is perfect for traveling the city in style, avoiding the hassles of public transportation and going directly to where you want.
Benefits of LAX Van Rental
The many benefits you can enjoy by starting your trip with a Los Angeles airport passenger van rental include:
Save miles on your car: The combination of air travel and taking a rental spares your personal vehicle from vacation miles.
Keep the group together: Instead of carpooling in multiple vehicles, a van keeps a larger group together for negotiating the logistics of visiting attractions.
More convenient than public transportation: With a larger group, taking public transportation can present some challenges. You would be forced to either split up or limit your party to bus routes and walking.
Go where you want: Having your own transportation allows you to take complex sight-seeing routes or go directly to an attraction and do organized drop-offs. You can spend as much time as you want out before returning to your hotel rooms.
Avoid car maintenance: With a personal vehicle, you would have to keep up with maintenance checks before and after the trip and handle any issues while you're on the road in an unfamiliar city. Rentals with a quality company are reliable and well-maintained.
Drive a vehicle in good condition: A rental van is expected to be in working order, whereas your personal vehicle might be less feasible for taking a trip in.
Tips for Picking up Your Van Rental After Your Flight Lands
If you plan to get a 12-passenger van rental at the Los Angeles airport or another type of rental vehicle, you want to know what to expect. Los Angeles is a large, expressive city that can feel a lot like walking into a different culture, even for domestic travelers. Below are tips for securing your rental after your flight lands:
1. Make a Reservation a Week or Earlier in Advance
Avoid waiting until you arrive at LAX to get your transportation sorted out. Make sure you plan and budget for transportation along with the hotel and return flight. Avoid a scenario where you plan to rely on public transportation only to realize later that your group needs a rental.

2. Check State Licensing Requirements
If you're getting a 15-passenger van rental at the Los Angeles airport, your driver might need a commercial driver's license (CDL) for your party to proceed. California law is subject to change, so be sure to verify the requirements before you head out.
3. Know Where to Pick up Your Rental
After exiting the airplane, your group should move to the lower arrivals level. This area is near the baggage claim station. The airport generally authorizes pick-ups under purple signs that say "Rental Car Shuttles." You can get detailed directions by speaking to a customer service representative at the airport.
4. Contact Your Rental Company Directly With Questions
If you are trying to locate your rental or need to troubleshoot an issue, the fastest way to get help is to contact the rental company's customer service hotline. Otherwise, you could have a long wait in line. Airport customer service representatives might be unable to address specific questions about a rental service.
5. Plan Your Routes in Advance
It's important to discuss travel plans with your group even when using a rental vehicle. When you're carpooling, you might need to make arrangements to coordinate pick-ups. Avoid trying to see everything in Los Angeles in a single day, and do enough research on the area to have plans in mind.
6. Wait out Rush Hour Traffic at the Airport
As a major city with many appealing vacation destinations, Los Angeles is always a busy place, but peak hours result in a noticeable boost in traffic. Mornings and early evenings are usually the busiest on the roads. You can easily spend this time regrouping for a food break or discussing your upcoming plans.
7. Be Familiar With Your Group's Parking Options
In Los Angeles, you can find plenty of off-street parking, and prominent attractions or hotels often have valet parking for a lower fee than parking garages. To get the most out of your parking experiences, research the options at the venues your group plans to go to before attending any important events.
8. Look for Curb Colors
Curb colors in Los Angeles show where you can park short-term or pick up passengers. If you see a red curb, it indicates a no parking zone.
Rent a Passenger Van for Your Los Angeles Trip With State Van Rental
Excited about your trip? We can provide your group with a high-quality vehicle for exploring Los Angeles in style. We work with domestic and international travelers, and our professional customer service is available to assist you.
Our 12 and 15-passenger vans are designed for each guest's comfort and security. We also have minivans and compact car rentals. Contact us online or call us at (310) 641-7000 to make your reservation. You can also fill out the form online to set up a reservation.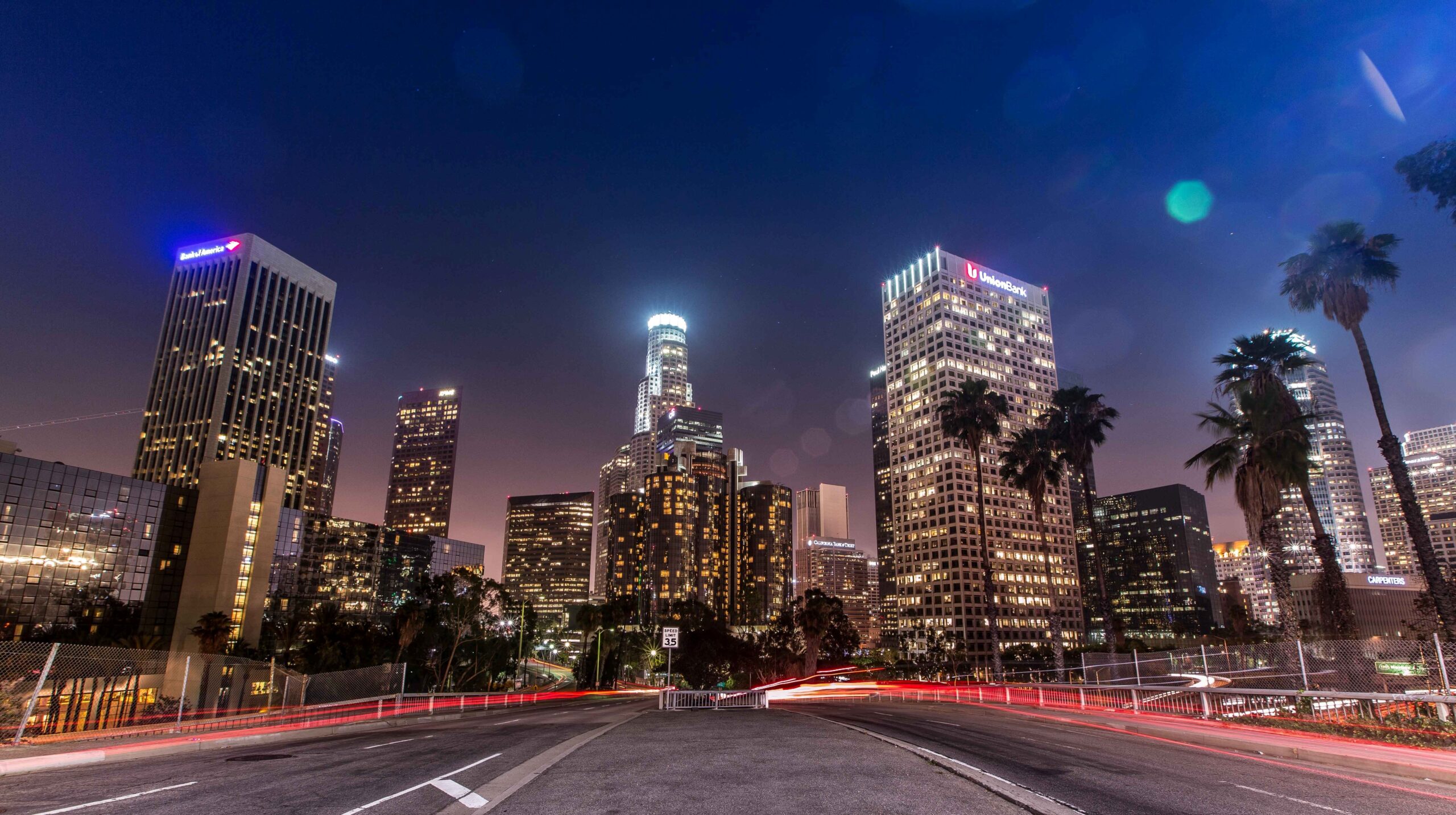 From Hollywood to Disneyland, State Van Rental is Here to Jump Start the Magic.
Lucia R.

Auburn, WA

"Customer service is an A+ from the time we called and made the reservation until the end of our rental. The prices are great! We rented a mini van for 8 and it was perfect and clean! Keep up the good customer service! It truly makes a difference. Kindness goes a long way. Thank You, we will return."
Peter G.

Los Angeles, CA

"The experience at State Van Rental was wonderful, the staff was very knowledgeable and fast. I would recommend this company to my friends and co-workers. The rental process was fast and easy. The price was reasonable. I had a wide range of van's to pick from. I really enjoyed the experience at State Van Rental."
Desmond D.

San Francisco, CA

"Recently rented a 12 passenger van from State Van Rental for a baseball tournament. Pete made the process super easy. He came to pick us up from the rental car center (short shuttle ride from airport) to take us to their offices. After a quick inspection and signing of paperwork we were on our way. The return of the vehicle was even easier. We dropped the van off at the airport and Pete personally gave us a ride to our terminal at the airport. One of our guys left a pair of shoes in the vehicle, and Pete made it very easy to coordinate so that we could get them back. The van was clean, process was simple, and customer service was A+. Will definitely use them again in the future. Thanks again!"
Jake W.

Kailua, HI

"State Van Rental is first class! They also provide pick up service before normal operating hours. And even offer late drop-off at no extra cost. Thank you so much on the best Van deal in town. Aloha"
Allan P.

Kennesaw, GA

"We were initially worried about using a smaller company. I contacted State Van in LA and rented a minivan for a week. The price was much lower than the bigger companies and unlimited miles. The van was in great shape. They picked us up from airport and dropped us off when we came home. They also found my lost glasses and shipped them back to me. They were upfront about costs and fees and didn't try to nickel and dime me for add-ons like other larger companies have. Without a doubt I'll use them again next time I come out west. Great Price, Great Service, Great Product."
Tina M.

Las Vegas, NV

"State van is a life saver! I experienced a TON of problems trying to renta van for an emergency last minute trip to California on a Sunday of all days. I was about to give up all hope until my daughter found State Van rentals via a Google search. Thank goodness she did! They are friendly, patient, courteous and just an all around great place to rent a van from. Most definitely will be coming back for ANY rental I may need. These big car rental corporations wcan learn a thing or two from State van, Good Job State Can rentals and keep up the great work!"