Los Angeles International Airport, often referred to by its avionic call sign, LAX, is the largest airport in California and one of the largest airports in the world. Known as much for its myriad of stores, restaurants and facilities as its transportation, LAX has become a sightseeing destination in and of itself. It is a right of passage for tourists and native Los Angelenos to experience. Below is a guide to LAX to help you feel more prepared for your next trip.
Getting to Know LAX
LAX is one of the busiest airports in the United States, serving as a gateway to Asia and the Pacific Rim. People travel to LAX to tour the western United States, while businesses or companies use it as a cargo hub. Millions of passengers travel through the airport each year and have to learn how to navigate LAX, whether traveling to Los Angeles or catching a flight to another destination.
Over the years, LAX has grown exponentially. As of January 2023, the airport has four runways that total 12,090 feet. LAX also has nine different terminals and various support facilities to service hundreds of flights every day, each day of the year. LAX has numerous amenities, dining options and transportation options to help improve the traveler's experience. While it's a large airport, LAX is easy to navigate if you follow the signage for each terminal and airline.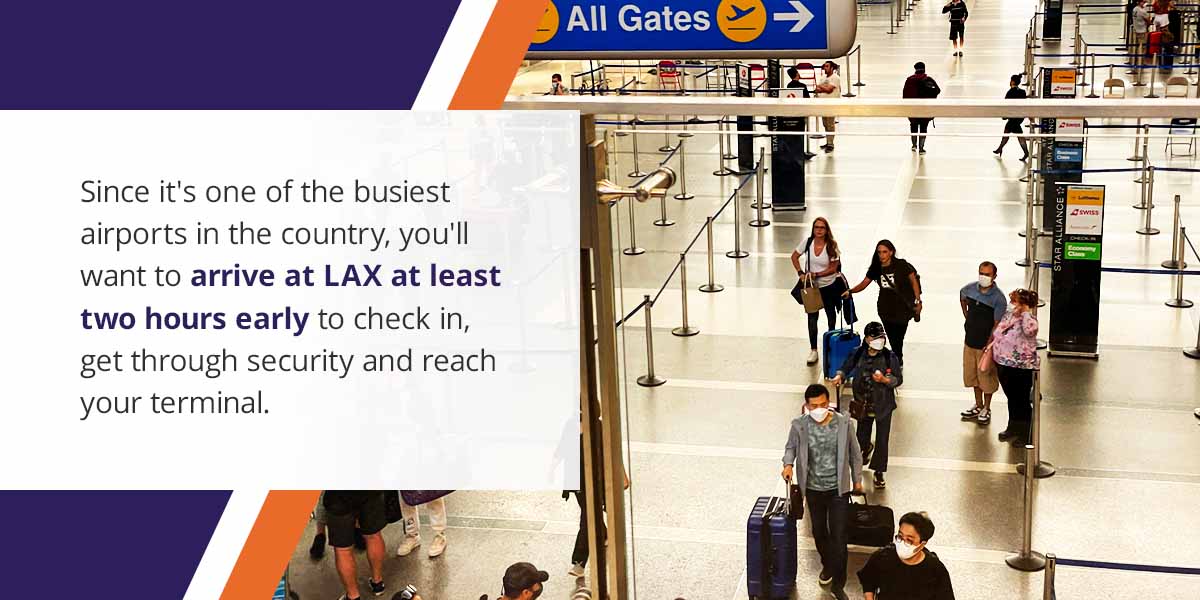 Getting to LAX
LAX is only five short miles from Manhattan Beach and nine miles from Santa Monica. You can also travel from Hollywood or downtown LA to LAX, which are 14 and 17 miles away, respectively. Signage is posted along various interstates connecting to the airport, making it easy to get to LAX.
From downtown Los Angeles, take Interstate 110 south toward San Pedro. Follow the ramp on the right onto Interstate 105 West. Take exit 1C toward CA-1 North and follow the road signs right into LAX.
From San Diego, take Interstate 5 North. At exit 85A, take the ramp to CA-73 North to Interstate 405 North toward Long Beach. Interstate 405 will take you to Interstate 105 West. From 105 West, you'll use exit 1C to get onto CA-1 North and follow the road signs to the airport.
From Northern California, take Interstate 5 South toward Los Angeles. On the outskirts of Los Angeles, take the ramp right onto Interstate 405 South toward Santa Monica. Take 46 toward LAX and Century City Boulevard. Turn left onto La Cienega Boulevard, then right onto West Century City Boulevard. The airport will be ahead on your left.
Since it's one of the busiest airports in the country, you'll want to arrive at LAX at least two hours early to check in, get through security and reach your terminal. If you arrive even earlier, you can enjoy the airport's amenities.
Transportation Options
Whether traveling to or from LAX, you have various transportation options. Below are the most commonly used options when you need to arrive at the airport for LAX arrivals and departures:
Public Transportation
While LA's public transportation services aren't the best, they're starting to improve. After you land, you can take a shuttle to the LAX City Bus Center before boarding a public bus. You can also take a shuttle bus connecting LAX to the Metro Green Line, Van Nuys or Union Station.
Public transportation or scheduled bus service is more affordable but can also be inconvenient. Public transportation schedules may not go along with your own, making it challenging to stay on top of your itinerary. If you're using public transportation to get to your flight or the city, you may experience additional stress if there are unexpected delays or no buses are running when you need to leave.
Ride-Shares
Ride-shares can be convenient if you want to ride to the airport before your flight without paying for overnight parking costs. Drop-offs take place in front of your respective terminal.
All ride-share pick-ups must occur at the "LAX-it" lot directly across from Terminal 1. If you plan on taking a ride-share after your flight lands at your hotel or destination, you must take a shuttle or walk to this lot. While this can be a minor inconvenience, ride-shares are reasonably priced and accessible. However, ride-shares can quickly add up if you plan on traveling a lot while visiting the city.
Taxis
Taxis are a traditional way to travel after your flight lands. At LAX, taxis have two departure locations, including the ground floor of Parking Structure 3 and one at the end of Terminal 7. Most taxi services use a flat rate for specific parts of LA. For example, a taxi from the airport to West Hollywood has a flat rate of $40 with a $4 surcharge for airport pickup.
Taxis can be an efficient way to get around the city, but like ride-shares, the price can add up if they're your only form of transportation. The price may be worthwhile if you only need a taxi to take you to the airport. Otherwise, it may be more beneficial to look into other options.
Rentals
After you land, you can choose to rent a car or van. Many airports, LAX included, have car rental businesses on the property, making it easy for travelers to rent a vehicle after they land and pickup their baggage.
Rental vans are convenient and offer a lot of space for travelers with a lot of luggage or a large party. You can travel where you need to go without delay and stay on your schedule. Many van rental companies offer affordable rates so travelers can rent a van as a costly option, allowing them to travel on their own timeline.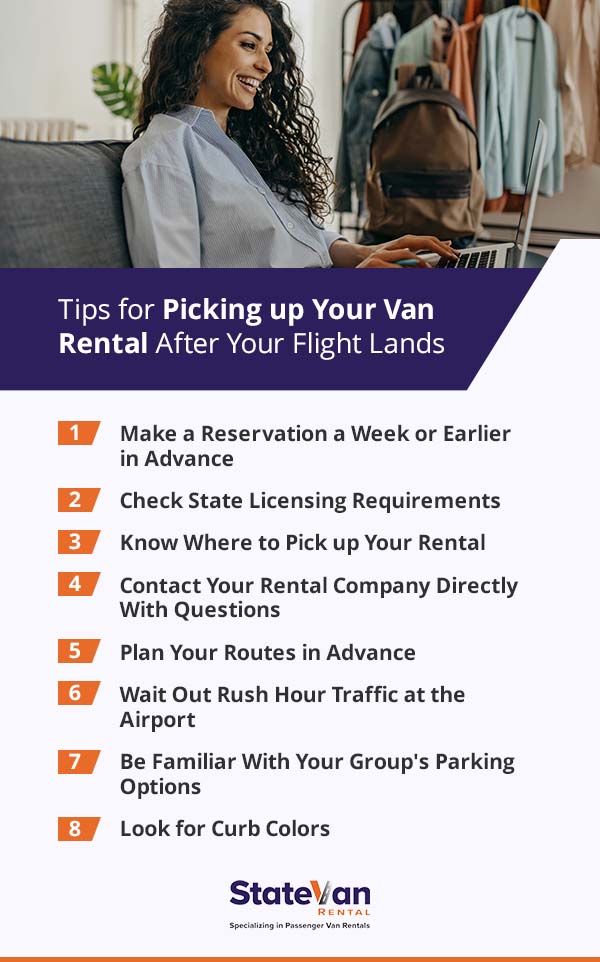 Tips for Picking up Your Van Rental After Your Flight Lands
If you plan to get a Los Angeles 12-passenger van rental at the airport or another rental vehicle, you want to know what to expect. Los Angeles is a large, expressive city that feels like walking into a different culture, even for domestic travelers. Below are tips for securing your rental after your flight lands:
1. Make a Reservation a Week or Earlier in Advance
Avoid waiting until you arrive at LAX to get your transportation sorted out. Make sure you plan and budget for transport along with the hotel and return flight. Avoid a scenario where you plan to rely on public transport only to realize later that your group needs a rental.

2. Check State Licensing Requirements
If you're getting a Los Angeles 15-passenger van rental at the Los Angeles airport, your driver might need a commercial driver's license (CDL) for your party to proceed. California law is subject to change, so verify the requirements before you head out.
3. Know Where to Pick up Your Rental
After exiting the airplane, your group should move to the lower arrivals level. This area is near the baggage claim station. The airport generally authorizes pickups under purple signs that say "Rental Car Shuttles." You can get detailed directions by speaking to a customer service representative at the airport.
4. Contact Your Rental Company Directly With Questions
If you are trying to locate your rental or need to troubleshoot an issue, the fastest way to get help is to contact the rental company's customer service hotline. Otherwise, you could have a long wait in line. Airport customer service representatives might be unable to address specific questions about a rental service.
5. Plan Your Routes in Advance
It's essential to discuss travel plans with your group, even when using a rental vehicle. When carpooling, you might need to make arrangements to coordinate pick-ups. Avoid trying to see everything in Los Angeles in a single day, and do enough research on the area to have plans in mind.
6. Wait Out Rush Hour Traffic at the Airport
As a major city with many appealing vacation destinations, Los Angeles is always busy, but peak hours result in a noticeable boost in traffic. Mornings and early evenings are usually the most active on the roads. You can easily spend this time regrouping for a food break or discussing your upcoming plans.
7. Be Familiar With Your Group's Parking Options
In Los Angeles, you can find plenty of off-street parking, and prominent attractions or hotels often have valet parking for a lower fee than parking garages. To get the most out of your parking experiences, research the options at the venues your group plans to go to before attending any significant events.
8. Look for Curb Colors
Curb colors in Los Angeles show where you can park short-term or pick up passengers. If you see a red curb, it indicates a no-parking zone.
LAX Amenities
LAX offers many amenities to help keep travelers entertained as they wait for their flights or during long layovers. Even a one-hour layover is long enough at LAX to enjoy some of its amenities. For example, LAX offers free Wi-Fi to travelers, allowing them to stay engaged or connected with their family and friends during their wait. Other amenities at the airport include:
Animal relief areas: If you're traveling with a pet or an emotional support animal, LAX has animal relief areas where pets can use the toilet and stretch their legs. They make an excellent spot for pets that may be stressed or tired from traveling.
Pets Unstressing Passengers (PUPs) program: LAX offers the PUPs program, which brings in therapy dogs every few hours each week to help travelers unwind. You can pet and play with the therapy dogs before your flight or after your land, helping brighten your day during stressful travel.
Art installation and performances: LAX has many permanent art installations and live performances that are part of the "LAX Presents" series, keeping travelers entertained as they travel to their destination.
Shopping: LAX has numerous shopping options for travelers. Some stores within the airport include Gucci, Victoria's Secret, MAC Cosmetics, Fred Segal, Coach and more. There are also plenty of newsstand-type stores that sell snacks, drinks, newspapers and souvenirs.
Dining: Travelers with long wait times can enjoy various dining experiences in LAX, allowing them to sample some of LA's best food without leaving the airport. You have numerous options, including Neapolitan-style pizza, artisanal burgers, seafood, Italian cuisine, coffee and more.
Lounges: LAX offers some of the nicest lounges in the nation, allowing business class, first class or Priority Pass members to enjoy rest and food before their flight. Some lounges within the airport include Delta Sky Club, Emirates Lounge, Korean Air KAL Lounge, Oneworld Los Angeles Lounge, Star Alliance Lounge and American Airlines Admirals Club.
Airport Hotels
While there are no airports directly connected to LAX, many of the hotels in the area offer free shuttle services from the airport to the hotel. If you have an overnight layover or want a quiet, private place to relax and regroup before you take your next flight, you can book one of the nearby hotels for a short stay. Some of the hotel options you have include:
Sheraton Gateway Los Angeles Hotel
Hyatt Regency Los Angeles International Airport
H Hotel Los Angeles, Curio Collection by Hilton
Westin Los Angeles Airport
Sonesta Los Angeles Airport LAX Hotel
Each hotel offers unique amenities and experiences that can take your trip to the next level.
What to Do Near LAX
LAX is Southern California's tourism hub, so it makes sense that there are plenty of area attractions within a short drive. Head to State Van Rental's Los Angeles van rental location and hit the road for some fun. Some of your options for activities include:
Automobile museums: If classic American automotive excellence gets your motor running, The Zimmerman Automobile Driving Museum offers a rotating collection of over 150 classic and vintage automobiles. It includes vehicles ranging from the 121-year-old Benz Motorwagon to a true one-of-a-kind '99 Nissan 350Z. For a real treat, visit on Sunday to experience a passenger ride in a car from their collection.
Plane spotting: Plane spotting is a quintessential part of the LAX experience. The In-N-Out Burger at 9149 S. Sepulveda Blvd., Westchester, is famous for more than just the food. Located directly under the final approach for runways 24 L and R, it offers a spectacular view of the passenger jets screaming overhead while you eat burgers and fries.
Shopping: Head to Abbot Kinney Boulevard in Venice for a unique shopping treat. Abbot Kinney offers a full mile of art, clothes and dining unlike anything else. There is a mixture of vintage and modern, all with a flair particular to the area. From the G2 gallery, which showcases the world's best nature and wildlife photographers (with proceeds going to environmental causes), to Aviator Nation, a homegrown California lifestyle clothing brand, there is something for everyone.
Luxury brands: Santa Monica Place is located a mere twenty minutes from the airport for a more upscale shopping trip. Offering luxury shopping on the beach, you will find the trendiest shops ready to fulfill your retail needs in an open-air mall with a fresh feel. Bloomingdales, Barneys of New York, and Emporio Armani will dress you like a million bucks. The onsite currency exchange offers a safe place to convert cash before or after a trip abroad. When ready to eat, the rooftop dining deck provides a breathtaking view to pair with top-flight cuisine.
Recreational activities: Take a break from shopping and commune with nature at the Kenneth Hahn State Recreation Area. Just 10 miles from LAX, this slice of wilderness offers five miles of hiking trails for the family to stretch their legs. There is also a lotus pond for peaceful meditation, fishing and playgrounds for kids. The stunning view at the adjacent Baldwin Hills Scenic Overview will help you forget how you will get to LAX airport when the trip is over.
Some Beach, Somewhere
A trip to Los Angeles would not be complete without a trip to one of its many gorgeous beachfronts. With several prime beaches within easy driving distance, there is ample opportunity to catch some waves and rays. Whether you are looking for excitement or relaxation, you and your family will be sure to find it here. Some of the most popular beaches you can visit include:
Santa Monica Pier: The Santa Monica Pier offers an extension of shopping fun in a beachside environment. Its iconic front entry arch is the star of big and small screens, and it is easy to get lost in wonder as you wander this 100-year-old landmark. From Pacific Park's solar-powered Ferris wheel to the summer concerts, you will not run out of fun.
Manhattan Peach Pier: The Manhattan Beach Pier is the perfect venue to watch surfers ride the waves. Stretching over 900 feet long, the end is capped by a Mediterranean-style building that houses an attraction in and of itself, the Roundhouse Marine Studies Lab & Aquarium. Free to the public, this is a great place to see sharks up close, and there are touch tanks for a real hands-on marine experience.
Dockweiler State Beach: You will find Dockweiler State Beach near the airport. While not as iconic, it can provide a memorable time. Three miles of shoreline give plenty of room to enjoy the Pacific ocean, food concessions abound, and it sits directly beneath the takeoff flight path from LAX, allowing you to combine beachcombing with plane spotting. It may be the best beach to visit during a short LAX stay.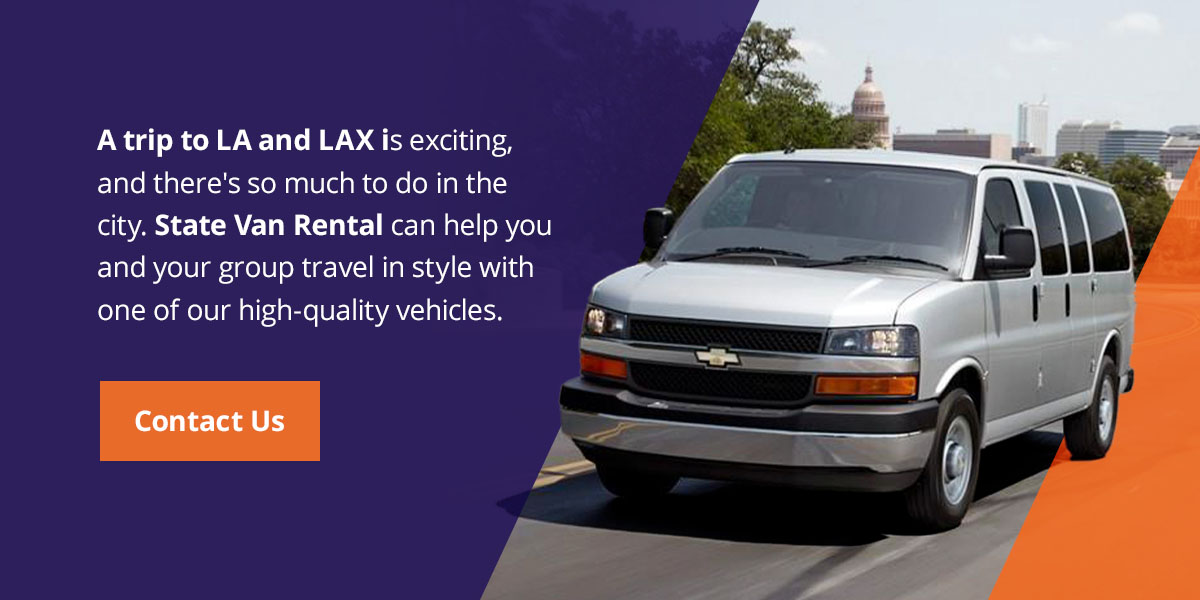 Choose State Van Rental for Your Next Trip to LA
A trip to LA and LAX is exciting, and there's so much to do in the city. State Van Rental can help you and your group travel in style with one of our high-quality vehicles. Whether you're a domestic or international traveler, we can work with you to find a van within your budget, allowing you to travel in the city on your schedule. Our customer service agents are available for your convenience, allowing you to ask questions or request service when needed.
Our 12- to 15-passenger vans are designed for comfort, convenience and safety. You can also rent one of our compact cars or minivans. Fill out our online form to set up a reservation, or contact us today to learn more about our services!