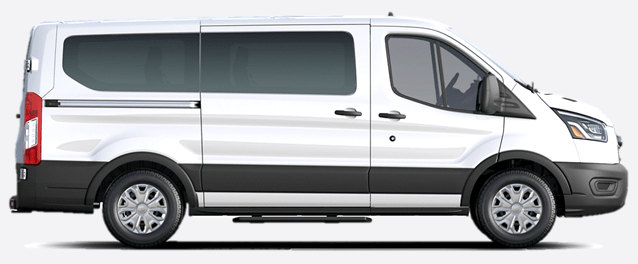 Book a Chevy Express G2500 12-Passenger Van Online:
Is a 12-Passenger Van Right for Me?
If you're traveling with a group of 12 or fewer, our 12-passenger Chevy Express for rent is the perfect solution. Road trips can be a great bonding experience for your group, and you don't want to spend a moment of the journey being separate from half the people you came with. Our spacious vans provide comfort for all and:
Keep you on schedule: With one van, there's no need to try and follow one another through heavy traffic or risk half the group getting lost. One van means one itinerary, which makes it easier to stay on schedule or adjust when situations require it.
Save you money: Fewer cars means fewer fees for gas, tolls, parking and other driving-related costs.
Consolidate your things: If you have a lot of baggage, our Chevy Express Extended edition offers even more storage space so nothing gets left behind. Everyone can keep what they need on hand, saving you from issues later on.
Visit Two of the Best Cities in the U.S.
State Van Rental has two convenient locations in the heart of two of our country's most visited cities. Let us meet you with your rental when you deplane at Harry Reid International Airport (LAS) or Los Angeles International Airport (LAX) and get you on your way to exploring the area or finishing your journey. With features like cruise control, ample legroom and Wi-Fi capability standard in our vehicles, we'll make this last leg of your journey the best one yet.
With one online request to State Van Rental, you can be on your way to exploring the Las Vegas Strip, the Grand Canyon, Hollywood and everything else the West Coast has to offer.
Please note that depending on which states you're traveling in and the area's current circumstances, you may need a specialized license to drive a 12-passenger van. To learn more about this potential need, call our staff to discuss it at 888-315-6888.
State Van Rental Will Get You There Together
Whether you're in town for vacation, a mission or a conference, you don't have any time to waste. That's why State Van Rental strives to be your ally on the roads by offering the most reliable and efficient van rentals from Los Angeles to Las Vegas. Our Chevy Express 12-passenger vans will help you arrive at your destinations comfortably, on time and in style.
Contact us today to learn what we have in stock for your planned trip dates. We have many Chevy Express and Extended options available year-round. We believe in transparent, affordable pricing and will ensure you understand all our terms before moving forward with your reservation. Be sure to ask us about our military and AAA member discounts, too!