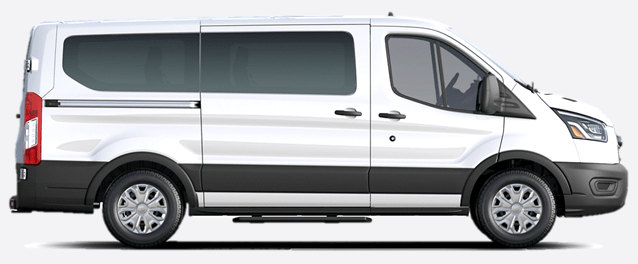 Book a Ford Transit Van Online:
Los Angeles 12-Passenger Van Rentals
Accommodate all your wants and needs when traveling to Los Angeles, California, with peers, friends or family. State Van Rental provides luxurious 12-passenger van rentals by the top manufacturers in America.
When you rent one of our 12-passenger vans, you'll travel with comfort. Behind the driver and passenger seats, the vehicles include three rows of seating with headrests. Up to 41 inches of legroom provide ample space to stretch or place shopping bags and luggage. We offer ways to enhance your van with add-ons, including the following:
Toll passes: Speed up your travel times when accessing toll roads in Nevada or California. 
Wi-Fi hotspot: Keep your guests entertained when they can surf the internet using a Wi-Fi hotspot.
GPS navigation: Focus on the road and save cellular data when you travel with up-to-date navigation systems.
Seating options: Accommodate all your travel needs by adding a child seat or removing a chair to create extra space for luggage.
Free Pickup and Drop-Off at the Los Angeles International Airport (LAX)
Our office is less than 10 minutes from the Los Angeles International Airport (LAX). We provide free pickup and drop off of our vehicles to and from the airport.
Our 12-Passenger Models
At State Van Rental, our 12-passenger vehicles include the Ford Transit, Chevy Express or Chevy Express Extended models. Each van has necessary features like air conditioning, AM/FM radio and automatic transmission. Most of the options include Bluetooth compatibility.
Each vehicle includes barn or sliding passenger doors and rear doors that swing open, so getting in or out of the van and loading luggage is convenient. The side-impact and side-curtain airbags offer protection, giving you peace of mind while traveling.
Frequently Asked Questions
Check out these common questions and answers about renting our 12-passenger vans in Los Angeles, California.
A 12-passenger van offers an ideal solution when transporting groups of 12 or fewer people. They provide a spacious and comfortable way to travel for corporate getaways, family vacations, sports trips, religious retreats and other excursions.
To start the rental process, select the dates you'd like to rent a 12-passenger vehicle and pay now or later. Our free shuttles can also take to you to or pick you up from LAX.
After presenting your van reservation with your I.D. and proof of insurance coverage, you'll receive your keys. When you return your rental, please remove any garbage and refuel the vehicle. To avoid any late fees, please return the vehicle within an hour of the scheduled time. We can pick up or deliver our rental vans at a desired location for a fee as well. 
The regulations for driving a 12-passenger van vary by state and circumstance. Please call us at 888-315-6888 or email us at LAX@statevan.com for more information.
Secure Your 12-Passenger Van Rental in Los Angeles, California
You can enjoy an easy and quick rental process when you reserve a 12-passenger van in advance. To book your rental vehicle, submit your form today! You can modify or cancel your request at any time.