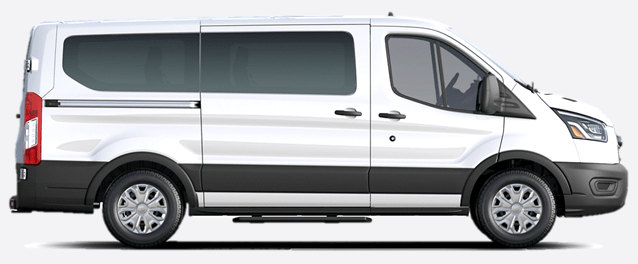 Book a Ford Transit Van Online:
Las Vegas 12-Passenger Van Rentals
A smooth ride, spacious seating and plenty of storage — our 12-passenger vans have it all. At State Van Rental, we're proud to provide the transportation you need when traveling with a group. Whether you're on a vacation with your family or a trip with your school, church or business, our vans will get you where you need to be while prioritizing comfort.
Our 12-passenger vans from America's leading manufacturers come with all the classic essentials, including air conditioning, AM/FM radios and automatic transmission. Most of the vans feature compatibility with Bluetooth. You can enhance your ride with add-ons such as GPS navigation, Wi-Fi hotspots and toll passes. We offer options to add child seats or remove seats to create extra storage for all your travel wants and needs. 
12-Passenger Van Rental in Las Vegas
At State Van Rental, we're dedicated to making the rental process quick, so you can start enjoying your vacation as soon as possible. Our office is only a quarter-mile from the Harry Reid International Airport (LAS). We provide free pickup and drop off of our 12-passenger vehicles.
Our 12-Passenger Van Models
We're proud to offer Ford Transit and Chevy Express models with an Express Extended option. Behind the front driver and passenger seats, three rows provide ample legroom for your peers, friends or family to stretch while traveling. 
You'll have peace of mind when renting a 12-passenger van from State Van Rental. We keep our vehicles clean and maintain them beyond industry and manufacturer recommendations. Each van has side-impact and side-curtain airbags, so you're protected everywhere you drive. 
Frequently Asked Questions
Is renting a 12-passenger van from State Van Rental perfect for you? Learn more from these common questions and answers. 
If you need transportation while traveling with 12 or fewer people, our 12-passenger vans are an ideal solution. Get ready to make road trip memories when your group shares a van. Renting one van makes it easier to stay on schedule with your itinerary and consolidate all your belongings.
The regulations to drive a 12-passenger van vary by the state you're traveling in and the area's current circumstances. Please send an email to LAS@statevan.com or call 888-315-6888 to find out more. 
You can request a rental van from State Van Rental by submitting a form online. Our free shuttles can take you to our office when you arrive at the airport. After presenting proof of insurance coverage, the credit card used to reserve the van and photo I.D., you'll receive the keys to your rental. 
Please refuel the van and remove any garbage before you return it. To avoid being charged an additional day, please return the van within one hour of the return time. We also offer vehicle delivery and pickup services as an option.
Reserve a Van for Your Group Today
Ready to enjoy traveling with your group in a spacious and comfortable van? To prepare, book a 12-passenger rental van from State Van Rental today!