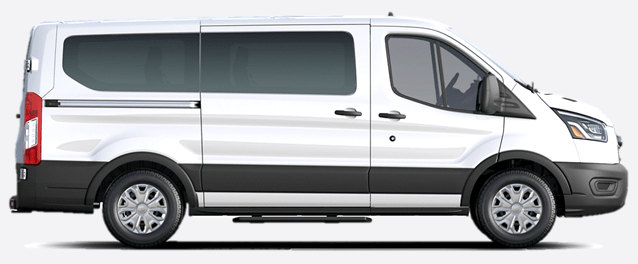 Book a Ford Transit Van Online:
Ford Transit 12-Passenger Van Rentals
Easy drivability, spacious seating and exceptional fuel economy — these are the things our customers look for most in rental vans, and at State Van Rental, we strive to oblige with our fleet of 12-passenger Ford Transit vans. This van makes the perfect fit for family reunions, church trips, business conferences and any other reason your group is traveling to Los Angeles, Las Vegas or other local landmarks.
Our rental centers are just minutes away from the area's two largest airports, Harry Reid International (LAS) and Los Angeles International (LAX). Our staff will be happy to meet you there, help you load up and get you on your way to the next leg of your journey. Whether you're visiting Hollywood or taking in the beauty of the abundant national parks nearby, our Ford Transits will stow away your gear and leave ample space for a comfortable journey. 
You can learn more about our Las Vegas 12-passenger van rentals online. If you're ready to book, visit our reservation center to reserve a 12-passenger van rental in LA. 
The Best Way to Travel
A group trip of 8-12 people requires some planning, but with a Ford Transit 12-passenger van or similar vehicle for rent, you'll have one less thing to think about. This vehicle is made for reliable, comfortable group transportation. It offers plenty of space for stretching out and storing luggage simultaneously and provides safety features like van-wide side-curtain airbags and responsive brakes. Our Extended version provides even more storage space for your stuff!
On any adventure, every moment of downtime provides an opportunity for bonding and making memories. Renting one van that's large enough to seat everyone over a few smaller cars lets you maximize your driving time, even when it's only a few minutes to the nearest hotel. Plus, using one vehicle is a cost-saving measure, too. Instead of paying the fuel bill and tolls for multiple cars, you only have to pay each fee once, saving everyone's wallets and leaving you more funds for fun experiences and lifelong souvenirs.
You can learn more about all the features our Ford Transits provide below. Many of them also come with other helpful attributes, such as Bluetooth capability.
A Note About Licensing
As you plan your trip to California or Nevada, please note that you may encounter some special licensing needs when applying for your rental. In certain circumstances, the van driver may need a specific license that enables them to drive vans of this size. To learn if this might apply to your trip, you can send us your information at info@statevan.com or call us at 888-315-6888.
Secure Your Ford Transit 12-Passenger Van Rental Today
Nevada and California hold some of our nation's greatest tourist treasures, and State Van Rental is proud to offer you accessible transportation that allows you to see them all on your own time. Every vehicle in our fleet is professionally cleaned and maintained to our standards, which are well above the industry standard and manufacturer's requirements.
Every trip you embark on brings its own set of intricacies, but with State Van Rental, your vehicle rental doesn't have to be part of that. Book your reservation online today, and we'll have your Ford Transit waiting for you whenever you arrive. Our affordable pricing system makes travel easier than ever — especially if you qualify for our AAA or active-duty military discounts!