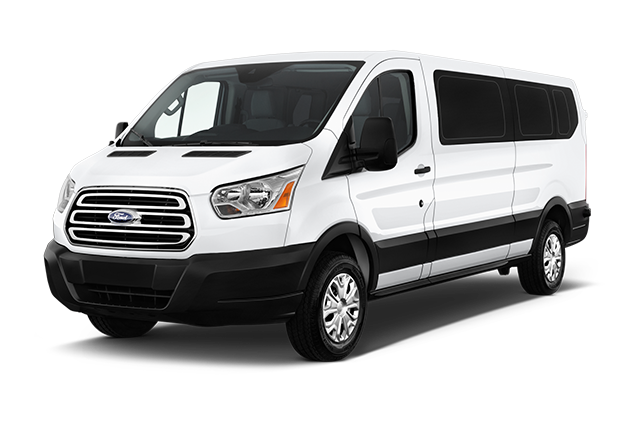 Rent a Ford Transit Van Online:
Ford Transit 15-Passenger Van Rentals
At State Van Rental, our fleets of 8-, 12- and 15-passenger vans make everything possible. We take American-made ingenuity and bring it to the masses, making it easy for groups of every size to see the West Coast in a way that fits their schedule. Vehicles like our Ford Transit 15-passenger van rentals are perfect for your extended family, church group, sports team or business circle to make their way from Las Vegas to Los Angeles while visiting every place in between.
Our rental locations make arriving and departing from the airport a breeze. We're just a few minutes away from Los Angeles International Airport (LAX) and Harry Reid International Airport (LAS) so you can stick to your itinerary throughout your trip. These vehicles are comfortable and reliable and give you everything you need to have a fun, accessible trip.
Why Rent a Ford Transit 15-Passenger Van?
Our fleet consists of only the best vans for long road trips, so even if you're only going to the hotel, you'll get there in comfort. The Ford Transit consists of a spacious interior with ample seating, legroom and storage space for everyone's luggage and souvenirs they pick up along the way. It also has excellent safety features, including side-curtain airbags around all seating areas.
For any group of 15 people or fewer, this van is the perfect choice for making memories. Let your people stay together throughout every leg of your trip to solidify bonds and avoid the extra complications of having multiple cars trying to arrive at the same location simultaneously. Likewise, one vehicle means only one parking pass, fuel bill and other driving fees, saving everyone money they can use to make the most of their budgets.
Contact Us About Licensing
State Van Rental is here to ensure anyone can have a fun trip to some of the United States' tourist hubs. As you gear up for your excursion, it's important to note that, in certain circumstances, you may need a special license to drive and operate our vans. This factor may depend on the states you're traveling to and the time you plan to make your trip. To learn more about these guidelines and whether they apply to you, we'll be happy to discuss these measures further at 888-315-6888 or info@statevan.com.
Reserve a Van for Your Group Today
Whether you're in town to visit the U.S.'s hottest tourist locations with your friends or on a business trip with your team, State Van Rental's Ford Transit 15-passenger van rentals are ready to get you everywhere you need to be on your own time. We ensure every vehicle in our fleet is spotless and ready to fit our stringent standards — which far exceed those that our industry and vehicle manufacturers set forth — for your peace of mind.
Need more information? Call our team to learn more about our 15-passenger van rentals in LA or explore our options for Las Vegas 15-passenger van rentals.
If our Ford 15-seater van rental is the right choice for your next adventure, secure your reservation today or contact us to learn more about everything we offer. We can't wait to see all the places you will go when our van rentals make it possible to travel everywhere.