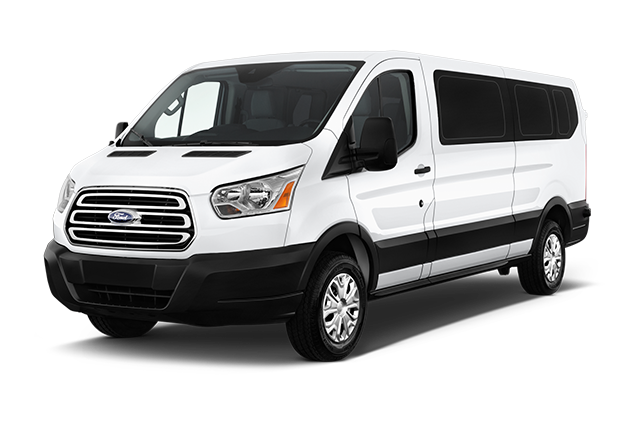 Rent a Ford Transit Van Online:
Las Vegas 15-Passenger Van Rentals
State Van Rental provides 15-passenger vans for rent in Las Vegas, Nevada. We offer choices from leading manufacturers such as Ford and Chevy. The vans include large driver and passenger chairs, three rows of three seats and a four-chair bench in the back row.
When renting a 15-passenger van, you experience accessible rows with a center aisle and over six feet of standing room. The spacious seating includes comfortable cushions, and ample legroom allows guests to store their bags and souvenirs. The vans include essentials like air conditioning, radios and airbags, and we offer a variety of add-ons to suit all your traveling wants and needs. 
15-Passenger Van Rental in Las Vegas
Our office is conveniently located only a quarter-mile from the Harry Reid International Airport (LAS), so it's easy to get your 15-passenger van when you land. We offer complimentary pickup and drop-off services to simplify the rental process. 
Our 15-Passenger Van Models 
At State Van Rental, we're proud to provide reliable 15-passenger vans in Las Vegas, Nevada. We keep them clean and maintain them above and beyond manufacturer recommendations. Here are the options we offer:
Chevy Express and Express Extended: This luxurious rental van includes multiple back rows and seating configurations to fit up to 15 people comfortably. It has either sliding or barn side doors and rear doors that swing open to make getting in and out of the vehicle or loading luggage as easy as possible. 
Ford Transit: This 15-passenger van comes with a sleek, modern design and tinted windows. It offers spacious accommodations and room for each passenger to carry one to two bags. 
Frequently Asked Questions
Learn more about 15-passenger vans from these common questions and answers. 
The driver's license and requirements to drive 15-passenger vans vary by state and circumstance. To get more information when you plan to rent a van from our location near LAS, please email us at LAS@statevan.com or call 888-315-6888. 
To make a reservation with State Van Rental, begin a new reservation online. Choose the dates and times you'd prefer and select a 15-passenger van from the list of options available. You can pay now or later and modify or cancel your reservation anytime. 
When you arrive in Las Vegas, we'll send a free shuttle to bring you to our office quickly. After showing us your proof of insurance, credit card and driver's license, you'll receive the keys to your 15-passenger van. 
Before returning the vehicle to our office at the end of your rental period, please fill up the fuel tank and remove any garbage. We allow a one-hour grace period and make an extra day's charge for late returns. We can also deliver your rental vehicle to you or pick it up directly for a fee.
Make Your Trip Easier With State Van Rental
Feel peace of mind when you reserve your 15-passenger van in advance. To prepare for your trip, book your reservation today!