Are you planning a vacation, business trip or another occasion requiring a vehicle with some extra space? Keep reading to learn about the different styles of rental vans and size options so you can make an informed decision.
Types of Rental Vans
When deciding on what size passenger van you need, consider all available rental options and narrow the list down to your top pick. How many passengers a full-size van holds depends on its capacity and rental company. At State Van Rental, we have the following:
8-Passenger Vans
A minivan can help you transport a fairly large group of eight or fewer travelers. This smaller style of passenger van has a lot of space for your group and everyone's luggage. Renting an 8-passenger van is a good choice for either short or long trips.
You could rent two passenger cars instead, but selecting a van rental option ensures your group can stick together. It's also more economical to rent one passenger van instead of multiple cars.
12-Passenger Vans
If your group is too large for a car rental but too small to justify renting a charter bus, a 12-passenger van is a great option. It's affordable for businesses and private use and keeps your group unified.
This vehicle accommodates a large group or team., making it great when you're going on an extended family vacation. It is also popular with companies, sports teams and nonprofit groups.
15-Passenger Vans
If a 12-passenger van is too small for everyone, the 15-passenger van size is your next option. Although this style has more room for three additional travelers, it has the same chassis and body as the smaller model. Benefits of a 15-passenger van size include extra headroom and plenty of cargo space.
Cargo Vans
If you plan on hauling more cargo than people, it's wise to choose a cargo van. This type of vehicle has plenty of space for music equipment, furniture, big-ticket purchases and plenty of other items. If you only need room for two travelers, a cargo van is ideal. It gives you enough room for your belongings and any goods, equipment or tools you need to transport.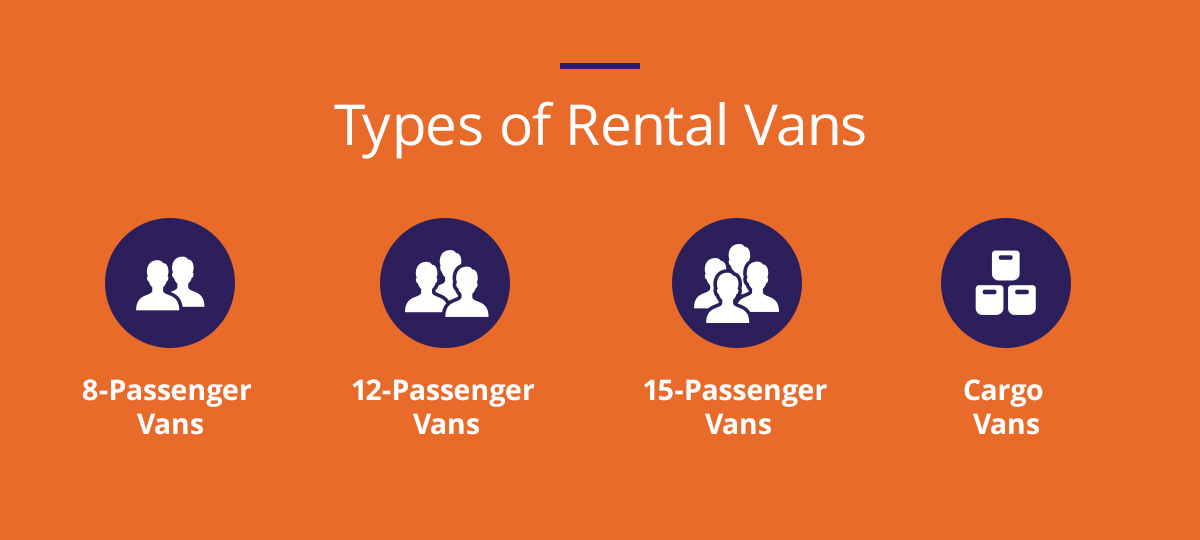 How to Pick the Right Travel Van
When you're deciding on a van, take these questions into consideration:
1. How Many People Do You Need Room For?
You should rent a van that fits the maximum number of possible travelers, even if you're unsure if some guests may cancel. The last thing you want is a van waiting with too few seats to accommodate the group.
You want enough room for your group, but you should also avoid renting a van that is too large. Unless you need a lot of extra space for cargo, paying for a 15-passenger van isn't usually necessary or cost-efficient if your group stays below eight people.
2. When Do You Need the Van?
It's best to get an early start on the arrangements for any rental, especially if you are planning a trip to an area several hours away. Plan ahead to secure the type of van you want for the days your group needs it.
When you're already busy, setting up a rental without enough time in advance could be difficult with all the other planning you have to do. Avoid saving the van rental for last to ensure you get the size you need. Schedule the rental on the same day that you set up your flight, hotel reservations or any other reservations you need to make.
3. What Features Do You Want the Van to Have?
Other than the van's seating arrangements and cargo space, you might also care about features like amenities, safety standards and the vehicle's overall condition. You can view and compare this information online or during the time of your rental.
Benefits of Renting a Passenger Van with Extra Room
Imagine having plenty of space for your luggage and being able to communicate easily with your group. It's a better scenario than being confined to a cramped vehicle and having to coordinate trips through dense traffic.
The benefits of renting a passenger van include:
1. Group Safety
Keeping your group together is safer when traveling to an unfamiliar area or a densely populated location. With a passenger van, you can ensure your group stays together for arrival at a hotel, event or other destination. If you're traveling with a group of students and only have so many chaperones, a van keeps everyone in sight of the adults.
2. Plenty of Space
The best full-size passenger vans are designed to give each traveler ample personal space, legroom and room for cargo. Personal vehicles have significantly less room, and this can be inconvenient or unfeasible when you have a lot of items to transport.
It's important to select the rental with the amount of space that makes the most sense for your group. Vans are for groups of any size. You can rent one for only a few travelers or fit up to 15 travelers, and these large vehicles are the best options for sports teams, student field trips, wedding parties and similar arrangements.
3. Eco-Friendliness
Using one passenger van is a more eco-friendly way to travel than having your group of five or more drive separate vehicles. It's more fuel-efficient to travel together, and it spares the atmosphere of fewer carbon emissions.
Renting a van is also less expensive in terms of gas costs. A passenger van has a large fuel tank, but for a group large enough to fit in one, it likely requires less gas than all of your personal vehicles combined.
4. Comfortable Travel
Being on a passenger van is similar to being on a bus. Your passengers have all the legroom they need to feel comfortable, chat freely and have enough space for luggage. You'll have a hard time finding transportation as a comfortable as van rental for your large group of people.
Public transportation is noisy, crowded and unpredictable. With a passenger van, you have fewer unexpected surprises, and your group will feel at ease being away from strangers.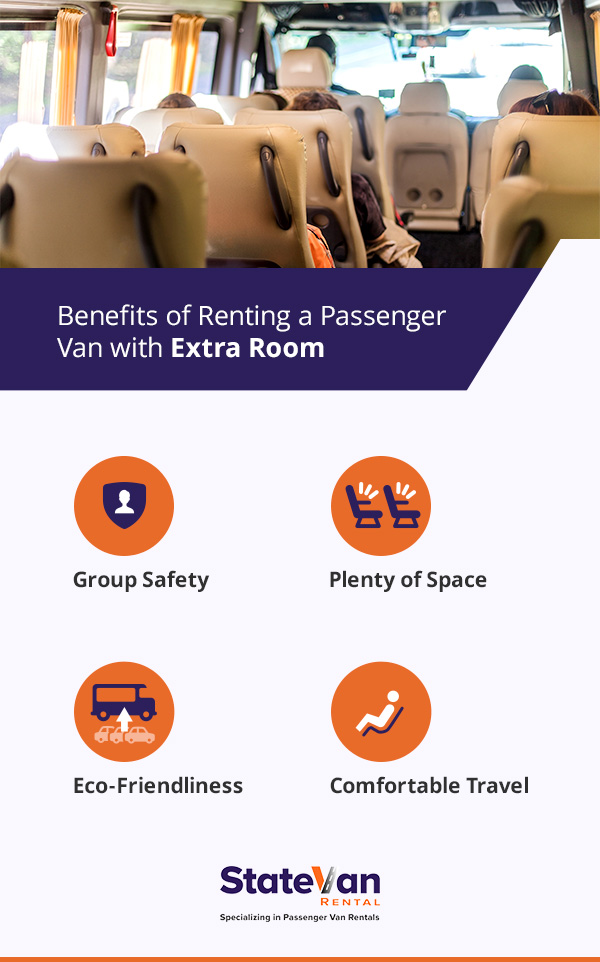 Factors to Consider When Selecting a Van
If you need a van for your upcoming trip, below are important factors to think about during the renting process:
1. Your Group
Are you traveling with friends or colleagues? The type of group makes a difference. If you're going on a work trip to a formal setting, it's generally easier for everyone to arrive together, and having a rental van makes that possible. If you're traveling with multiple family members, it might be easier to stay organized if you stick to one vehicle.
The type of trip might also affect what features your group will want in the rental. A road trip with your friends is an entirely different experience from traveling in a passenger van on a business trip, where you might have to practice delivering a presentation. Having a dashboard interface compatible with your electronics might be convenient for your friends, but to your colleagues, it ensures everyone can be fully prepared.
2. The Rental Company
Make sure you work with a reputable company that offers the type of van you need. The vehicle should be in good condition, and if you have any problems, you should be able to contact the company for assistance. Check the pricing before you rent to confirm all associated costs and rental guidelines.
3. The Vehicle's Condition
Make sure you review the vehicle's listed features and do a brief inspection before renting it. If the vehicle's condition is what you expected, you're all set. Check how much fuel the van has and ensure the mileage is correct before leaving with it. Consider a test drive to ensure the van drives smoothly.
Visible damages like dents or scratches on the van's exterior could be a red flag that the vehicle has other issues. Make sure the headlights turn on and let the driver get used to the van's power steering, which should be easy enough to work without straining. Note where the gas tank is so your driver knows which side to position the van on for a fuel stop.
4. Insurance Coverage
Your rental van might come with an optional insurance policy that offers more protection in case of an emergency. Make sure you read over the policy before you pick up your rental for pricing information and agreement terms.
5. Your License
Make sure the person you select as the driver has their driver's license with them when you're ready to pick up the rental vehicle. In some areas, you might have to have a commercial driver's license to drive a 15-passenger van. These laws are prone to change, so check all requirements beforehand. You can also contact the team at State Van Rental for more information.
6. The Number of Passengers
Use a sign-up list for a large group of people, even if you only have five or so people going, to help avoid mistakes. Even if you're going on a family vacation, having a clearcut tally is important for selecting the right vehicle.
7. Your Luggage
The cargo space is probably one of the main reasons you want to rent a van, especially if you're hauling extra luggage to your destination. Make sure the van is large enough for your group's needs. It's especially important to be prepared if you have heavy equipment, gear or a series of products to transport along with your group.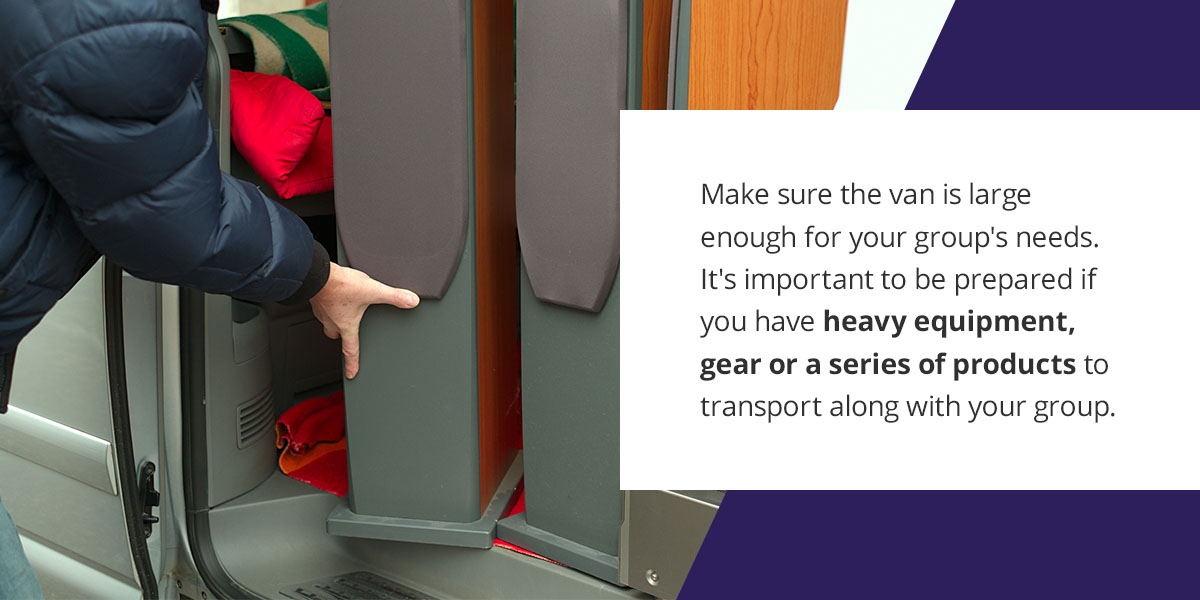 8. Your Travel Destination
When you rent a vehicle, the location of your destination usually dictates what options are available. You have to know where to pick up the rental, and you want it to be a convenient distance from your starting point. If you're flying to your destination, using a rental service close to the airport is a good choice.
Anticipated driving obstacles and road hazards might also influence your choice. If you need to travel through a densely populated area, having one vehicle can be much less stressful for your group.
9. Bonus Features
Do you want a GPS to make navigation easier? Maybe some of your passengers are young children, and you require child safety seats. You might need roof racks for storing some of your group's luggage, or maybe you just want to make sure the van has satellite radio.
Make sure to ask about all of these extras. Some services provide these things, but your group might need to bring your own booster seats or GPS, depending on the rental.
10. The Length of Your Trip
The comfort of the vehicle's interior is important if you're going on a long trip. Although some features are standard, like the air conditioning system and automatic transmissions, you might want to ask your group members what they would like to have in the vehicle.
If you planned for a short trip, the vehicle's features probably matter less to your group so long as it gets them where they need to go.
11. The Pick-Up Location
Look for an affordable rental company at a convenient distance so your group can pick up the van easily. If you are flying into your location, see if you can find a van rental delivery in the nearby area. Once you arrive, you will want to get on the road as soon as possible.
If you go to an off-site rental location to pick up your van, the line will probably be shorter. Either way, you can choose the service that best suits your group's needs.
12. The Transmission
When you're on vacation in an unfamiliar area, you want to use a vehicle that your diver knows how to pilot. Check to see if the van's transmission is manual or automatic to make sure your driver is familiar with the mechanisms and feels comfortable driving it. Some rental companies have manual cars and vans, but the information can be easy to overlook during signup if you aren't looking for it.
Transmission differences can be more of an issue when traveling internationally, but it's worth looking into any time you rent a vehicle.
Contact State Van Rental to Reserve a Van
Are you looking for a van rental service in LAX or LAS? We offer a wide range of van sizes and quality service that includes special features such as child seats, GPS navigation, prepaid miles and much more. Contact us to schedule a van rental or learn more about our services.