If you're in the market for a work van, you might be considering whether you want to buy a new van or rent. Each option offers its own advantages, and much of the decision is based on your unique situation.
Seeing the benefits of each option might help you make the right decision. Here are the benefits of renting a work van, owning a work van and some tips for how to choose a new or used cargo van.
Benefits of Renting a Work Van
Renting a work van offers many advantages. You'll experience financial benefits, decreased responsibility for maintenance and repairs and flexibility when upgrading to a new version.
Affordability
One of the key benefits of renting a work van is affordability. With renting, you won't be locked into paying a large sum for the van. Instead, you'll make payments over a set time until you no longer need the van.
This is a great option for those who know they'll only be needing the van for a limited period. Instead of spending a lot on owning a van, you can rent it for the time you need at an affordable cost.
Flexibility
Renting a van means you won't be locked into ownership forever. New models come out each year, improving on technology and performance. Instead of buying a van that will likely become outdated in the next year, you can invest in the best version of a van without worrying about it depreciating.
Reliability
A huge advantage of rental vans is reliability. If you find the right company, renting a work van can actually be more reliable than buying one. Many companies put their rental vehicles through rigorous inspections and maintenance that go above and beyond industry recommendations. Interiors and exteriors are cleaned and sanitized, parts are replaced and everything is organized for an efficient, enjoyable drive.
Vehicles are inspected regularly and maintained to ensure drivers have a good experience on the roads. For many van owners, constant inspections may be impossible when they're busy with other parts of their business. Rental vans may be a trusted, attractive alternative for many drivers.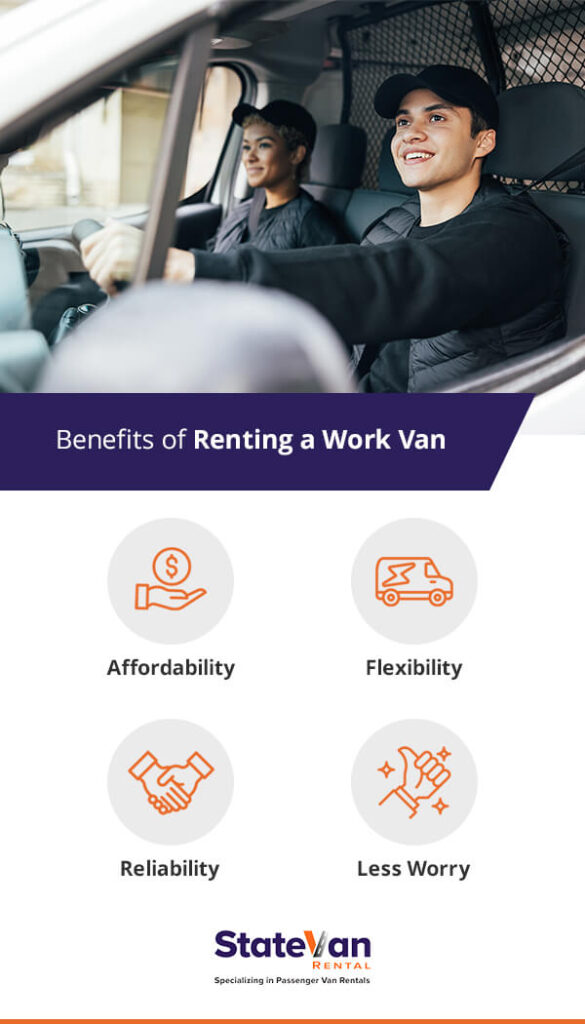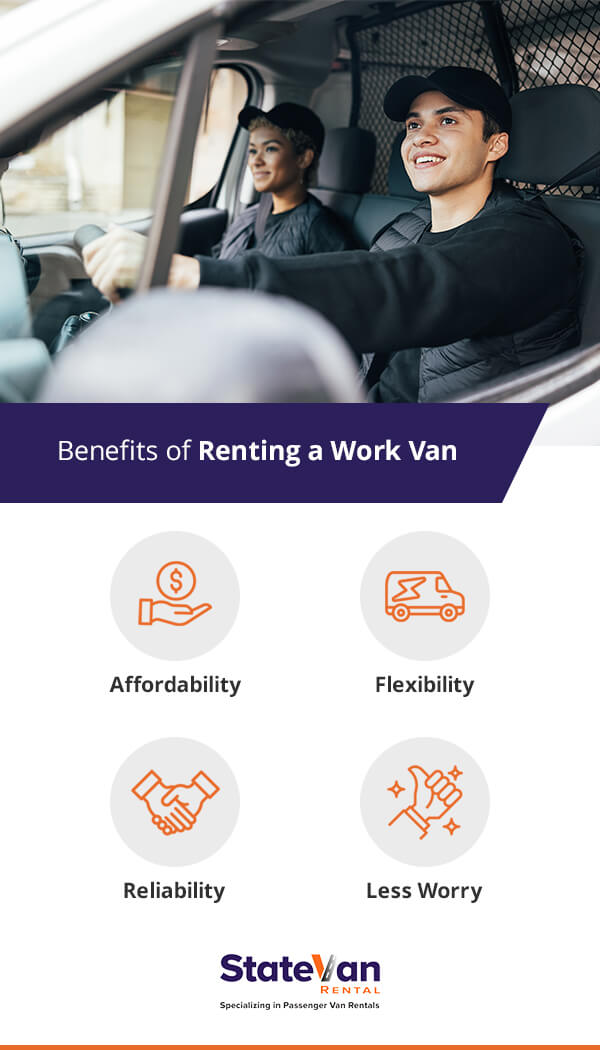 Less Worry
When it comes to renting vs. buying a work van, you should consider the amount of stress you'll want to shoulder. The business or job you have is already a lot of work — owning a work van can put even more responsibility on your shoulders. You'll have to worry about maintenance costs, repairs and whether cargo vans hold their value.
Ultimately, buying a work van leaves you with a lot more to worry about than renting one does. It will take time and energy to sort out the various challenges that come with owning a van.
When you rent, much of that responsibility is out of your hands. You can spend more time thinking about the work at hand rather than worrying about your van's operations.
Benefits of Owning a Work Van
There are many advantages of leasing a work van that might appeal to those in certain situations. For example, owning a work van gives you options for customization and optimization while also giving you tax benefits and leverage in negotiations.
Own an Asset
Owning a work van means possessing an asset you can eventually sell. With a rental, you make payments you won't get back. Ownership can be viewed as a type of investment in your business with the added benefit of potential resale value.
Tax Advantages
You may spend more to own a work van, but you can get some tax advantages. With a van as part of your business, you'll probably be able to write off some business expenses associated with it.
Driving Flexibility
Even though there is less responsibility when renting a work van, some may feel odd about driving someone else's van. There is a certain rigidity that comes with renting a van, and sometimes there are rules about how or where you can drive it.
When you own a van, you don't have to worry about this — the van is yours to do as you see fit. Some may find this sense of control and ownership appealing.
Leverage in Negotiations
With rentals, you're often confined to specific rates and times outlined by the rental company. If you buy a work van, you'll often have more leverage in the negotiations to lower the price.
Often, sellers want to get the van out of their hands at a reasonable price, so you can maneuver the price downwards to get a better deal.
Customization
Ownership also gives you the ability to customize your van as you see fit. When you rent, you may not have the option of changing your van's exterior to match your company logo. With full ownership, you can craft the van any way you want to fit your needs.
Optimization
Owning a van means you can optimize the interior and exterior to fit your specific business. Invest in an upfitting for extra durability or storage space. Consider new lights or ladder racks to make your workday as easy as possible.
When to Rent a Work Van
As you can see, renting vs. owning a work van has different advantages. The key is to look at your situation and determine which benefits match your needs. If you only need a van for a specific amount of time or want to avoid costly repairs and maintenance, renting might be for you.
Here are some reasons you may want to rent a work van rather than buy one: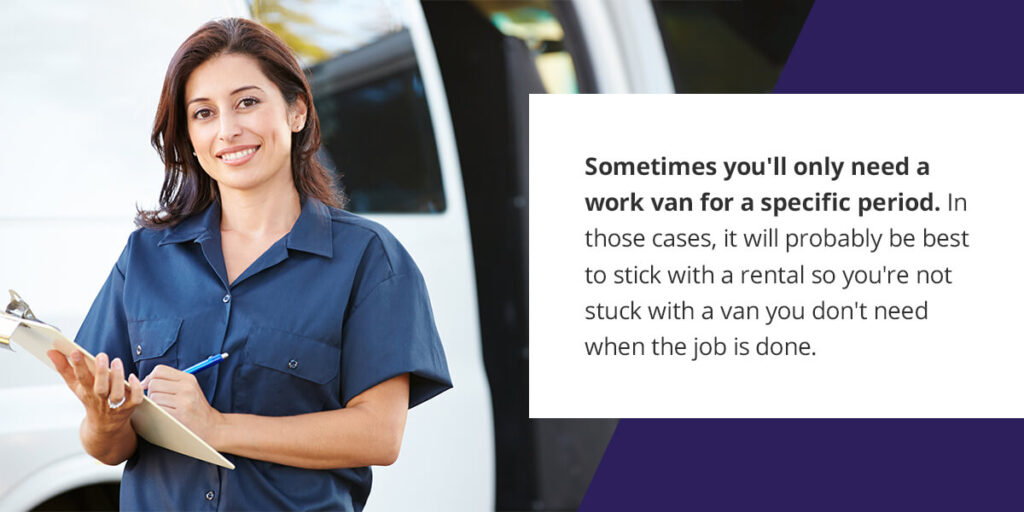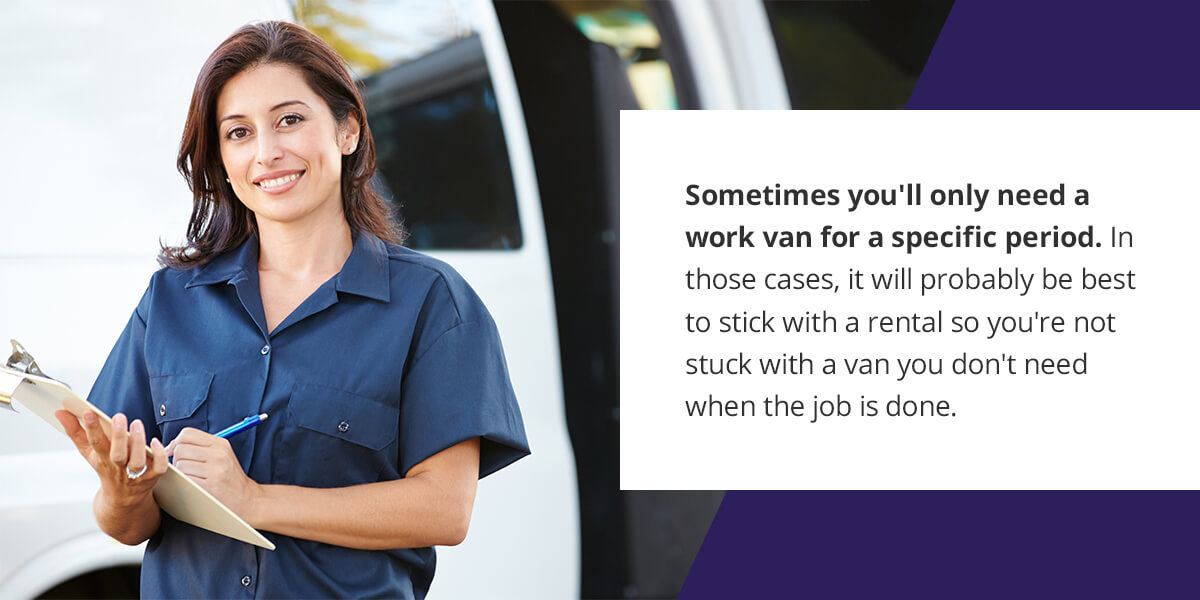 You'll Only Need It for a Certain Amount of Time
Sometimes you'll only need a work van for a specific period. In those cases, it will probably be best to stick with a rental so you're not stuck with a van you don't need when the job is done.
Likewise, if you know you'll want the upgrades featured in new vans each year, a rental can ensure that you aren't wasting money on something that will soon become outdated.
You're Sticking to a Budget
If you're tight on money, a rental can be the perfect option for you. It provides you monthly payments that you can pay off without worrying about investing more money and time in other aspects of the vehicle. All you'll have to worry about are payments and the work at hand.
With ownership, you'll often be stuck shouldering a lot of the many costs that come with work vans.
You Want to Be Free of Maintenance and Repairs
Maintenance and repairs can be stressful. Depending on where you drive and the type of work you do, those repairs can add up. They can take time and money away from the actual work and affect your business.
On the other hand, a long-term cargo van rental frees you from that responsibility so you can focus on the things that truly matter.
When to Buy a Work Van
Renting a work van offers convenience and affordability, creating an appealing option to many people. Sometimes, though, buying a work van may be more beneficial. Here are some reasons you may want to buy a work van.
You Want to Customize
Owning a work van gives you the ability to customize it to your exact specifications. Your work is probably specific to one industry with its own set of unique tools.
Customizing your work van allows you to fit it to that job, creating a faster, more effective work environment. If you're looking to increase storage or add optimization to your work van, you may want to consider buying.
You Want Control
One of the main reasons people buy work vans instead of renting them is the sense of control it offers. Many people want that sense of control so they can have a good handle on their business.
Whether it's the simple maintenance, the customization or the way they drive it, ownership gives business owners and drivers the ability to do what they want with their van.
You Need It for a Long Time
A cargo van is a good investment when you know you'll be needing it for an extended period. You'll be able to buy the van, make those customizations and optimizations and invest in a vehicle that you'll use far into the future.
Things to Consider When Renting a Work Van
It can be challenging to figure out whether you want to buy or rent a work van. They each come with pros and cons. Identifying the nuances of your current situation might help you identify whether renting or buying is right for you.
Time Frame
How long will you need the work van? Renting a work van will often give you a good amount of time to use the van, but if you're looking for a long-term option, buying is the way to go. Make sure you outline your timeline to figure out how long you'll be needing the vehicle.
Type of Work
What kind of work will you be doing? Do you own a business, or are you just trying to complete a side hustle? The scope and type of work you do will help you identify whether you want to rent a work van or buy one.
Think about the actual function of the vehicle to get a good idea of the various benefits you'll want to prioritize.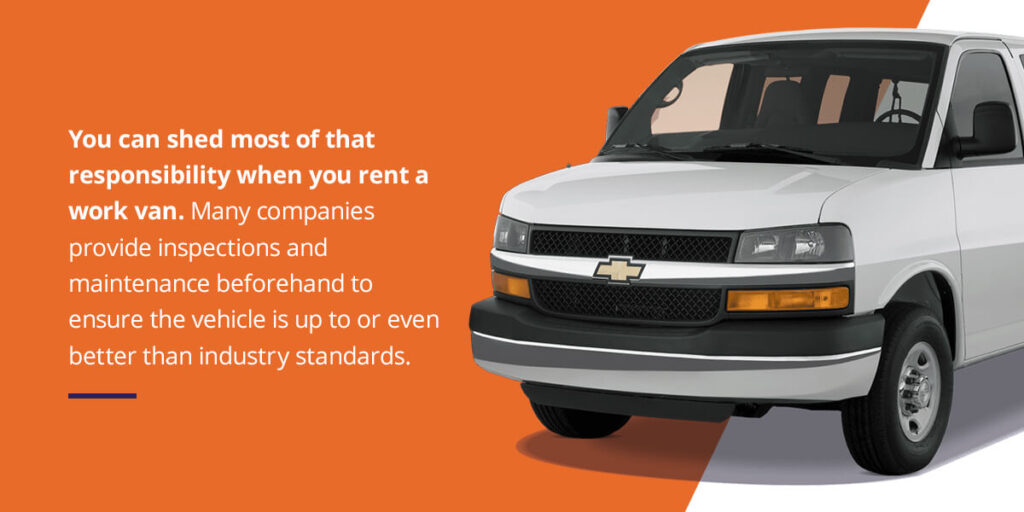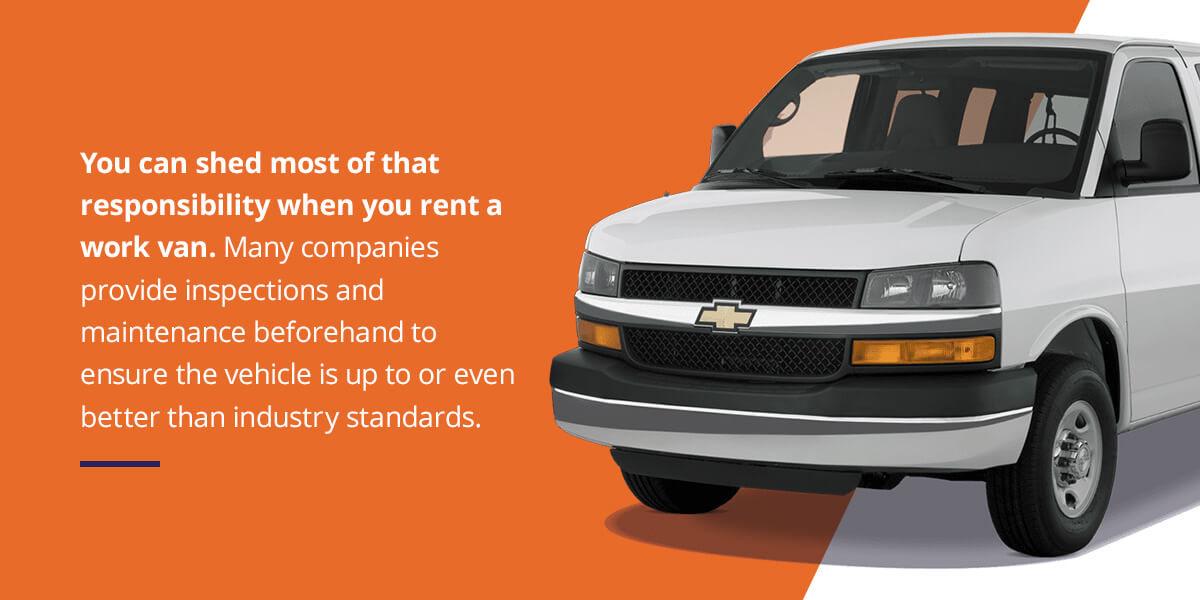 Responsibility
One of the biggest differences between renting and owning a work van is the responsibility that comes with each. With ownership, you're in charge of all aspects of the vehicle — maintenance, inspections, repairs and much more.
You can shed most of that responsibility when you rent a work van. Many companies provide inspections and maintenance beforehand to ensure the vehicle is up to or even better than industry standards. They also sanitize the interior to make sure everything is clean and welcoming.
When debating if a cargo van is worth it, consider the different responsibilities you'll need to take care of when you own one.
Cost
Budgeting will likely be a part of your business anyways, so you can factor a work van easily into this to find how much you're willing to spend. You may have the budget for full customizations and optimizations of a van, which might allow you the chance to buy a work van. Rental vans offer a cost-effective way to get the job done while also letting you save money.
Be sure to talk to a trusted company to figure out how much it is to lease a van per month and weigh this against the costs of buying.
Is It Better to Lease or Buy a Cargo Van?
Ultimately, the decision to lease or buy a cargo van is yours. Ownership of a cargo van gives you options for customization and control over your vehicle, while renting frees you from repairs and lets you upgrade to better versions when you want.
Many people have started to see the many advantages of renting a cargo van. The cargo van rental prices are very attractive, and the vehicles companies offer are very high-quality. Often, rentals offer the same or even more benefits than owning a cargo van. The key is to find a trusted, reliable company that can provide you with a great rental cargo van at a reasonable price.
Contact State Van Rental
State Van Rental is your place for car, passenger van and cargo van rentals. We specialize in 12 and 15-passenger van rentals. State Van Rental separates itself with its commitment to quality vehicles and excellent customer service. Our vans come ready with sanitized interiors and comfortable seating. We even have additions that can make your vehicle more enjoyable — Wi-Fi, GPS navigation and more. Experience all the benefits of State Van Rental:
Cleanliness: We disinfect more than 15 touchpoints on our vehicles so that we can create an inviting atmosphere for our customers. You can drive confidently, knowing the vehicle was cleaned thoroughly. Our vans are 100% freshly sterilized.
No Hidden Fees: We want our customers to have the best experience possible when renting with us. We're always upfront about all pricing so you know exactly what you're paying for.
Inspections: At State Van Rental, we always stay up to date on inspections and maintenance. Our inspections ensure you can drive safely and that we're offering the best ride possible to our customers.
When you need a quality rental van you can trust, work with State Van Rental. We can offer you an easy, convenient process and reliable, sanitized vehicles. Contact us today!