If you are looking to take a family vacation or a business trip to Los Angeles any time soon, you can consider renting a passenger van or compact car. When visiting a new place, renting a van allows you to bring as many people as you need without worrying about transportation. Here are the types of van rentals offered by State Van Rental in Los Angeles.
Passenger Van Rentals in Los Angeles
Passenger vans are helpful for businesses or individual parties who need transportation to Los Angeles. At State Van Rental, you can rent and pick up a van in a nearby location. For example, our Los Angeles location is close to the LA International Airport (LAX), one of the largest airports in California. We offer shuttle pick-up to and from the LAX airport, allowing you to get started immediately with transportation through the city. 
Passenger van rentals offer you many benefits, including the following:
Affordability: We offer affordable rental prices, down payment opportunities and mileage packages for your trip.
Discounts: You could receive a discount if you are a AAA member or military personnel on active duty.
Cleanliness: We clean and maintain our vehicles before every rental agreement, ensuring your van is up to industry standards and manufacturing recommendations.
Amenities: Our company offers unique travel amenities, like WiFi HotSpot, GPS navigation and toll passes.
Service: Our customer service representatives work hard to find the best vehicle that fits your needs.
15-Passenger Van Rental in Los Angeles
State Van Rental offers LA 15-passenger vans for rent. Our vans can accommodate many people, whether they are your friends, family members or business peers. Van models have plenty of legroom for all passengers, with large chairs available for the driver and front passenger and three rows of seats in the back. A bench in the very back seats four other passengers, with every seat allowing for increased comfort, legroom and space for storage and bags.
15-passenger vans have ample standing room, accessible seating for those of all abilities, increased headroom and a center aisle with cushioned seating. Our models contain modern amenities like Bluetooth, GPS or WiFi hotspot options.
With locations in Las Vegas and Los Angeles, it's easier than ever to find a rental in either city. Our Las Vegas rentals are less than a quarter-mile from the Harry Reid International Airport and our LA rentals are only 10 miles away from the popular LAX airport. 
Choose from our 15-passenger Ford Transit or Chevy Express models that can fit your group and still have space for carry-on luggage and extra bags. We also offer added amenities for additional fees that you might enjoy. These include toll passes that give you better access to roads through California and Nevada or WiFi hotspot services so passengers can use their phone or laptop during the drive. We also offer services like GPS navigation for saved cellular data and extra seat options for those traveling with children or who need a seat removed for excess luggage.
The benefits of using a 15-passenger van for your travels are numerous. For one, you can have more fun once you know that your party will be organized and arrive at the same place on time. It also saves precious fuel, tolls or parking money that would otherwise be spent on multiple vehicles.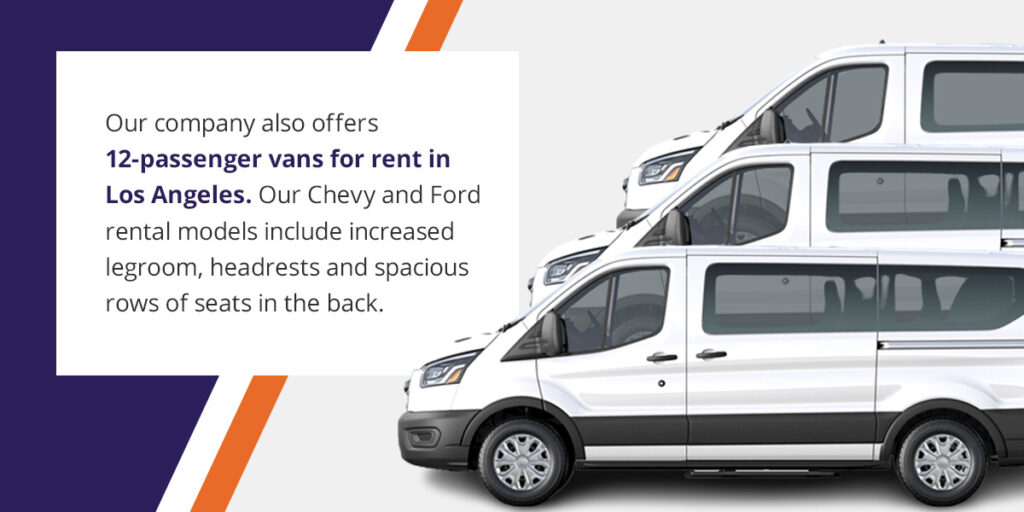 12-Passenger Van Rental in Los Angeles
Our company also offers Los Angeles 12-passenger van rentals. Our Chevy and Ford rental models include increased legroom, headrests and spacious rows of seats in the back. You can even request seat removal if you want extra space for luggage and bags.
Our models have air conditioning, radios, Bluetooth and automatic transmission. You and your party will benefit from comfortable travels, saved costs and an overall organized trip compared to other tourists.
8-Passenger Van Rental in Los Angeles
For those who require an 8-passenger van rental in LA, you can rent an 8-passenger vehicle from the company. As you ride, these models still leave lots of room for your luggage and feet, meaning you can stay comfortable during your travels while still fitting your family and friends. Some of our minivan models include the Toyota Sienna, Honda Odyssey and Kia Sedona.
Cargo Vans
Looking for a cargo van rental in Los Angeles? State Van Rental offers Chevy, GMC and Dodge cargo van models for rent in the LA area. Many of our cargo vans have an automatic transmission, rub rails, tie-downs and air conditioning, making them great for trips and vacations. We also offer additional services like toll passes, hotspots, Bluetooth, GPS navigation and seat removal service for those who need it.
Compact Car Rental
State Van Rental also offers compact car rentals in the Los Angeles area. We rent out the Forte, a reliable hatchback with increased storage space in the cargo area and intense power. You can drive around the city or highway for hours without worrying about the vehicle.
Full-Size Car Rental
Consider renting one of State Van Rental's full-size cars. We offer the Toyota Camry, a reliable sedan available for rent in the LA area. It has spacious rear passenger seats and many modern features that you or your family will enjoy. It also houses a powerful engine with fuel-efficient features to save money while exploring the city.
Business Rentals
For those who want commercial van rentals in Los Angeles, look no further than State Van Rental's business rental options. Going on a business trip requires the most reliable vehicles and transportation. You can trust our rental vans and cars to take you and your coworkers where you need to go.
Some of our business services include covering the busy season in Los Angeles, transporting you and your team to your hotel and working with larger groups to fit their needs. Organizing a business trip leaves you with many areas and people to consider. Renting a van frees up time for you to create the perfect itinerary and book the best hotel rooms in the area.
Whether you're a small sports team arriving in Los Angeles for a game, on a religious retreat or attending a business conference, our vehicles can get you to where you need to go while saving you time and money.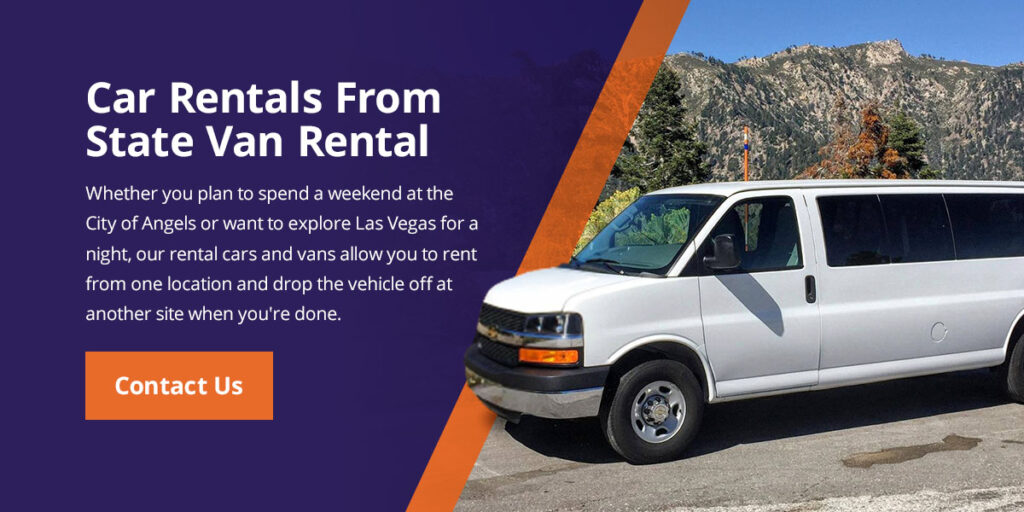 Car Rentals From State Van Rental
State Van Rental is a reliable car, cargo van and passenger van rental company with two locations in Las Vegas and Los Angeles. Whether you plan to spend a weekend at the City of Angels or want to explore Las Vegas for a night, our rental cars and vans allow you to rent from one location and drop the vehicle off at another site when you're done. 
We specialize in 12 and 15-passenger vans, with additional services available for an extra fee, such as personal pickup and delivery, GPS navigation services and WiFi integration. Contact us today to speak to a State Van Rental representative, or explore our services online and plan your next exciting trip.