Are you planning a trip to Las Vegas? There's so much to do and see in this iconic city that you may not know where to begin. Below, we've put together 16 of the best attractions to discover in and around Las Vegas to help you have the trip of a lifetime.
1. The Fountains of Bellagio
The Fountains of Bellagio is one of the best free attractions in the Las Vegas Strip. Located at the Bellagio Resort & Casino, the fountain offers a show set to music performed every 15 to 30 minutes. With various nozzles and lights, you can see shoots of water reach higher than 400 feet.
2. Bellagio Conservatory and Botanical Gardens
Inside the Bellagio, you'll find the Bellagio Conservatory and Botanical Gardens, featuring inspiring scents, colors and foliage. Explore the seasons and unique displays depending on when you visit. With plants from all over the world, you're sure to discover and admire all kinds of flowers and trees arranged in beautiful designs. 
3. Red Rock Canyon National Conservation Area
The Red Rock Canyon features over 190,000 miles of plants, wildlife, geological sites and scenic drives in the Mojave Desert. You can drive through the area with your rental car or van and explore the hiking trails and cultural resource centers. Feel free to check out the trail map to plan a scenic drive.
4. The Hoover Dam
Just 30 miles outside of Las Vegas, you can explore the Hoover Dam and Lake Mead. Constructed in the 1930s, this popular tourist site is the highest arch dam in America, located near Lake Mead. Lake Mead is one of the biggest artificial lakes in the world, making it an exciting spot to learn history.
5. Fremont Street Experience
The Fremont Street Experience is one of the most popular spots in Las Vegas. It occupies five blocks and includes various shops, casinos, hotels and activity centers. The pedestrian mall spreads over Fremont Street and has a large LED canopy overhead with bright colors and screenings. Try walking the street at night for a truly unique Vegas experience.
6. The Mob Museum
The Mob Museum offers numerous exhibits and other learning opportunities for visitors to discover all kinds of information about organized crime's history in America. Explore the struggle between law enforcement and groups like the Mafia — who once controlled Las Vegas — and find out more about notable events and characters who have become infamous in American history.
7. The Neon Museum
The Neon Museum has a collection of iconic Las Vegas neon signs and educational and historical exhibits. Each sign has a unique story, including who designed it, what inspired it and where it was made. Many of the signs are essential in Las Vegas's history, with pieces from the 1930s to the present day.
8. The Grand Canyon Skywalk
If you're planning a day trip to the Grand Canyon, the Grand Canyon Skywalk offers a thrilling view of the famous site. Visitors can stand on a glass bridge over 4,000 feet above the canyon to get a truly unique experience.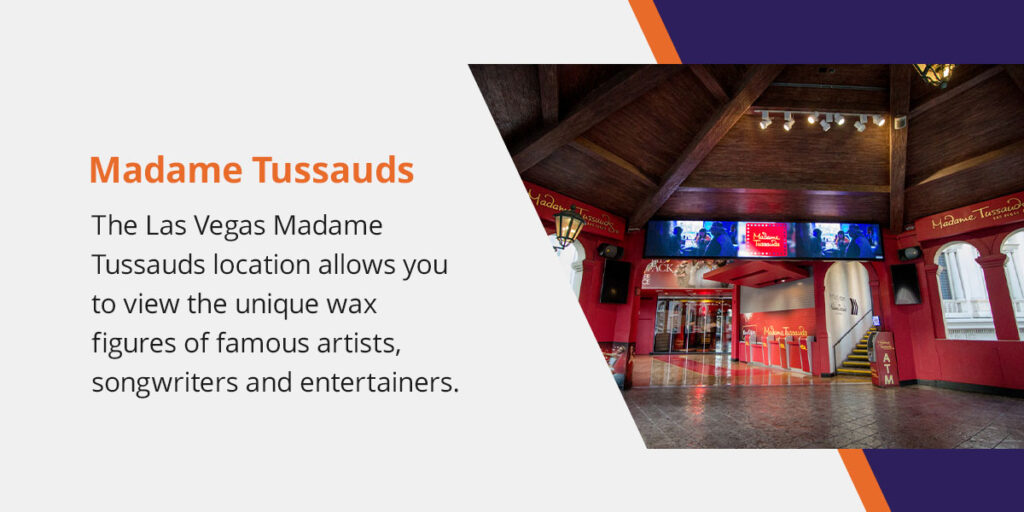 9. Madame Tussauds
The Las Vegas Madame Tussauds location allows you to view the unique wax figures of famous artists, songwriters and entertainers. Located at The Venetian Resort, you can take selfies and photos with your favorite celebrities, sports legends and political figures. Relive some of the best moments in history at this famous wax museum.
10. The National Atomic Testing Museum
If you want to further explore some of the museums in Las Vegas, the National Atomic Testing Museum is a great place to go. The institution gives you a look at the science and history behind American nuclear weapons and the testing program at the Nevada Test Site. The museum aims to educate guests about the effect of nuclear testing and features exhibits on pop culture and intelligence gathering. Explore atomic weapons and rare artifacts throughout the museum. 
11. Gondola Rides at The Venetian Hotel
While you might not be in Venice, Italy, you can still experience a gondola ride in Las Vegas. Located at The Venetian Hotel, gondola rides are available indoors and outdoors. You can float beneath balconies and bridges or beside shops and cafes down the Las Vegas Grand Canal. Some gondolas even feature a singing pilot, offering a fun and romantic serenade during your ride.
12. BLACKOUT Dining in the Dark
BLACKOUT Dining in the Dark is a unique restaurant in Las Vegas you can visit for a truly unique experience. Guests dine in complete darkness while feasting on mystery meals to stimulate the senses. If you're interested in a dinner and drinks experience you can't get anywhere else, BLACKOUT should make your list of attractions in Las Vegas.
13. Hell's Kitchen
Gordon Ramsay's Hell's Kitchen is one of the most popular restaurants in the city. Consider stopping by Caesars Palace for a fine-dining experience. You'll feel like you're on the studio set of the famous TV show on which the restaurant is based, and you can try iconic dishes like the beef Wellington or pan-seared scallops. Make a reservation well ahead of your visit, as the restaurant is often full.
14. Meow Wolf's Omega Mart
Meow Wolf's Omega Mart is one of America's most unique interactive art installations. Located in the AREA15 entertainment venue in Las Vegas, Omega Mart features a supermarket with secret areas and narratives for guests to discover. Let your imagination run wild with so many areas to explore. If you're bringing kids on your trip, this is one of the best things to do in Vegas.
15. Princess Diana Exhibit
For those interested in the life and journey of Princess Diana, consider stopping by the Princess Diana exhibit in Las Vegas. The exhibition features the most extensive collection of artifacts, photographs and memorabilia from Diana's life. With several themed rooms and over 500 artifacts, from dress replicas and jewelry to memorial recreations, there's so much to see.
16. Seven Magic Mountains
Seven Magic Mountains is an art installation near Las Vegas, Nevada, created by Swiss artist Ugo Rondinone. The public installation is made from seven colorful towers of stacked boulders that stand 30 feet above the desert ground.
The artwork is meant to enhance the natural landscape of the nearby mountain ranges. With such creative human expression, the installation has been a popular tourist site for many years.
Explore Las Vegas With Rentals From State Van Rental
State Van Rental offers cargo and passenger van rentals for those who want to explore the museums, shops, sights and streets of Las Vegas. We specialize in 12- and 15-seat passenger van rentals in Las Vegas while offering car rentals for those who need them.
With locations in Las Vegas and Los Angeles, you can rent from either location and drop off your rental at another. Explore Las Vegas today with a reliable van rental service that offers additional services and features like GPS navigation, WiFi and pickup and delivery.
Contact us today to speak to a State Van Rental representative or explore our services.
Most Popular Van Rentals
Learn about our most popular rentals: