Visiting Los Angeles is exciting, especially if you plan to see famous destinations like the Hollywood Walk of Fame, Universal Studios Hollywood, Disneyland or Dodger Stadium. Many who visit Los Angeles, California, wonder when they should arrive. Is vacationing in summer too stressful? How cold does LA get in the winter? Exploring hotel deals and visiting seasons can help you decide when the best time is to visit the famous city.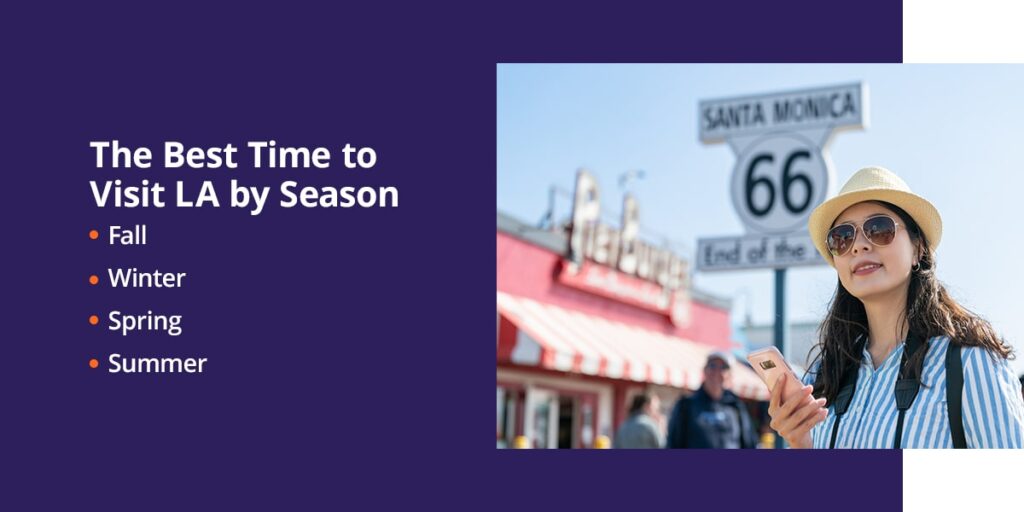 The Best Time to Visit LA by Season
If you are looking for the best times to visit Los Angeles, you can explore the various tourist attractions that are popular each season. Whether you want to travel during peak tourist seasons or find good hotel deals during the winter, exploring the best visiting times can help you decide when to travel to the City of Angels.
Fall
If you plan to visit LA after the summer for milder temperatures, it helps to know when fall is in Los Angeles. Fall is a relatively short season in LA, with the weather lasting from October to November. However, the days are mostly sunny and warm, with temperatures reaching 59 degrees Fahrenheit at the minimum until late November. 
Most temperatures will still hover between 80 to 90 degrees until the end of October, and you can expect each day to be warm and dry as desert winds blow into the city. While rain might not be common in fall, it will become intense during November as showers often increase in the winter.
Winter
Many who have never visited California wonder how cold LA gets in the winter. Winter in Los Angeles lasts between December and March, though it won't get freezing. LA winter temps may reach 30 degrees at night, with windy weather between December and January. During the day, temperatures rarely go below 45 degrees and may reach highs of 60 to 70 degrees. 
If you visit the mountains, you may experience heavy snowfalls, so be aware of the possibility before you go hiking or biking. Winter in LA is also fraught with more rainfall, and rain can last several days throughout each of the winter months. Keep in mind that the wind will also be frequent if you visit in the winter, but the weather will remain dry and hot compared to other states in the U.S.
Spring
Spring is a very short season in Los Angeles, lasting from around April to mid-way through June. The climate and weather will gradually change throughout spring, with average temperatures ranging from a low of 45 to 60 degrees. When the spring temperatures reach a high, they often range from 70 to 75 degrees in April and 80 to 85 degrees in May. 
Once June hits Los Angeles, prepare for a sudden temperature shift. In June, the warm weather becomes humid as ocean currents drive wind and fog into the city. Springtime in LA often contains heavy amounts of fog and light rainfalls, with the most rain occurring in April. June prepares the city for summer, where scorching temperatures are the norm.
Summer
While it may seem like summer weather lasts year-round in Los Angeles, that is hardly the case. Summer starts in July and lasts to the middle and end of September, with hot and extremely hot temperatures making the city both dry and sweltering for visitors. However, summer happens to be a popular time for tourists to visit the City of Angels. 
Rain during the summer is scarce, and temperatures range from a low of 65 degrees to over 90 degrees. If you plan to visit the California deserts, watch for warm, dry winds like the Santa Ana Winds, which blow over the deserts and into the city. 
If you travel closer to the airport or in nearby coastal areas, you'll find that the extreme heat is slightly lessened due to ocean currents. Long Beach might be an exception. From the inland cities of Burbank, Pasadena and Culver City to the central areas of Los Angeles, the weather will be warm throughout all the summer months. Traveling outside of LA and toward San Fernando, the weather might be even warmer, as the local hills and mountains will block the cool currents that might come from the seaside.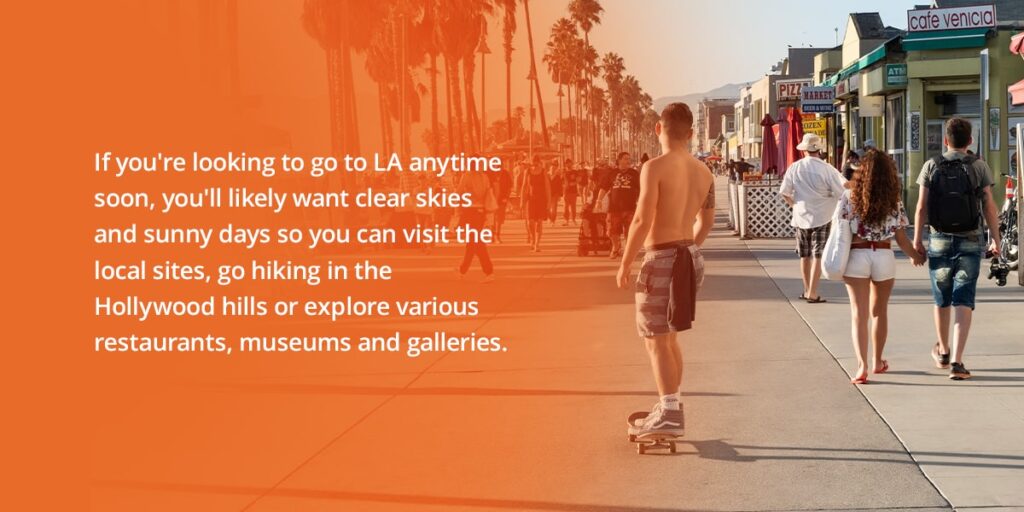 When Is the Best Weather in Los Angeles?
Many who want to travel to Los Angeles for the first time look to learn more about the weather patterns before their visit. If you're looking to go to LA anytime soon, you'll likely want clear skies and sunny days so you can visit the local sites, go hiking in the Hollywood hills or explore various restaurants, museums and galleries. It does get cold in Los Angeles in the winter, but very rarely do temperatures reach below 30 degrees. 
You can expect pleasant weather throughout most of the year in Los Angeles, with highs of 90 degrees in the summer and lows of 60 to 70 degrees in the fall and winter. Depending on how well you can manage the heat, you may want to visit in the springtime to avoid the summer weather or in the winter to enjoy the fresh, cool weather.
If you plan to visit the beach while in Los Angeles, you'll enjoy that the beaches in Hollywood are lower in temperature than in the city by about 10 degrees. If you're looking for the best time to visit LA based on weather, mid-September through October is one of the best times to travel to the city. You can also find better deals on midweek hotel rooms and great prices for other traveling expenses. 
For those who want to travel to LA in the spring, remember that it is the rainiest season in the city and the weather is more unpredictable. While it is rainy, it won't rain for very long, and you can explore the city after a few hours.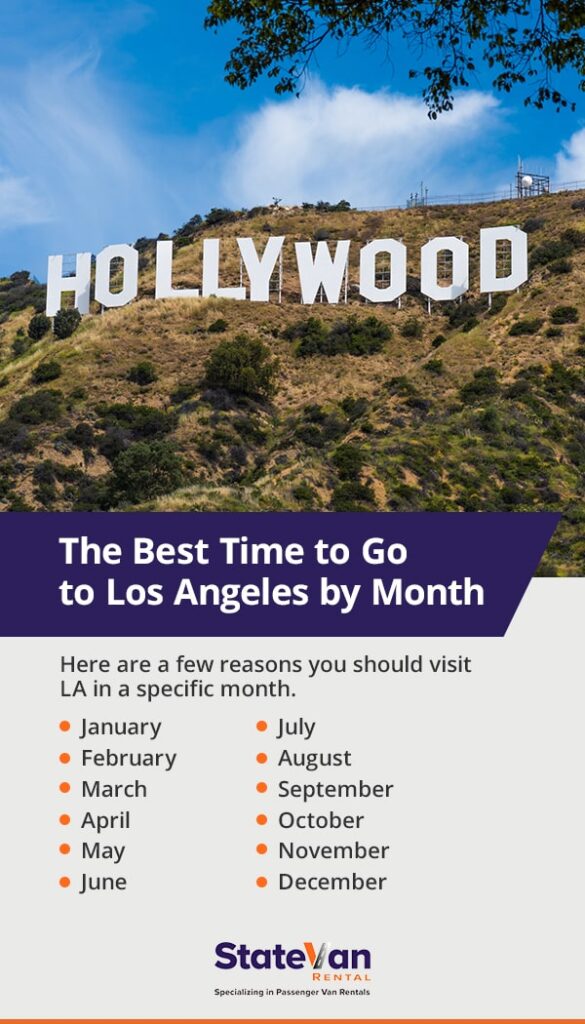 The Best Time to Go to Los Angeles by Month
Perhaps you plan to visit Los Angeles in a particular month, like during award season. Whatever your reason for visiting, you may want to explore what each month offers to help you decide when to book your travels. Here are a few reasons you should visit LA in a specific month.
January
January in LA is one of the city's coldest, wettest months. However, if you think it will be like typical cold cities, such as Boston or New York, you're in for a surprise. Compared to these cities, LA is warm and inviting. While the weather might be chilly, it only reaches a low of 35 to 45 degrees and can often reach highs of 70 degrees. 
Remember that you probably won't have a long sunny day during your visit. The sun often appears for around 10 hours daily and rainfall is common. However, this doesn't mean you can't enjoy your stay. January is the perfect time to explore LA's museums, art galleries, movie studios and other indoor attractions.
February
When February rolls around, the rain eases up and blue skies peak through the clouds. February is a great time to visit, especially if you plan on traveling for the LA award season or to see famous sites like the Hollywood Walk of Fame or Universal Studios Hollywood. During the month, you'll find that the city does not have as many tourists, making it a great time to enjoy indoor attractions and outdoor activities, such as hiking, biking and picnicking.
During February, the weather is relatively reliable, with a few random showers here and there. Blue skies are typical during this month, and as the winter closes, the days become longer, allowing you and your friends to spend more time exploring the city. 
March
March is one of the best months to visit Los Angeles due to its beautiful weather, blue skies and cloud-free days. Temperatures are comfortable for sightseeing without the intense heat that occurs during the summer months. You can explore the beaches in Los Angeles, have a picnic in the sun or go hiking and biking outdoors. Temperatures in the city range from 50 to 70 degrees, and temperatures near the beach hover around 60 degrees. 
One of the main things travelers enjoy about LA during March is that there are not as many tourist crowds, meaning it's easier to sightsee and explore the city. Visiting in March may be an excellent idea for those who want to enjoy a day trip or a weekend at the City of Angels.
April
April marks springtime in Los Angeles, with relatively sunny and cloudy days throughout the month. Temperatures may rise slightly to 70 or 75 degrees, but the nights usually cool down to around 50 degrees. 
With such beautiful weather in the city, you can expect to enjoy the beaches, picnic spots and outdoor LA attractions without fear of heavy rainfall or extremely hot, dry temperatures. You can expect the odd rain some days, but it won't last too long, allowing you and your family to enjoy a trip to the Walk of Fame or the local LA museums.
May
The month of May is a warm, dry time in Los Angeles. Though you won't experience hot peak temperatures, the area begins to heat up in preparation for the summer. May is a popular time for tourists, as many like to visit right before the summer rush to Los Angeles. 
Days are bright and sunny, with low rainfall and several hours of sunshine each day before the cool evening hits. With temperatures around 75 degrees, visitors can still go to the beach but will probably need to wear sunscreen as the UV rays increase.
June
June is the foggiest month in Los Angeles, so keep this in mind when you visit. Also known as "June Gloom," many tourists still arrive this month to appreciate the sunny, warm days and hot temperatures.
July
July reaches temperatures of over 80 degrees, with hot, dry days and humid nights. Visitors can still enjoy the refreshing sea temperatures and relax on the beach, sunbathing or surfing. Just know that July is part of the city's peak tourist season as you plan your visit.
August
August is one of the hottest months in LA and one of the most popular months for visitors. August also boasts a rich nightlife. You can visit the bars, nightclubs and restaurants in the city and perhaps bump into the rich and famous while you're there.
September
September is considered one of the best months to visit Los Angeles because the weather is slightly cool and the tourists have mostly gone home. The summer crowds have dissipated, leaving you and your friends room to explore the city without waiting in such long lines or traffic. 
The days in September are mostly warm and sunny, with cool evenings and over 12 hours of sunshine every day. With breezes from the sea, you will surely enjoy your time in LA in September. 
October
Temperatures begin to cool down during October, making it a great time to visit if you want to avoid the summer heat. There are also fewer crowds thanks to tourists returning home after the summer rush, meaning you can find great hotel and motel deals and enjoy crowd-free attractions and beaches. 
With an average of 11 hours of sunshine every day, you and your friends will have plenty of time to explore the famous sites in Hollywood without fear of rainfall. Go shopping in Beverly Hills or travel to Universal Studios Hollywood. You can also enjoy outdoor activities like beaching, hiking and biking.
November
November marks the beginning of Los Angeles' rainy season, with slight showers at the beginning of the month slowly increasing to regular rainfall at the end of November. Temperatures are still warm, with the days reaching anywhere from 60 to 70 degrees. 
Many who visit LA in November like to participate in fun outdoor activities like hiking, biking or climbing. You'll experience plenty of days with long hours of sunshine, and you can even visit the beach without fear of overheating. Because November isn't a popular time for tourists to visit the city, you're sure to find great deals on flights, hotels and motels in the area.
December
December is a mild-weather month in Los Angeles. Rainfall and heavy showers are constant during December, with windy weather reaching mild to intense gusts. This month is one of the best times to explore the indoor attractions in Los Angeles, including its museums and art galleries. If you plan to go to LA during the holiday season, you can explore the shopping centers and stores around central LA as they fill their shelves with seasonal items, gifts and deals.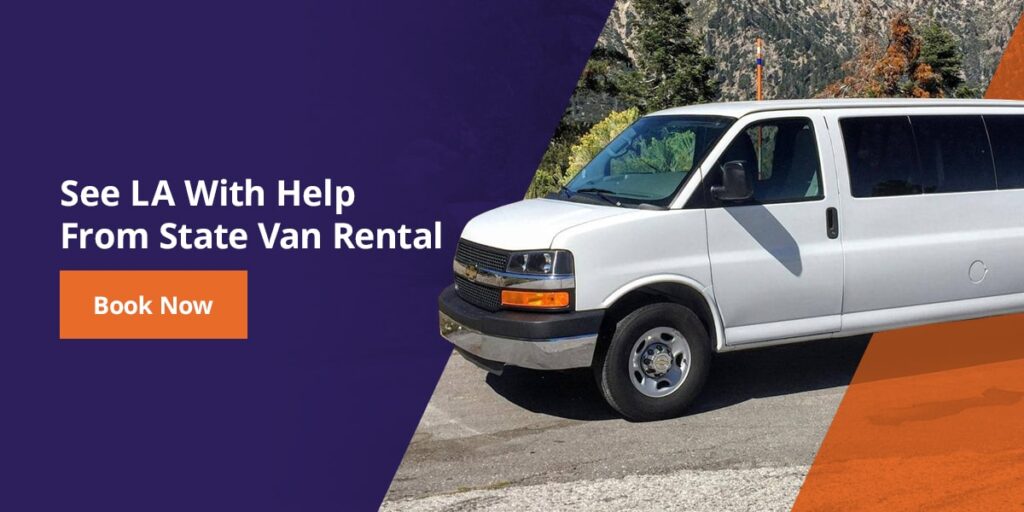 See LA With Help From State Van Rental
Whether you plan to travel for business or with a group of friends or family members, State Van Rental can help you find the right vehicle to fit your visiting needs. We offer rentals like 12-passenger or 15-passenger vans and allow our customers to rent from one location and drop the car off at another. 
Contact us today to speak to a representative. Explore our services online and visit the Los Angeles sites with a reliable vehicle!