Cargo vans are essential business tools in several industries, but you can always rent one for personal use. Below is more information about cargo van rentals that can help you choose when to rent.
How Much is it to Rent a Cargo Van?
The cost of a cargo van can vary depending on many factors. When you're calculating how much to rent a cargo van, consider things like time of year, location, and how long you'll need the rental. How far you're planning on driving and purchasing additional coverage can also impact the cost of a cargo van.
Reasons to Rent a Cargo Van
What can you haul with a cargo van? Just about anything. Here are common reasons for renting a cargo van instead of using another method of transportation:
1. Moving
Moving companies usually operate so you have limited control over the way your items are handled. On the other hand, a cargo van offers enough room to transport appliances, furniture, packed boxes or other large, heavy items over a great distance without having to rely on the staff of a third-party company.
Moving trucks and companies can be expensive. When you're relocating for school or work or just to leave your current area behind, you have other expenses waiting. Using a cargo van provides reliable transportation at a fraction of the cost.
2. Personal Projects
If you want to remodel your home, having a cargo van makes it easier to transport supplies and materials like tile, paint, lumber and drywall. Instead of hiring professional contractors to complete your home improvement project, save money with transportation that has the right amount of cargo space. A cargo van ensures you are able to transport the supplies you buy from home goods stores quickly and securely.
3. Event Planning
Cargo vans are spacious enough for equipment and gear designated for any event. You can store coolers, fold-up chairs, signs, decorations and all kinds of other items. If you're going to be traveling for an entertainment gig or live show, cargo vans are also helpful for securely storing your audio, band and recording equipment.
4. Shopping
Black Friday and other heavy shopping days sometimes require a little extra space, especially when you're purchasing big-ticket items like new sets of furniture or electronics. A cargo van is the perfect vehicle for transporting large, bulky products directly to your home. Take advantage of the sales deals and get the new items to your home right away without worrying if you have enough room in your vehicle.
5. Business
If you work as an independent contractor or have another part-time job, you might need to transport your equipment and supplies to job sites on certain days. Renting a commercial cargo van is a good first step before you commit to buying one for your business. Whether you need to make deliveries over the weekend or you're planning to transport resources and products to a conference, having van rental options is convenient.
6. Outdoor Parties
A cargo van is useful to rent during the summer months when outdoor parties make popular hangouts. Whether you're hosting a holiday BBQ or a birthday party in the park, getting all of the items you need to the destination is easier with more cargo space. Bring all your party favors in one trip, including the food and drinks, supplies like fold-up chairs, spare tables and camping canopies to block out the sun.
7. Deliveries
Are you planning to make a round of deliveries for a toy drive or other special event sponsored by a charitable organization? A cargo van is the most efficient way to conduct multiple deliveries in a short period of time. Your personal vehicle only has so much room, and the traffic will be higher during a busy season. Avoid traveling back and forth by renting a cargo van with ample room for everything you need to deliver — whether it's for personal or business reasons.
8. Furniture
If you ever need to move furniture from one location to another, a cargo van is the ideal vehicle to have for the job. If you're moving to a new office, apartment or home soon, you probably have plenty of furniture you want to keep, but items like desks, couches and bookshelves are too big to fit in a passenger car. A cargo van lets you easily transport these items or furniture pieces you're purchasing new.
9. Sports and Recreation Equipment
Are you planning to set up a private campground? Or maybe you need to deliver sports equipment to an important tournament? A cargo van gives you plenty of room for bulky equipment like bicycles, kayaks and camping tents. You will also have extra room for your luggage, sports gear and other important necessities.
What Industries Use Cargo Vans?
Many professionals use cargo vans to transport their tools to job sites. Below are some of the industries where cargo vans are common:
Caterers
As a professional caterer, you need room for your serving equipment and food products. You might lack the funding for multiple vehicles, but renting a cargo van is an affordable solution. You can dodge the maintenance expenses associated with buying the vehicle while still having enough space to reliably transport your equipment and food.
Moving Companies
If you have a startup or small business and want to keep up with a steady amount of work, consider renting a few cargo vans before you purchase a van or truck. You might have to establish your company before you're able to get a business loan or afford a line of your own vehicles. Renting a van can also come in handy for when your commercial vehicle is in the auto shop for maintenance or repairs.
Florists
Cargo vans are a good vehicle for delivering fresh flowers and other floral arrangements that require plenty of room to arrive looking their best. A smaller van might lack the space you need to make a large delivery or multiple stops. If you're delivering for a wedding, reception, funeral or another formal event, you need an interior that can hold large bouquets.
Tourism Professionals
This type of van is also an effective choice if your business involves providing bikes or other outdoor recreational equipment for tourists to enjoy. Getting a van rental can allow you to easily transport your equipment to travel destinations for your clients to use.

The Benefits of Renting a Cargo Van
Among the many benefits of using a cargo van, the best features include how they are:
1. Easy to Drive
Moving trucks are longer and generally more difficult to maneuver. Most are built on a large truck chassis, which makes them less able to enter driveways or go through narrow side streets. Cargo vans are easy to maneuver and have rear access to help load and unload large items.
2. Spacious and Secure
Cargo vans are fully enclosed and have plenty of room for transporting your items. Use them to transport mattresses, cardboard boxes and other items that are sensitive to severe weather conditions for added peace of mind. You'll have enough room for your items, and everything will stay covered and protected.
3. Affordable
Renting a cargo van is generally more affordable than renting a moving truck, and it is definitely less expensive than buying your own vehicle. If you need a cargo van for more than one day, you can find a deal for a week of use. Moving heavy items can be an expensive venture, and you should aim to save money when you can.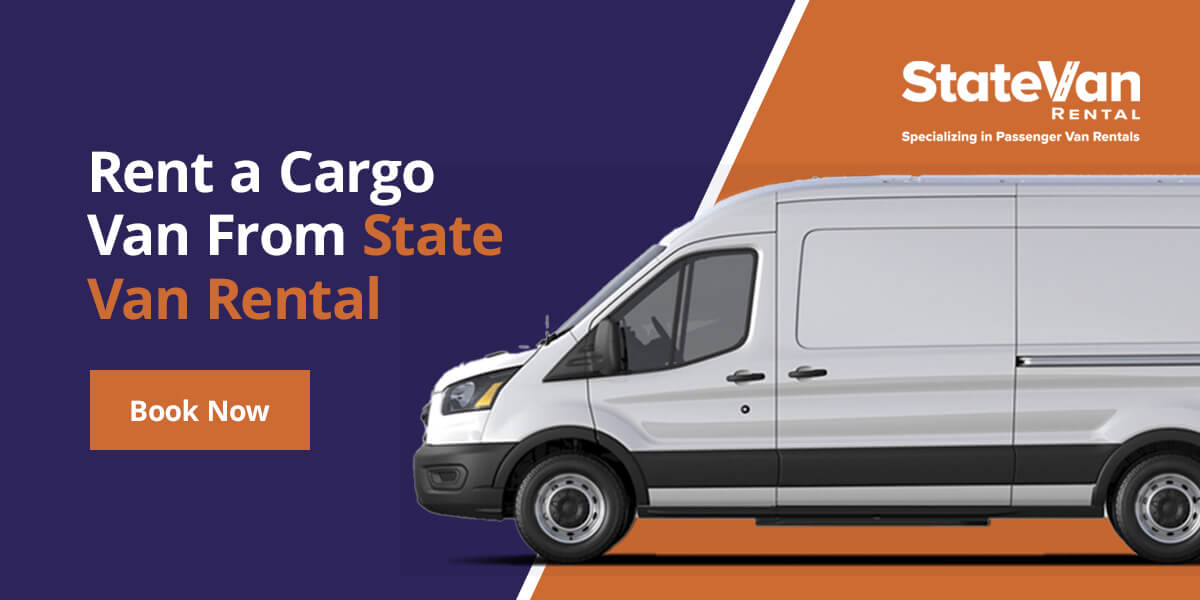 Rent a Cargo Van From State Van Rental
Find the best cargo van for your small business or private enterprise in Los Angeles or Las Vegas. At State Van Rental, we have a variety of rental options in our fleet. Contact us with any questions or schedule a rental today!