From the Hollywood Sign and Venice Beach to Griffith Observatory and Little Tokyo, there are many places to explore in Los Angeles. Here are 14 attractions in Los Angeles to remember for your visit!
1. The Hollywood Sign
The Hollywood Sign is perhaps the most iconic of all the things LA is known for. The Hollywood Sign was placed on Mount Lee as a cultural landmark and is a significant part of Hollywood history. It is often seen in movies, TV shows and other entertainment mediums. 
Consider taking one of the trails up to the sign, such as the Brush Canyon Trail, Mt. Hollywood Trail or Cahuenga Peak Trail. Stay on authorized trails, which are easiest to traverse and prevent accidental trespassing. You can also get a great view of the Hollywood Sign from the Hollywood and Highland shopping complex or the Griffith Observatory.
2. Hollywood Walk of Fame
One of the most visited locations in Los Angeles, the Hollywood Walk of Fame is a famous site with stars commemorating the names of legendary artists, entertainers, comedians, singers, writers and actors. Tourists can walk along Hollywood Boulevard and Vine Street to try and find the names of their favorite artists.
3. Venice Beach
Venice Beach is a popular spot for families and travelers who want to enjoy sand and sunshine while visiting Los Angeles on vacation. Walk the Ocean Front Walk and eat at boardwalk restaurants, or shop from various stores and vendors. You can also attend the Venice Beach Recreation Center to participate in a paddle tennis tournament or basketball game.
4. Griffith Park
Explore Griffith Park and the surrounding natural terrain, landscapes and picnic areas. In the park, you can find various foliage and plants, from sage scrub and oak trees to lilacs, sumac and sage. You can also explore the nearby Griffith Observatory to find educational and interactive content about space and stars.
5. Sunset Boulevard
Sunset Boulevard is one of the most famous streets in the area, with routes passing Beverly Hills mansions, Oppenheim Group, central and downtown Hollywood, and even Playboy Mansion. If you want to drive through LA in your rental van or car, consider taking a tour through Sunset Boulevard. You can see the sites all from the comfort of your vehicle.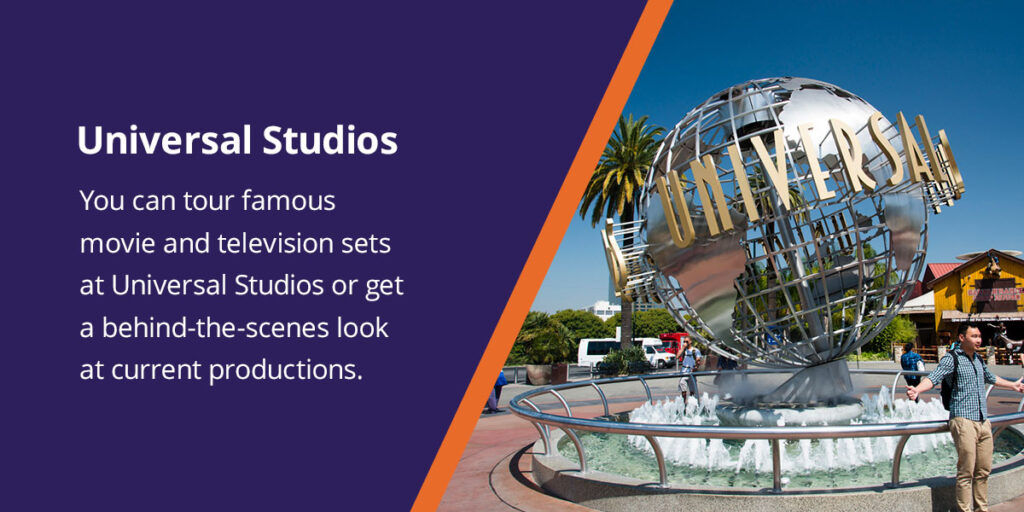 6. Universal Studios
You can tour famous movie and television sets at Universal Studios or get a behind-the-scenes look at current productions. Consider visiting the theme park to experience the magic of The Wizarding World of Harry Potter™, SUPER NINTENDO WORLD™ and Jurassic World. Whether you want to eat at the Toadstool Cafe or visit Ollivander's wand shop, the park has many attractions.
7. The Getty Center
The Getty Center is a museum with art, gardens and modern designs. Free admission allows you to easily explore the site's exhibitions, courtyard and central garden. With art from the Middle Ages to the present day and a center filled with unique architecture, consider visiting the space or taking home a souvenir from the gift shop.
8. Natural History Museum
With one of the largest collections of artifacts and natural specimens, the LA Natural History Museum provides exhibitions like the Dinosaur Hall, Age of Mammals, and Gem and Mineral Hall. You can also explore the outdoor Nature Garden and learn more about LA's past and present history.
9. Dodger Stadium
The Dodger Stadium is a legendary Los Angeles site home to the iconic baseball team. Located in Elysian Park, it is one of the oldest ballparks in the United States and the largest baseball stadium in the world. Dodger Stadium has hosted two All-Star games in 1980 and 2022 and 10 World Series games. If you have a chance to see a Dodgers game while in Los Angeles, be sure to get tickets your tickets fast!
10. Little Tokyo
Little Tokyo is a Japanese-American district in Los Angeles with museums, public art installations, gardens, restaurants and shopping centers. Visit the Japanese American National Museum to learn more about the area's history, or visit the memorial statue of Chiune Sugihara. 
If you visit Little Tokyo in August, you can participate in the Nisei Week festival, which includes a pageant, parade, Japanese art and culture exhibits, and a taiko drum festival. The public gardens include the rooftop Kyoto Grand Hotel garden and the Japanese American Cultural and Community Center garden. For those excited to try out Japanese cuisine, consider eating at the local restaurants and tasting authentic sushi, noodles, donburi or yakitori.
11. Hollywood Bowl
The Hollywood Bowl is a live music center that has hosted famous singers throughout the decades, from Billie Holiday and the Beatles to Tony Bennett and John Legend. If you can catch a live event in Los Angeles during your trip, consider stopping by the Hollywood Bowl and visiting its museum. 
The Hollywood Bowl Museum celebrates historical landmarks and legends in music and entertainment. Visitors can learn more about the venue and the singers who have performed throughout the years. Performers like Billie Eilish, Weird Al and H.E.R. have recently performed, as well as casts from the musicals "Annie" and "Mamma Mia." 
12. Hollywood Forever Cemetery
The Hollywood Forever Cemetery is the final resting place for many famous artists, actors, songwriters and entertainers. Legends like Judy Garland, Mickey Rooney and Chris Cornell are laid to rest at the cemetery, where thousands of visitors come to celebrate their life and legacy. As an active burial site for individuals worldwide, many neighborhood residents have also been placed there. Consider visiting to pay your respects to a favorite artist or entertainer. 
13. Olvera Street
For those who want to learn about Mexican history, look no further than Olvera Street. The site features a marketplace with recreations of old Los Angeles, including painted stalls, cafes, street vendors and gift shops. 
You can also visit their many museums to learn about Los Angeles Mexican history. Some vendors have descended from original street merchants, making the area rich with Aztec and Mexican culture. Walk around the stalls, buy food like tacos and taquitos, listen to mariachi music or watch Aztec folk dancers perform. You can also purchase handcrafted items and souvenirs to commemorate your visit. 
14. Warner Bros. Studio
The Warner Bros. Studio tour guides guests through a walking tour of one of the oldest Hollywood movie studios in the country. Glimpse behind-the-scenes features of famous movies and explore great sites like soundstages, sets, craft shops and backlot streets. You will surely enjoy the Warner Bros. Studio tour if you are a big movie buff or TV fan. 
See iconic costumes from the "Harry Potter" and "Fantastic Beasts" films, or explore Stage 48. You can also explore legendary D.C. villains and superheroes throughout movie history. You can even take a picture on the famous "Friends" couch.
Explore Los Angeles With Help From State Van Rental
State Van Rental offers cargo and passenger van rentals for those who want to explore the museums, sites, streets and studios of Los Angeles. With locations in Las Vegas and Los Angeles, you can even rent from one place and drop off your van in another location.
We offer extra services and products to fit your needs, from GPS navigation and Wi-Fi to pickup and delivery. You can also consider our car rentals to visit Los Angeles with a smaller party. Contact us today to speak to a State Van Rental representative, or explore our fleet online.
Most Popular Van Rentals
Learn about our most popular rentals: