With the school year in full swing, many youth sports leagues are kicking off their seasons. Playing sports is a great way to stay in shape, positively release energy and learn essential skills like teamwork, sportsmanship and motivation. As a parent or coach, it's vital to promote the many benefits that athletics provide. At the same time, traveling for youth sports with a large group to and from games and practices can get expensive.
Experienced coaches and parents know that choosing the right van rental service is essential if you want to keep long-term expenses within your team's budget. Taking multiple vehicles isn't usually practical or economical for sports team travel. If you're looking for a better way to save on a van rental for a sports team, we're here to help.
Tips for Renting a Van for a Sports Team
Here are 10 tips to help you save on a van rental for sports travel to get your team where they need to go without breaking the bank.
1. Rent Longer
Although it may not seem logical, a van rental service will charge less for more extended rental periods. That means you could spend less renting a van for a week than if you kept it for a few days. The reasoning is that businesspeople often require a vehicle for just a day or two, and those trips tend to be paid for by companies with a large travel budget. Industry professionals realize this, and they price short-term rentals accordingly.
If your team has multiple practices or games in one week, check the rates on long-term rentals. Remember that if you decide to return the van early, you may be subject to repricing fees. Before you reserve your van rental, ensure you have a suitable place to store it while it's under your care.
2. Stick With the Local Companies
Instead of renting from a corporate giant, go with the little guy. A regional van rental service is more likely to have competitive rates, and you also get that one-on-one customer support that you just won't find at a large corporation. To the major brands, the customer is just another number. Smaller companies appreciate your business, and it shows. Plus, you can also feel good about supporting your local economy.
3. Use Rental Sites to Find the Best Deal
Sometimes, you can hunt down a lower price using sites like Kayak or CarRentalExpress.com. You may even be able to secure your van rental for as much as 50 percent less than if you had booked it directly through the van rental service. While you may find low prices, there are some downsides to consider. Most vehicle rental websites require prepayment, and you may not know which company you rent through until after you've already paid.
Another problem with discount rental sites is that not all companies participate. You may get the lowest rate out of five companies, but there may be 10 in your area. Make sure you check prices on multiple websites, including directly through rental agencies. Using all of the tools that are available to you is the key to locating the best deal.
4. Return Your Vehicle on Time
Another way you can save on your rental van is by ensuring that you return your vehicle at the correct time. Many rental companies will charge you for another day if you return your vehicle past the designated time, even if you're just a few hours behind schedule. 
On the day you're supposed to return your rental van, leave yourself plenty of time so you don't have to worry about fees or extra charges if you experience a delay. In many cases, you can choose your return time, so pick one at least a few hours later than your anticipated return.
Before you pay for your rental and finalize the purchase, ask about a grace period. Although most rental companies tend to stick to their policies, sometimes there is a grace period before you get charged. If you're just running a few minutes behind, it's nice to know you have time left before getting charged an extra day.
5. Check-In at the Counter
When it comes to getting what you want from a customer service representative, a warm smile and a positive attitude can go a long way. While it may be tempting to check in at the van rental service kiosk for convenience and speed, you're missing the opportunity to ask about any complimentary upgrades or promotions that may be going on. A machine can't help you, but a human can.
Always go to the counter when it's time to check in, and be friendly to the customer service representative. It never hurts to ask about free upgrades. Some companies may even be willing to provide a discount for youth programs.
6. Crowdfund Your Rental Fees
There's power in numbers. If the school or league budget cannot cover van rental service fees, it may be time to ask the community for help. Even small donations can be beneficial if multiple people get involved, and many parents or fans are willing to donate to get the team to the next game. Websites that allow crowdfunding make it easy for parents and coaches to request assistance, and sharing campaigns on social media websites is a great way to get some free exposure.
7. Search the Internet for Savings
There are plenty of bargains, coupons and other rewards if you're willing to look. Some credit cards offer rewards bonus programs for car rentals, although you may only be able to book through specific agencies. If you belong to AAA, the AARP or other affiliated organizations, you may be able to get a discounted rate from a participating van rental service. Sometimes, searching "van rental discounts" can yield surprising results.
Many articles offer tips on saving money when traveling, including how to get the best bang for your buck when renting a vehicle. Articles that feature tips for saving money during your family road trip or offer advice on which landmarks are 'must-sees' on your vacation can be valuable sources of information for the thrifty traveler.
You could also try to connect with other youth sports teams and ask what they use for transportation. The internet's a big place, and there are lots of people out there who are willing and able to help. You may even be able to find another local sports team ready to share the cost if scheduling allows. Most communities are all ears when it comes to assisting children's programs, so don't be shy — reach out if you're in need.
8. Avoid Airport Rentals
Before you spend a dime on a van rental, do your homework. Many review websites allow customers to tell the world about their experiences—good or bad. While a few bad reviews could be due to many factors, you may want to reconsider if you see a pattern. You will not need to worry if you rent through a known and respected company. After all, a respected van rental service will want to protect its reputation, whereas a poorly reviewed company has little to lose.
You may also want to ask friends, family and community members for agency recommendations. Social media pages are great for putting out feelers, and talking to real people online ensures you get accurate, unbiased information. In addition to helping you make an informed decision, talking to the community enables you to make potentially beneficial connections.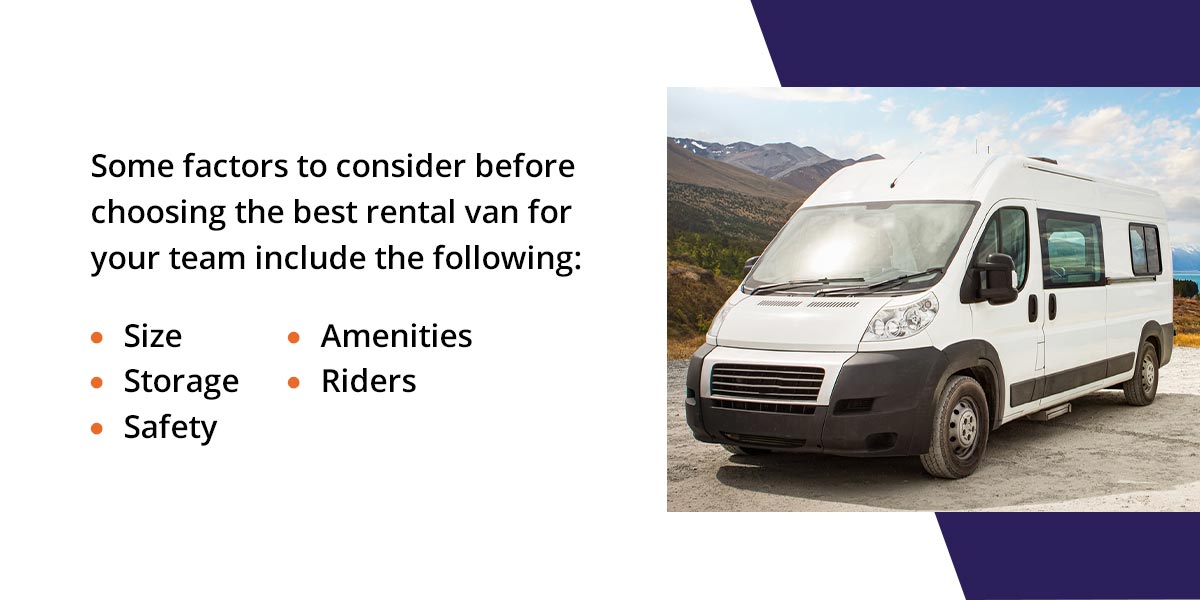 Things to Consider During Sports Team Travel
Other factors can affect the price of your rental van depending on the needs of your team. Some factors to consider before choosing the best rental van for your team include the following:
Size
Rental vans and charter buses vary by size. If you have a small sports team of just five to seven members, you likely won't need a 15-passenger van. First, you'll need to determine how many players and coaches will ride in the rental van before choosing your size. You have various options to choose from, including:
8-passenger vans
12-passenger vans
15-passenger vans
Minivans
You may not use all the seats in your van for players or coaches. You can use the additional space for equipment, sports drinks or snacks. More space will make your team feel more comfortable than piled together in a smaller van.
Storage
Sports teams have plenty of equipment and luggage that needs to move from one place to the next. Your rental van should have plenty of space for the players and coaches while leaving adequate room for equipment and baggage. Some rental van companies will have more storage options than others, which can cost more but is worth it for your team. Before renting a van, ask the rental company how much storage is available within their fleet.
Safety
While it can be tempting to go with the cheapest rental van option, it doesn't always mean it's the safest option. The safety of your team is vital, so you want to find a rental van company that has the approval to drive sports teams and has no safety violations. Finding an affordable rental van company with good safety ratings is more than possible, especially using the savings tips from above.
Amenities
Some trips to games can be long, and entertainment is necessary to make the time go by quickly and reduce distractions for the driver. Many people use their phones for entertainment, whether scrolling through social media, watching movies and TV shows or playing games like Candy Crush.
Choosing a rental van company that offers Wi-Fi hot spots or charging outlets can help make the time go by faster for your team while you're traveling to your next game or practice. Your team can stay engaged on their devices or bond while watching movies or shows together as you head to your destination. You can ask your rental van company about these amenities and decide whether you need them.
Keep in mind that adding amenities will contribute to your cost. However, you can offset the cost of these amenities by searching for savings, crowdfunding, using rental sites or using any of the other tips we mentioned in the section above to help you save on your rental van.
Riders
You'll need to consider who will be riding in the rental van. It's a given that the team members and coaches will be riding in the van, but determine if parents or fans will be riding along. Depending on the number of riders, you may have to upsize your van, which can affect your cost.
All the factors above can affect the type of sports van you need and how much it will cost. However, you can utilize the tips we've provided to save so that you can get your team to each game or tournament while staying within budget.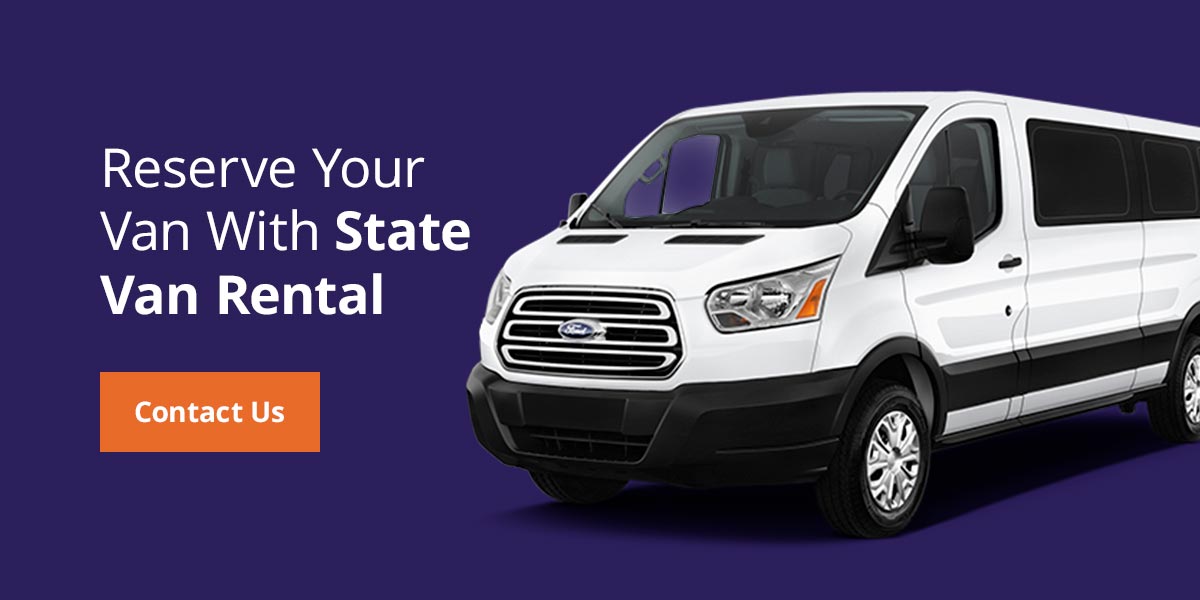 Reserve Your Van With State Van Rental
If your youth sports team is located in the Los Angeles or Las Vegas area, we encourage you to reserve a van with State Van Rental today. We take great pride in serving our communities and providing customer service you won't find anywhere else. Our secure website makes booking your van rental fast and easy, and all our dependable vehicles are modern and meticulously maintained.
If you'd like more information, please don't hesitate to contact our friendly customer service team at 424-404-5391. We're the Las Vegas van rental service that bends over backward to keep our customers happy at all times. Transport your team to victory with State Van Rental. Contact us today to get started!