Until December 14, 2021, the Las Vegas Harry Reid International Airport was known as the Las Vegas McCarran International airport. Las Vegas has four total airports, but the Harry Reid International Airport is one of the most popular airports for domestic and international travelers.
The airport is a popular destination for travelers visiting the city or catching a connecting flight to another location. Understanding how the LAS airport works can help you reduce travel stress and allow you to take full advantage of the many amenities the airport offers. Below is a Las Vegas airport guide to help you learn how to navigate the Las Vegas Airport.
Getting There
The Las Vegas Harry Reid International Airport is only 10 short minutes from the famous Las Vegas Strip and about 10 miles from downtown, making it easy for travelers to get to some of the most popular tourist spots in the city.
You should arrive at least two hours before your scheduled departure at the Las Vegas Airport, which may affect your transportation choice. Arriving early can help ensure you catch your flight since it can take an hour or more to get through the Las Vegas airport during busy travel days.
Travelers have numerous options to help them get from the Las Vegas airport to their destination and vice versa, including the following:
Public Transportation
One of the most cost-effective ways to get around Las Vegas is through the public transportation system. The Westcliff Airport Express services both LAS terminals. Public transportation isn't the fastest method of getting around the city, especially when traffic gets heavy. Public transportation delays can put a damper on your schedule and limit how much you can do in Las Vegas. However, it can be an affordable way to get around if you're on a budget.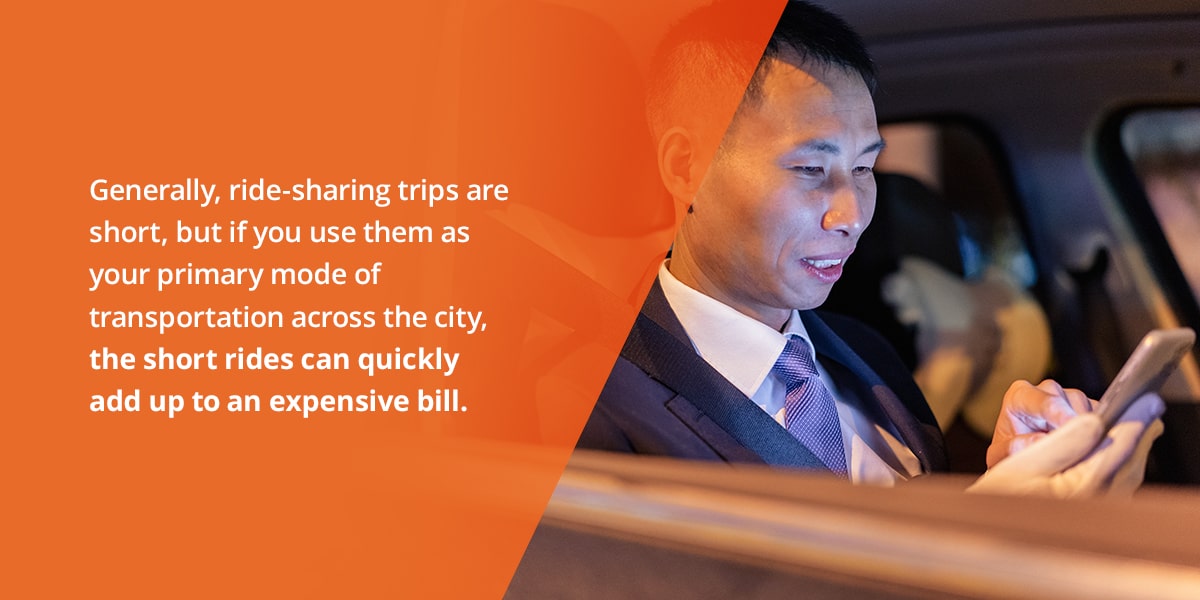 Ride-Hailing
Ride-hailing, also called ride-sharing, refers to booking a ride with a driver through apps like Uber or Lyft. Like taxis, ride-sharing costs a specific rate depending on your destination. You can choose from different size vehicles to accommodate your group and luggage.
Generally, ride-sharing trips are short, but if you use them as your primary mode of transportation across the city, the short rides can quickly add up to an expensive bill. These services can be beneficial if you need a ride to a family member's home, hotel or airport. However, if you're planning on hitting all the tourist spots while in Las Vegas, it's better to look into alternative transportation options if you have a limited budget.
Taxis
Eight taxi companies serve the LAS airport at both terminals for domestic and international travelers. Taxis offer fixed fees to customers to get to various locations within the city. For example, a trip to Mandalay Bay usually costs around $19, while a trip to Wynn Las Vegas costs around $27.
Like public transportation, taxis can be delayed by heavy traffic. Cabs are more expensive than public transportation and aren't convenient if traveling to multiple destinations since the cost can quickly add up. If you plan on seeing plenty of tourist spots while in Las Vegas, a taxi might not be the best choice, particularly if you're on a budget.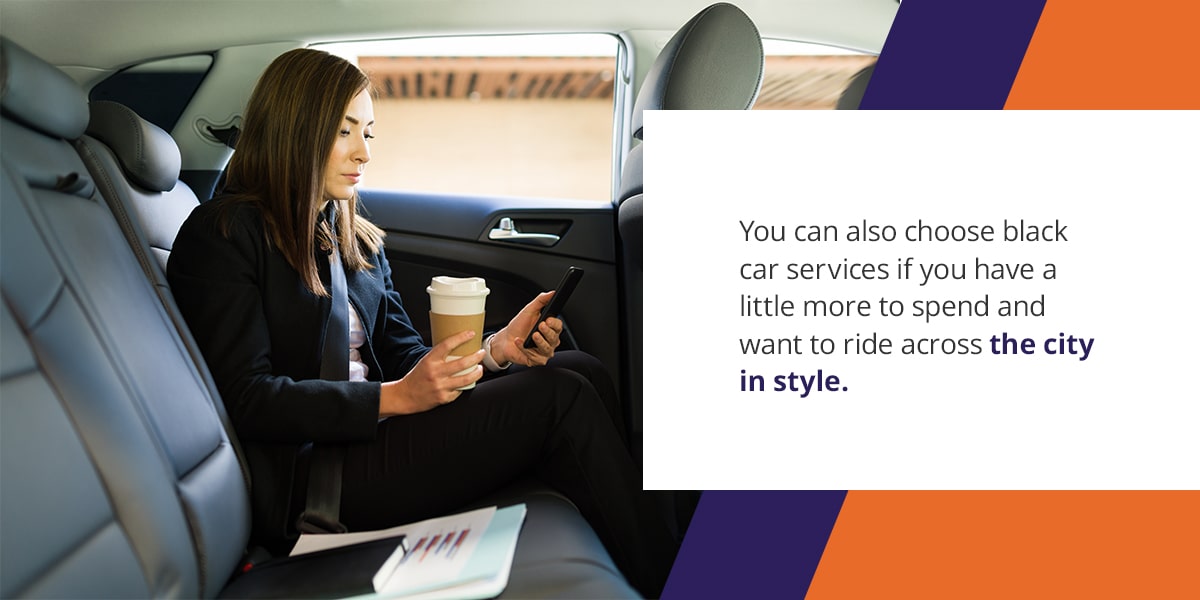 Car Services
You can also choose black car services if you have a little more to spend and want to ride across the city in style. Uber and Lyft offer black car services via Lyft Premium and Uber Black. Other services provide limousines, including Kaptyn, Bell Limousine and AWG Ambassador. While travel time with car services is short, you can still hit traffic during busy travel times, and these services come with a higher price tag.
Rentals
If you want the freedom to roam about the city on your schedule at a budget you can afford, rental services may be for you. Renting a car or van allows you to travel on your own schedule with the freedom to explore the city without waiting on public transportation, ride-hailing, taxis or car services. Many airports, including LAS, have car and van rental services on their property, making it convenient for travelers to pickup a vehicle after they land and claim their baggage.
Renting is also more convenient if you have a large group you're traveling with and need space to accommodate each person and their luggage. When selecting a van rental, consider if you'll be comfortable in something larger like Las Vegas 15-passenger van rental to travel or if a 12-seater van rental in Vegas is spacious enough for your party and their luggage.
Rental cars or vans also make traveling outside the city limits easier if you want to go sightseeing or take a road trip. Many rental companies will allow you to drop off their van or car at another location. You'll likely get the most for your money by renting with all the freedom it offers.
Other Options
Other options for travel usually include having a family member or friend pick you up at the airport. If you have family or friends who live in the Las Vegas area and are planning on visiting, you can have them pick you up at the passenger pickup locations at the McCarran airport.
They can take you to your destination, whether it's their home or a nearby hotel. Riding with friends or family is convenient and affordable, but like other transportation options, it doesn't allow much freedom since you're on another person's schedule. However, it can be one of the better ways to get around the city.
What to Expect
Knowing what to expect once inside the Las Vegas airport can make your trip less stressful and more enjoyable. The Las Vegas airport is mid-sized and has two terminals — Terminal 1 and Terminal 3.
Despite its size, the LAS airport is one of the busiest airports in the nation. The first terminal has three concourses, A, B and C. Terminal 3 has just one concourse, E. The D concourse can be accessed from Terminal 1 and Terminal 3 and is a satellite concourse. Travelers can get between terminals through a series of shuttles and people movers, making it easy for travelers to walk between terminals at the Las Vegas Airport.
Travelers have access to various food and drink options, some open 24 hours a day for those staying late into the night or early in the morning. There are also various amenities to help keep travelers entertained or well-rested while they wait for their flights, which we'll learn more about below.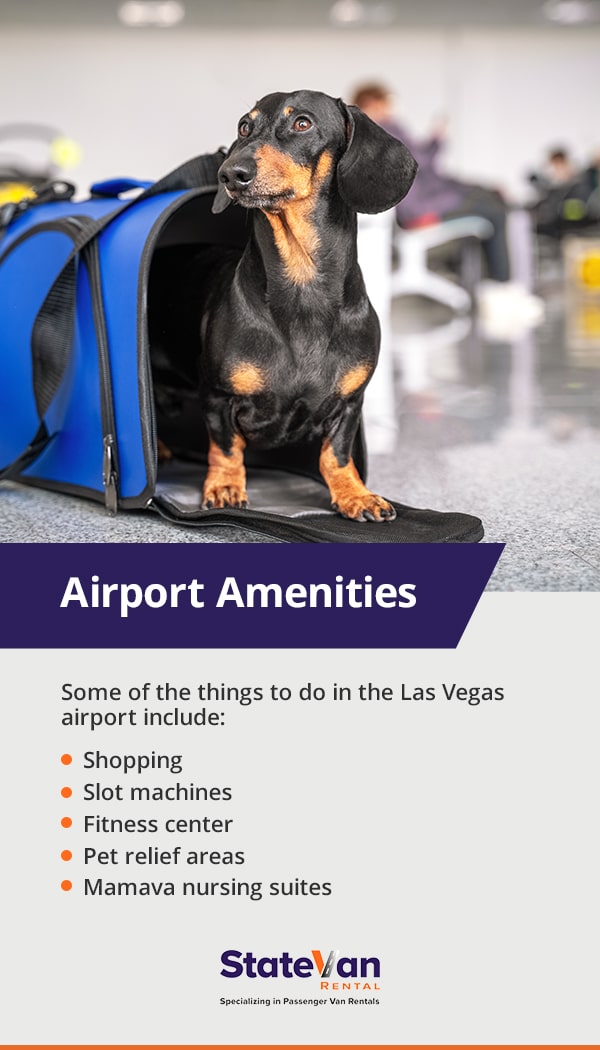 Airport Amenities
The Las Vegas airport amenities offer travelers ways to help them stay entertained and rested throughout their trip. Some of the things to do in the Las Vegas airport include:
Shopping: Travelers can enjoy shopping in the Las Vegas airport, whether looking for designer items, souvenirs or gifts for their friends and family. The Neon Museum has souvenirs and gifts that are uniquely Las Vegas, perfect for commemorating your trip to the famous tourist destination. You can also shop at Poker Face for customized poker chips near Gate 16 in Terminal 1. There are also many popular brands you can shop from inside the Las Vegas airport, including Marshall Rousso, Pandora Jewelry, Coach, Michael Kors and Victoria's Secret.
Slot machines: There are over 1,400 gambling machines in the airport to help travelers get a taste of Vegas, even if they can't make it to the famous casinos. When you first land, you might see slot machines, video poker and electronic keno as you exit your gate. As you travel through the airport, you'll find more gambling machines available in most locations. If you're over 21, you can enjoy your layover or wait for your flight while playing on one of the many gambling machines in different parts of the airport.
Fitness center: Athletic travelers can stick to their workout routine using the ZEROlevel Fitness & Wellness. You can find this fitness center near baggage claim 10 within Terminal 1. The fitness center boasts a large amount of space with all the necessary equipment. The gym is open 24 hours, Monday through Wednesday and at different hours on other days. Their hours of operation may change, which you can find on their website. The fitness center also has two sleeping rooms for $35 every two hours to help you get some rest between your workout and your next flight.
Pet relief areas: If you're traveling with a pet or service animal, LAS has designated pet relief areas where you can take your animals to relieve themselves. These areas are post-security and are either indoor or outdoor enclosed spaces.
Mamava nursing suites: Mothers who are breastfeeding or pumping can use one of three designated nursing suites. These suites have Bluetooth-enabled SmartLocks that you can access through the Mamava app, ensuring privacy and security. Each suite has a bench where you can sit and side tables where you can place your pumps and plug them in to charge.
The Las Vegas airport also has numerous lounges where travelers can rest between their flights. Each terminal has the same number of lounges, but the lounges in Terminal 1 are far superior. Below you can find the different lounges for each terminal and their amenities: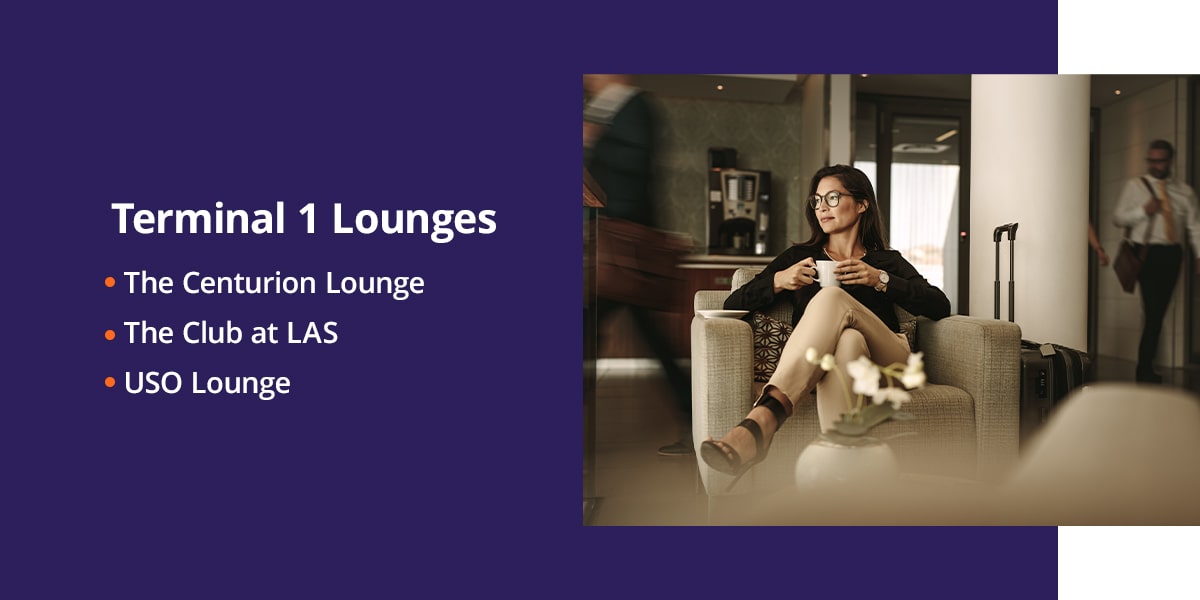 Terminal 1 Lounges
The lounges you can find in Terminal 1 include:
The Centurion Lounge: This lounge is across from Gate D1 and has numerous amenities for free for American Express cardholders with platinum-based cards or the Centurion or Centurion Business card from American Express. Amenities in the Centurion Lounge include complimentary cold and hot food, a business center, a full bar, a family room, Wi-Fi, conference space, a semi-private workspace and showers.
The Club at LAS: People with a Priority Pass, Diners Club membership or Lounge Pass can access the Club at LAS for free, while others can pay $45 for a three-hour pass. You can find this lounge next to Gate D33. Amenities at this lounge include a full bar, complimentary snacks, Wi-Fi, power outlets and showers.
USO Lounge: This lounge is located before security and next to the lost and found. People who can access this lounge include those with an active-duty military, Guard or Reserve ID. If there's enough space, then people with a military retiree card can also enjoy the space. Amenities in this lounge include a children's play area, a quiet room, a business center, gaming consoles, snacks, drinks, Wi-Fi, a business center and a screening room.
Terminal 3 Lounges
There are three lounges you can find in Terminal 3, including:
USO Lounge: This lounge is located in concourse E around baggage claims 20 and 21. Like the USO Lounge in Terminal 1, you will need an active-duty military, Guard or Reserve ID to access the lounge. This lounge also has the same amenities as the Terminal 1 USO Lounge, except for the children's play area, screening room, business center and quiet room.
The Club at LAS: This lounge is located across from gate E2 and has the same access requirements as its Terminal 1 counterpart. Both lounges share the same amenities.
United Club: Star Alliance Gold members and United Premier Gold elites can access this lounge and premium-cabin passengers who connect to or from the airport from qualifying Star Alliance or United flights. United club members and day pass holders can also access this lounge. The United Club is located between Gates 33 and 35 on level 2 of concourse D. The amenities of this lounge include complimentary drinks and snacks, Wi-Fi and a business center.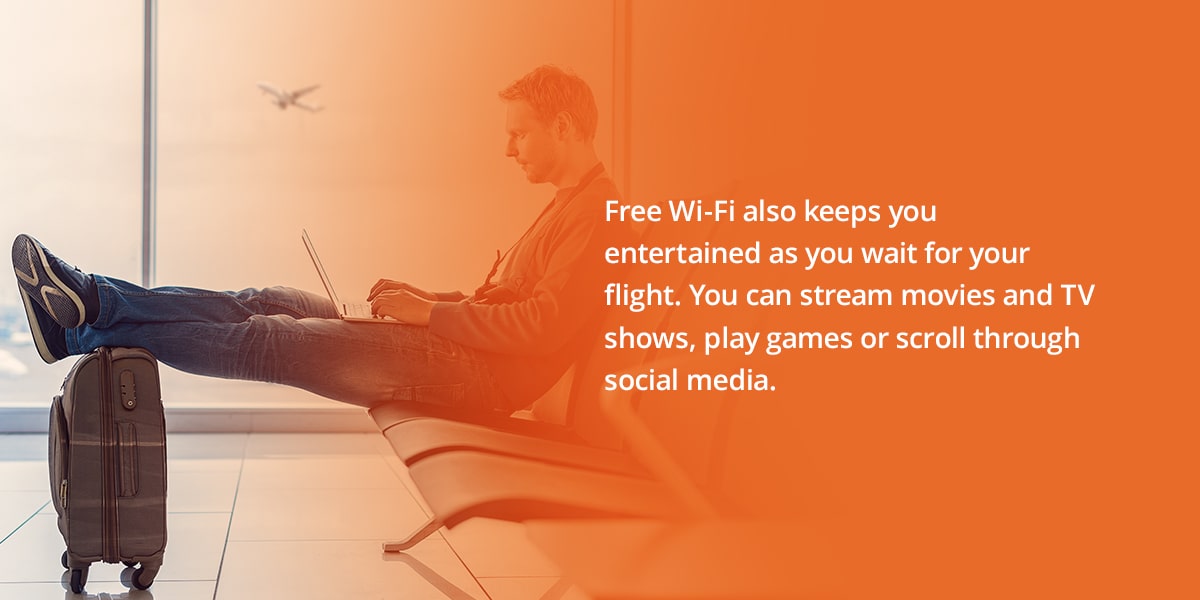 Airport Wi-Fi and Internet
The airport lounges aren't the only places to offer free Wi-Fi. While the internet speeds in these lounges may be faster, you can still access free Wi-Fi throughout the entire airport. If you're traveling for business and need to check your email, or you're traveling and need to update your friends and family, you can use the Wi-Fi to stay connected.
If you don't have a device from which you can access the internet, you can use the Embarq pay-email devices in the phonebanks within the airport, allowing you to contact your work, friends and family.
Free Wi-Fi also keeps you entertained as you wait for your flight. You can stream movies and TV shows, play games or scroll through social media. If you have children, the free Wi-Fi makes it easy to put on child-friendly TV shows to keep them entertained while waiting at your gate. Whatever your reason is for accessing the internet, LAS airport has you covered. If you need to access a business center or a quiet workspace, some lounges offer these spaces if you meet the access requirements.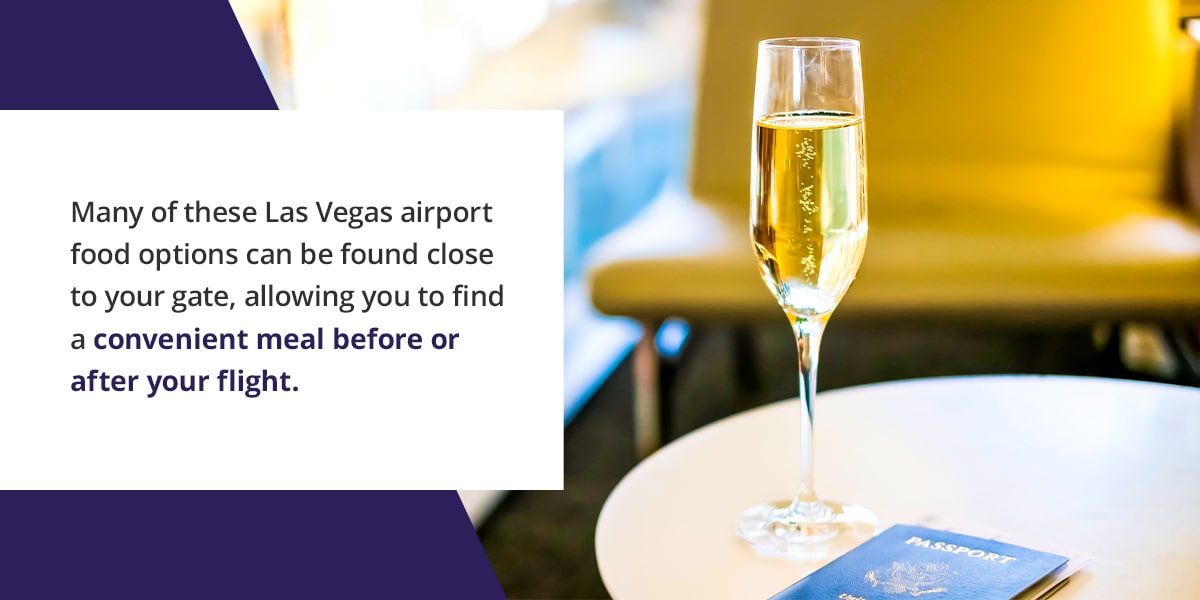 Dining Amenities
Travelers also have many options for dining as they explore the airport. Many of these Las Vegas airport food options can be found close to your gate, allowing you to find a convenient meal before or after your flight. Each terminal has different options:
Terminal 1 dining options: Your dining options include Bagelmania for high-quality bagels, Sammy's Beach Bar & Grill for tropical drinks and beach food, 360° Gourmet Burritos for rice bowls, burritos, quesadillas and salads, PGA Tour Grill for healthy options, Fresh Attractions for quick snacks or sandwiches, and Rachel's Kitchen for smoothies, juices and healthy snacks.
Terminal 3 dining options: Your dining options include The Local for quick meals and drinks and the Las Vegas Chophouse & Brewery for classic steakhouse cuisine.
Hotels Near LAS
Finding a place to stay during a long layover or trip to Las Vegas is essential to help you rest and enjoy the city. Since the airport is so close to the Strip and many tourist destinations, you likely won't need to book an airport hotel unless you don't need all the amenities that the hotels near LAS offer.
Below are some good choices for hotels near LAS to help you find a place to rest after your flight or a tour of the famous city with prices estimated from rates in mid-September 2022: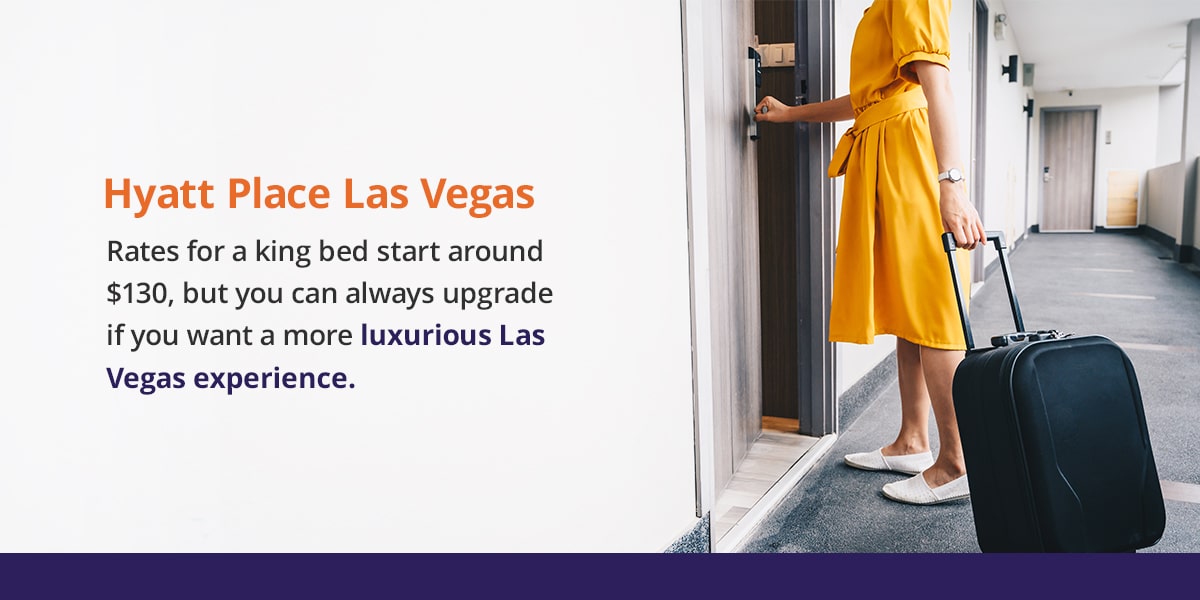 Hyatt Place Las Vegas
The Hyatt Place Las Vegas hotel is only 1.4 miles or a three-minute drive from the airport and a close distance to the Strip, allowing you to experience the best of Las Vegas. A stay at the Hyatt Place Las Vegas hotel enables you to access a complimentary breakfast, free parking and Wi-Fi, a fitness center, a pool and an on-site restaurant. This hotel is also pet-friendly, making it the perfect place to rest with your furry friends.
Rates for a king bed start around $130, but you can always upgrade if you want a more luxurious Las Vegas experience. If you stay at Hyatt hotels frequently, you only need about 9,000 World of Hyatt points to book a room with a king bed for a night.
The Hyatt Place Las Vegas hotel offers an excellent place to rest after your flight, and you can also take a trip to the Strip or other popular tourist destinations during your stay.
Tru by Hilton Las Vegas Airport
This hotel allows you to book a basic room at an affordable rate, allowing you to rest after your flight or during a short layover. Tru by Hilton is only two miles from the airport and close to the Strip, allowing you to visit popular tourist destinations, casinos and restaurants that make Las Vegas so unique.
A king room starts as low as $120 a night, or you can use 30,000 Hilton Honors points if you travel frequently using Hilton hotels. During your stay, you'll have access to a complimentary breakfast, free Wi-Fi, free parking, a pool and a fitness center. You can also use the free airport shuttle to or from LAS. The rooms are non-smoking and pet-friendly, allowing you to travel with your furry friends or service animals.
TownePlace Suites Las Vegas Airport South
This hotel is located right across from the rental car center at the airport, making it a convenient option for travelers looking for a hotel nearby. The hotel is also close to the Strip, allowing you to explore the best the city offers without straying too far from the airport. Each room at the TownePlace Suites hotel is fully-equipped with a kitchen, including stoves, dishwashers and refrigerators, allowing you to save money by cooking a meal in your room.
The hotel also offers a hot breakfast to help you feel energized in the morning, free Wi-Fi and a 24-hour fitness center. A single night at TownePlace Suites starts at $215 for a king room, or you can use 21,000 Marriott Bonvoy points if you frequently stay at Marriott hotels during your travels.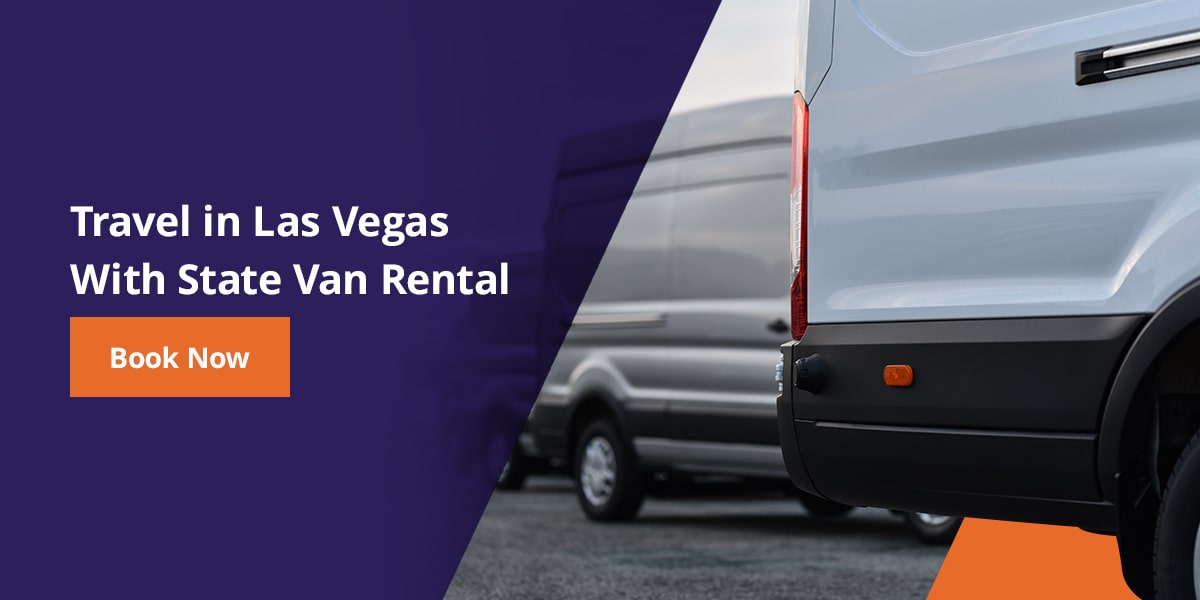 Travel in Las Vegas With State Van Rental
Our Harry Reid International airport guide should help you navigate the famous airport and make the most of your trip. We can help you travel the city with 12- to 15-passenger vans that can accommodate your group and luggage. We also offer cars and minivan rental vehicles. You can choose the best vehicle from our fleet to meet your needs.
We also offer additional options and features in certain vans to make your trip more enjoyable, such as Bluetooth capabilities, Wi-Fi, GPS navigation and more. We provide discounts for active military and AAA members to make your trip more cost-efficient. Our vans are dependable, affordable and convenient. If you're looking for a mode of transportation that allows you to control your schedule in Las Vegas, look no further than State Van Rental. Make a reservation today or contact us to learn more about our services.