It's important to understand all policies you must follow when renting a van. Learn about smoke-free vans and why it's a big risk to smoke in a rental vehicle.
Why Do Rental Companies Have a Smoke-Free Policy?
A smoke-free policy helps all customers feel comfortable driving the rental vehicle. Smoking creates many potential issues for a rental van, including:
A dark residue: Smoking inside a vehicle leaves a residue behind. All surfaces of a vehicle must be cleaned thoroughly to get rid of this residue.
A lingering odor: The smell from tobacco cigarettes and vapes can linger in a vehicle long after you return it.
Uncomfortable customers: Non-smokers tend to be sensitive to the smell of smoke. Some people have allergies or other medical conditions that the smell can irritate or make worse.
When a vehicle needs to be cleaned, it takes time to complete the process to the satisfaction of non-smokers, and the vehicle will need to be removed from the rental fleet until it is thoroughly clean and odor-free. This is why most rental companies have a policy against smoking in their vehicles and charge a cleaning fee if they detect evidence of smoking.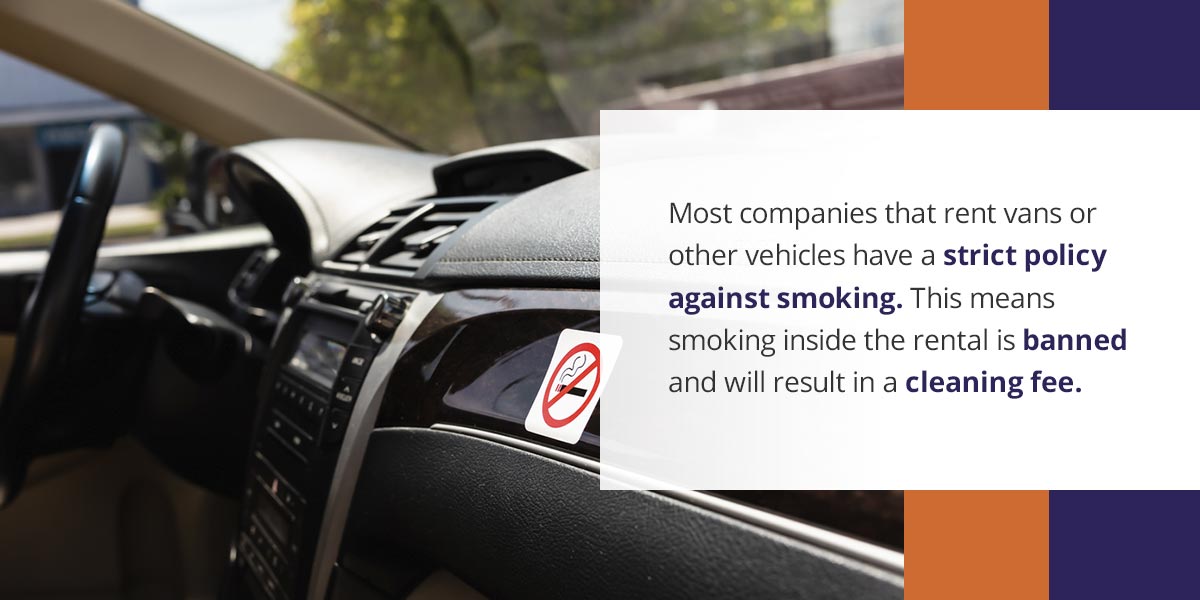 Can You Smoke In Your Rental Car?
Most companies that rent vans or other vehicles have a strict policy against smoking. This means smoking inside the rental is banned and will result in a cleaning fee. Some customers prefer to know what the fee is for smoking in a rental car before they book. State Van Rentals charges $350 for the cleaning fee, which is collected after the vehicle is returned.
You might also want to know if you can vape in a rental vehicle. If a company's policy prohibits smoking, it likely prohibits vaping as well. If vaping is evident, you will be charged. Vape smoke smell is usually weaker than cigarette smoke, but it will still linger.
When a rental company has to clean a vehicle, the process involves deodorizing it to remove the smoke odor that many non-smoking customers notice easily. This requires taking the van temporarily out of service. The smoking fee covers the cost of cleaning the vehicle and the lost revenue from its lack of availability.
How Do They Know If You Smoked in a Rental?
An agent inspects the interior of the vehicle after you return it. The agent will look for physical evidence of damages to the van and smoking, including:
If someone left a used ashtray or vaping paraphernalia behind
Ashes or butts inside the vehicle
Cigarette burns to the interior surfaces
The smell of tobacco
If these signs are evident, you will get a bill for violating the non-smoking policy. Another concern is if they can tell if you vape in a rental. Vaping leaves a less noticeable odor, but you can still be penalized if signs suggest you were vaping in the vehicle. It's best to avoid smoking or using your vape in a rental van.
Benefits of a Smoke-Free Rental Vehicle Fleet
Using a rental service that bans smoking inside the vehicle has many benefits for customers. You can enjoy these advantages when you book a rental from a fleet of smoke-free vans:
1. Higher Availability
When vans have to be cleaned, the company can serve fewer renters. You would have to wait longer for a rental to go through processing, and you would have fewer options in terms of pickup and drop-off times. With a smoke-free service, you are more likely to find the van you need is available at the right time.
2. Faster Service
Since cleaning a van with a smoky odor takes time, service is faster when companies can skip this step of processing. You will receive faster service when the van is ready to use shortly after the previous renter is finished. With less time spent cleaning the vehicles, you can enjoy your rental as quickly as possible.
3. Less Cleaning for Customers
If you've tried to get the smell of smoke out of fabric, you know how difficult it can be. With a smoke-free rental van, you can avoid having to clean your vehicle thoroughly before drop-off. Removing the traces indicating you or your passengers were smoking is tedious. Instead, you can simply remove your belongings and tidy the interior of the car.
4. Freedom From a Smoke Odor
The smell from cigarettes and vapes seeps into cushions and lingers long after you remove your belongings from the vehicle. The only way to ensure this odor is absent from the rental van is to use a smoke-free rental service. You can avoid having to spend time in a vehicle with a smoky smell when you book a smoke-free rental van.
5. Comfortable Passengers
Your non-smoking friends and family probably prefer to avoid the smell of smoke. With smoke-free rental vans, everyone will be comfortable on the road. If the rental van smells like smoke, some passengers might have an unpleasant experience or get sick from the smell.
6. Fewer Special Requests
If you have a passenger with asthma or allergies who needs to stay away from smoke, you can get an appropriate rental van without having to make a special request. You can get a rental van quickly as a non-smoker without worrying about the condition of the vehicle's interior. Enjoy driving an odor-free van with a clean interior every time, or contact the service to inform them if you detect evidence of smoke.
What Can Customers Do to Ensure They Will Not Be Charged a Cleaning Fee?
Do the following can help ensure you avoid any charges for cleaning fees related to smoking:
Discuss the rule with your passengers: You can easily avoid a cleaning fee if everyone knows about the policy and agrees to avoid smoking inside the van. Many smokers are used to non-smoking rules and only light up in designated areas.
Inspect the van yourself: During a pickup, if you can smell smoke inside the van or if you find evidence that someone was using cigarettes or a vape, inform the service immediately. You can request a replacement for this reason. You want to refuse a van with these issues because the smell could linger, and your party will appear responsible when the next customer reports the problem.
Get a professional cleaning: If someone smoked in the van by mistake, you could hire a professional cleaner as a last resort to avoid the hefty cleaning fee. Getting the vehicle's interior cleaned might help, but if the smoke odor continues to linger, you could still have to pay the fee. Some car washes offer affordable interior cleaning services, and you might also be able to get a deodorizing treatment.

Rent Your Own Van With State Van Rental 
At State Van Rental, we offer smoke-free vans of several types and body styles. You can rent a van at our Las Vegas or Los Angeles locations. Contact us to receive answers to your questions about our van fleet or if you have any concerns.