Small businesses often need to save money on vehicles, optimize their employees' time and deliver products to clients efficiently. When considering if your small business should rent vans for the company or invest in owned vehicles, there are many factors to evaluate. Check out the many advantages of small businesses renting vehicles during busy seasons or company events.
Why Would a Small Business Rent a Van?
Some business owners compare renting a house to renting a van. While it may be a money-saver, some companies enjoy the freedom that comes with completely owning a vehicle. They like to customize their vans or enjoy the freedom of selling them whenever they want. However, owners should be aware of the many disadvantages to purchasing a van for your small business:
Depreciation: Vans will depreciate in value over time. As you own a car, its value will diminish as the van ages. 
Maintenance costs: Buying a van means you have to pay for regular maintenance, like oil changes, tire rotations and tire changes. 
Emergency service and inspections: Unexpected problems will likely increase as the van gets older, meaning more funds will go toward emergency fixes, like dead batteries or tire blowouts. You'll also spend more money in the long term trying to fix the vehicle so it can pass any necessary inspections. 
Car payments: Spending the money to purchase a car and keep up with monthly payments may also affect your income or cash flow.
Renting a van offers more flexibility if you want to change the size of your van. While it may seem like a good idea to fully own your vehicle, if your business needs a change over time, you'll be stuck with your current van size and have to pay another van's total cost to upgrade it. When renting a van, you have the freedom to update your rental contract and vehicles whenever you need them. You can decide which van is best for your business and choose a different one if your needs change.
5 Benefits of Small Business Van Rentals
Rentals offer a variety of benefits to small businesses looking to increase their sales and better serve their customers. Rather than deciding how much to lease a van per month or whether or not a van or truck is better for work, monthly payments will ease the stress of vehicle hunting. Here are a few benefits to renting a van.
1. Flexibility
For small businesses that focus on seasonal operations, short-term rental periods may be a great benefit of van rentals. Most van rentals are flexible and allow you to cancel at any time, and they work with your schedule to find the proper contract for you. Small businesses can also choose when they want to rent a vehicle and for how long, whether for a few weeks, a month or even years.
2. Less Hassle
Renting is less hassle than buying a car. Making monthly payments can be very convenient for owners that have other priorities. All the renter has to do is keep the tank full of gas and take proper care of their rental van. Aside from the rental contract, there's no extra vehicle paperwork or insurance to worry about.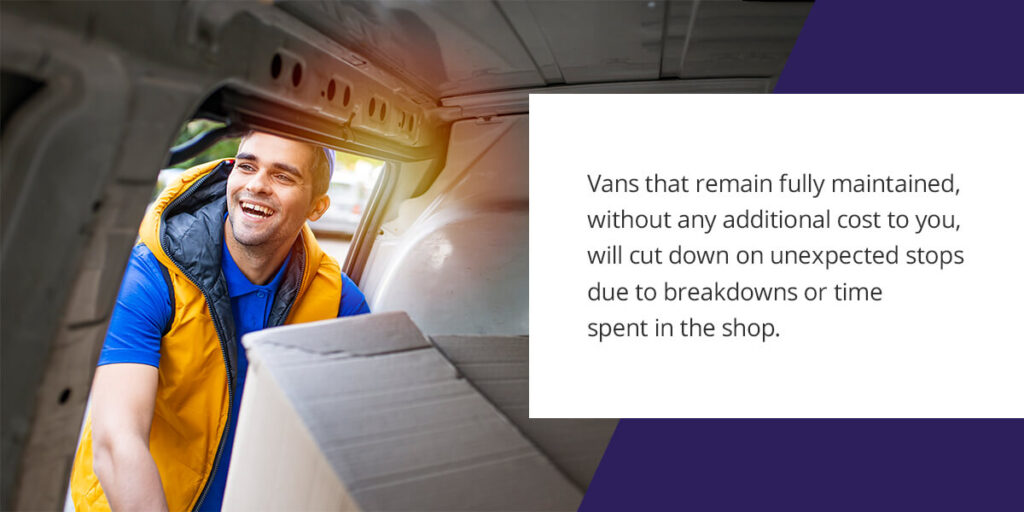 3. Better Financial Planning
Van rentals can reduce fuel costs when rental companies offer economical vehicles. Vans that remain fully maintained, without any additional cost to you, will cut down on unexpected stops due to breakdowns or time spent in the shop. A monthly predicted fee will also help your small business when it comes to budgeting. 
You can include rental costs on your yearly tax refund and write it as a business expense. Options to decrease or increase the number of rental cars your business uses may also be available, helping you save money and work within your planned budget.
4. Reliability
Rental vans will have a maintenance and service history available to you. Your small business won't have to worry about servicing the vehicle or worrying about the car malfunctioning because the rental company takes care of it. This gives business owners more time to focus on their company without the added stress of scheduling oil changes or car repairs.
5. Scalability
Van rentals usually have lots of different vehicles to choose from. Small businesses may need vans for corporate outings or visits to clients. Whatever your business is looking for, rental van companies can work with you to find the perfect van according to your specific needs.
Times When a Small Business May Rent a Van
There may be many opportunities for a small business to use a rental van. You may be looking for a cost-efficient way to transport your products to clients, or maybe you need to gather supplies that won't fit in your vehicle. Rental vans are a great choice for businesses looking to lower their costs and get the most out of their money. Here are a few ways you might use your rental van.
Conferences
Smaller businesses might be looking to schedule a professional work conference out of the office or out of state. If this is the case, they might need extra seating for company members, or will need to transport presentation materials, samples or luggage so that employees have everything they need for the conference.
Special Events
Sometimes small businesses host special events for the company or community to promote their brand. They'll want to transport lots of materials, signage and product examples to the place where they are hosting. A rental van can help with transportation and save money on gas if one vehicle holds all the materials.
Busy Season for Deliveries
Cut your time in half with the ability to deliver items to customers straight to their door. With a rental van, small businesses can use cost-efficient vehicles to service more customers and make client visits. You'll also be able to rent more than one van at a time to complete lots of deliveries throughout the day.
Team Building Events
Small businesses can use rental vans to drive employees to and from the event. This might build camaraderie while saving on gas. You can also take along any supplies or decorations the team might need for the event. For overnight stays, rental vans are great for holding luggage and supplies.
Will We Save Money Renting a Van?
Businesses can save money on insurance, tax, damage repairs and fuel by renting a van through a service company. Without the extra hassle of van paperwork and car insurance, businesses are free to prioritize other company needs. Small businesses can also write off their van expenses on their yearly taxes and save money by renting newer vehicles that use fuel-efficient gas. 
You also won't have to worry about paying for any services or repairs to the car like yearly inspections, part replacements or oil changes. When businesses only have to prioritize monthly payments over a large amount of money upfront, it lowers the service fees yearly.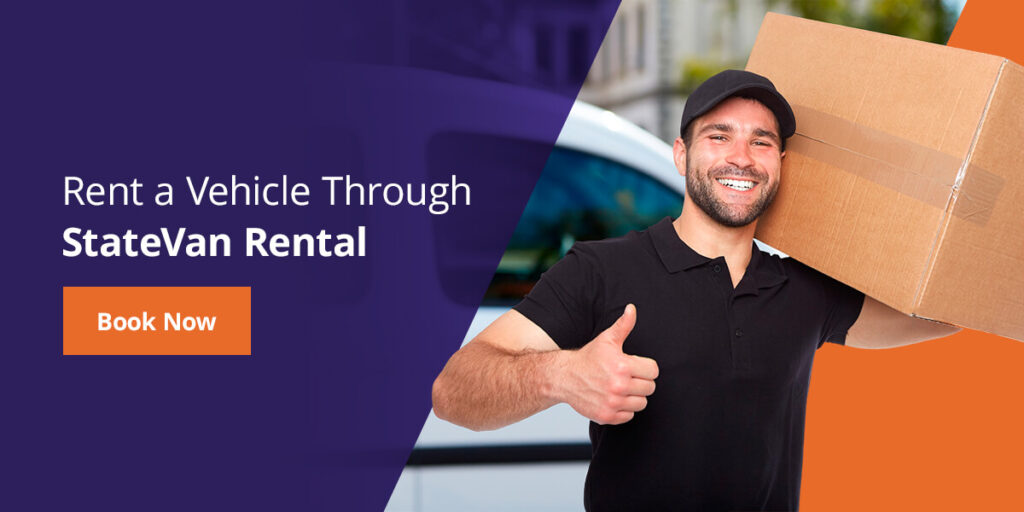 Rent a Vehicle Through StateVan Rental
With locations in Los Angeles and Las Vegas, StateVan Rental is ready to provide reliable vehicles with our one-way van rental service. Save on money during family vacations or personal trips and trust our dedicated staff to provide personalized service with high enthusiasm. 
Contact us online to rent a van or talk with one of our staff members.