Los Angeles and Las Vegas are culturally diverse cities with a reputation for being creative centers of the United States. You will find a thriving culinary scene, museums, outstanding shopping and family attractions in both places. Therefore, renting a van for a vacation in one of these locations is sensible.
This guide provides top tips for renting a van for a road trip beyond the usual warnings and potential pitfalls. Keep reading to learn how to rent a van for your vacation so you can save money you would have spent on taxi rides and avoid depending on the unpredictable public transportation schedule.
The Benefits of Renting a Vehicle
Having a rental gives you plenty of advantages when you're on a road trip or staying in a location far from home. It allows you to enjoy doing the following.
Explore freely: Taking a rental van leads to all kinds of opportunities for discovery you'd miss if you relied solely on public transportation. Your itinerary can include more must-see attractions with fewer limitations. Enjoy feeling like a local as you drive around in a new city, too.
Save time: Having a rental vehicle generally means getting where you want quickly and easily. Using public transportation like a train or bus can take longer because you have to wait for your ride to arrive and carefully follow the available routes, plus you could waste even more time accidentally getting off at the wrong stop.
Save money: Using a rental van can be more affordable than public transportation in many cities, especially if you plan for it. Taking a ridesharing service can get pricey, especially in popular cities. You can avoid paying for expensive travel options if you have a rental to use in your leisure time.
Have more space: Instead of carrying your luggage and equipment onto a bus, you can store it securely in the rental van. You will also have a secure place to store your travel purchases. Your passengers will appreciate having space, and if you need to haul special equipment or gear for your activities, you will have more than enough room for all these items.
Feel safer: With a vehicle at your disposal, you can avoid the potential safety risks that come from using public transportation in a city that may be unfamiliar to you.
Get the most out of your trip: Carrying your luggage around and waiting for buses can be inconvenient, especially when you are in a new city. Using a rental van is one way to maximize your trip.
Tips for Renting a Van for a Road Trip
If you rent a van, you should be aware of the rental company's charges and where you can go to pick up your van. Beyond that, customers might be unaware of many critical factors that can make the process easier. Below are some tips to remember before renting a car for the first time.
1. Rent at the Airport
Airports are convenient locations for travelers to rent their vehicles. Renting from other places can be hectic, and there's no guarantee you'll get a car you like. Not to mention, if you leave the airport, you have to worry about arranging transportation to another rental service, which could cost you more money.
Renting at the airport once you arrive at your destination can save you plenty of time, especially if you have a busy itinerary for your business or pleasure adventure. You'll also get to choose from a wide range of vehicles, so you can rent a large van if you're traveling with a big group and can ride in comfort rather than relying on uncomfortable and expensive taxis or ridesharing services.
You might also save more by renting at the airport. There'sf fierce competition among van rental agencies, so you may get lucky and score a deal. Many of these companies also offer loyalty programs, so renting at an airport can save you more in the long run if you're a frequent traveler.
2. Go Big
If you're traveling with a group, investing in a rental van with lots of room for passengers and luggage might be in your best interest. Whether arriving at the airport or taking a cross-country drive, you want to be comfortable. Choosing a 12- to 15-passenger van will give you plenty of space for everyone and their bags without feeling cramped, especially on long road trips.
Often, rental companies run out of compact cars first, so if you wait until the last minute, you may not be able to get something smaller. You're more likely to find a larger van to help you get from one place to the next, especially during the busy holiday season.
3. Consider Working With Smaller Rental Offices
Nearly everyone will flock to the popular, big-name rental services, meaning you could wait more than an hour for your rental van, and you may not even get one before they run out. Choosing a smaller rental agency reduces the risk of losing out on a rental vehicle when you need it. Consider these additional benefits of working with a smaller rental agency.
Optimized costs: Since smaller rental agencies often work with a more manageable fleet, they can simplify their budgeting and financial planning. They're also not beholden to major corporations, so they update their price structure when necessary rather than dealing with locked-in prices. As a result, these agencies can implement unique promotions, such as during busy tourism seasons or the holidays, helping you save on your trip.
Flexibility: Since a major chain doesn't own smaller agencies, they have more flexibility with their policies and regulations. When something isn't working, it's easy to fix. You're likely to have a better experience working with a smaller rental service than a franchise of a nationwide chain.
Values: Independent or small rental agencies stake their reputation on their ability to consistently provide reliable service and unique rentals. A small rental company with excellent reviews showcases its dedication to building customer relationships, rather than relying on the image of a large parent company. You can trust that a small rental company is an accurate reflection of the testimonials and appearance you see.
4. Don't Forget the Insurance
You never know what's going to happen on the road. While you can legally avoid getting additional insurance, it's best to go with the insurance coverage rental agencies provide, such as loss damage waiver, supplemental liability insurance, rental liability protection and more. If you're driving your rental out of town or across long distances, investing in insurance is even more critical.
Insurance protects you from having to pay out of pocket for accidents that you're liable for or for events out of your control. While you must purchase this insurance, it's better to be safe than sorry when driving a vehicle you don't own. You'll thank yourself later for choosing to buy insurance rather than dealing with the consequences down the line.
5. Understand Driver Age Requirements
It is not always the case, but most agencies only rent to motorists over 25 or older. If you are younger, ensure you confirm whether you are eligible to rent a van from your rental agency. If you qualify, remember to ask if the company charges additional fees.
6. Avoid Crossing International Borders
Many contracts don't permit you to operate the van across international borders. Also, chances are your car insurance does not cover international vehicle rentals, and you will need to buy insurance from the agency when renting. In this case, a credit card company can help.
Outside the United States, policies on border crossing vary with the rental company and destination. Sometimes, foreign countries' border authorities allow travel across the border if you give advance notice and pay an additional charge.
If you drive into another country without authorization and have an issue, your insurance and rental agreement protection could become invalid.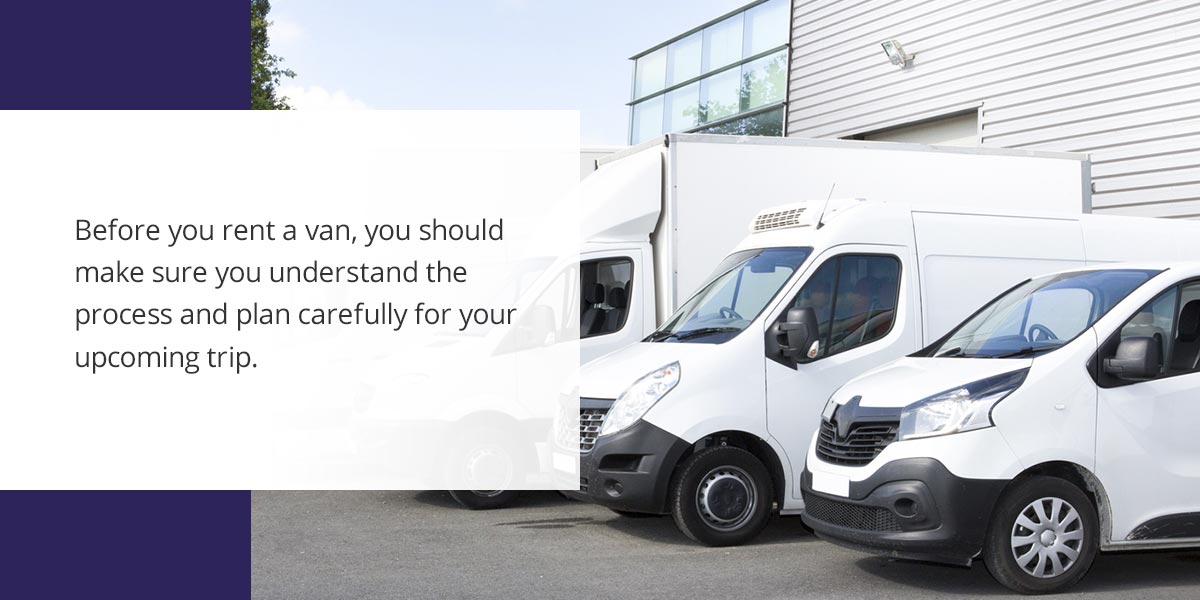 What to Do Before You Rent a Vehicle
Before renting a van, you should ensure you understand the process and plan carefully for your upcoming trip. Whether you are a veteran traveler or a first-timer, here is what you should do when renting a vehicle.
1. Have Your Paperwork Ready
You don't want to show up to the rental agency ready for your trip, only to find you've forgotten your documentation at home. Most rental agencies require a valid driver's license and credit card to prove you can legally drive and cover any incidental charges, such as traffic violations, parking tickets, missing fuel and more. 
You may also need to bring your passport. Most rental agencies will list the documentation you need to bring before renting a van on their website, or you can call to prepare yourself better. The company should also be able to tell you whether a debit card or cash deposit is acceptable in place of a credit card.
Moreover, whether international or national, ensure your passport, driver's license and other documentation are up to date and have the following:
Your address
Birthdate details
Your full legal name
2. Be Ready for Pickup
Speak with the rental agency about the pickup process and location so you have all your ducks in a row ahead of time, saving you time and a potential headache.
Knowing what to expect helps you prepare for any unexpected steps, allowing you to work them into your schedule. This step is crucial if you have a packed itinerary that you must adhere to. For example, if you're picking up your van from an airport, you may have to sit in a waiting room before being picked up and taken to the location where you'll get your van. The rental agency should be able to inform you about the pickup process so you can prepare your schedule in advance and account for any potential delays.
You'll want to ask if you need to pay for your rental van before or after your trip to determine if you need to save a deposit or the entire trip cost from the beginning.
3. Check the Exterior of the Van
Unless the van you're picking up is brand-new, chances are someone drove it before you, and you don't want to be responsible for their potential misuse. Before you leave on your trip, you'll want to check for scratches, dents or other damage and tell the rental agency so they don't blame you for this damage when you return from your trip. You'll also want to turn on the engine to see if you can hear any unusual sounds, which you should report directly to the agency.
4. Familiarize Yourself With the Van
You should take some time to get comfortable with the rental vehicle, especially if you've never driven a van before. Adjust the seats and mirrors, and check the location of all essential functions, such as windshield wipers, headlights and air conditioning. Familiarizing yourself with your van before driving on the road helps you better prepare for any situation.
5. Know Where You're Going
Before you get your rental van, it's a good idea to have a travel plan. Planning allows you to budget your time for everywhere you want to visit while accounting for fuel costs. If you're taking your van cross-country, you can map out stops or sights you might want to see along the way. Once you arrive at your destination, you should know where you want to go, whether you're traveling for business or pleasure.
6. Ask What Fuel the Van Uses
Before you start driving, you'll need to ask the rental agency what type of fuel the van uses, so you know what to fill up with during your travels. This question is essential because you don't want to be on the road with a nearly empty tank and have no clue whether you need to fill up with regular unleaded or diesel fuel. You can save yourself a headache by asking about the correct fuel before you get on the road, saving time while you're on your trip.
 7. Get Full Damage Waiver Insurance
Even with the best driving record, you never know what can happen on the road. You may even incur damage merely from parking your van if someone pulls in or out of the spot next to you and dings your rental vehicle. You should consider getting full damage waiver insurance to cover some of the costs of damage from a potential accident, though you will have to pay up to the deductible, which will vary based on your rental van's model. Give yourself peace of mind when you rent a vehicle by purchasing insurance.
You can also get "loss-of-use" coverage, which applies when a rental van has a mechanical issue. This coverage compensates for the income lost if you need to have the van repaired. Typically, the charges amount to a one-day rental fee, which many car insurance providers don't cover. Fortunately, credit cards, such as Visa, MasterCard and American Express, offer coverage with van rentals paid for with the cards. Be sure to check the conditions early.
8. Remember to Drive Safe
You'll want to follow the same rules in your rental van that you would in your vehicle. While you may not own the rental van, you still want to respect it and other people on the road. Remember that you must use your seatbelts whenever the vehicle is in motion, and you shouldn't drive under the influence. You'll always want to stay on the road. Unless your van is an off-road vehicle, you'll want to keep it on paved roads to prevent damage.
9. Use Loyalty Programs, Coupons and Other Savings
There are plenty of ways to save on your rental vans, such as loyalty clubs, coupons and discount codes. Companies want to build customer loyalty, so they offer rewards programs to help you save time and money. If you research your rental van options beforehand, you could find discount codes or coupons that will help you save. Your credit card company could even offer discounts if you meet specific criteria.
Rental agency clubs also have discounts, perks and benefits. If you frequently travel, joining a club or loyalty program could be beneficial.
10. Read the Rental Contract and International Rent Law
Read and understand the contract before signing it. Ask questions and clarify any vague elements. Ensure you comprehend the pricing options and terms and conditions before signing. If you sign the contract without reading it, you risk paying for things you do not require.
Additionally, every country has different rules for renting vehicles. Therefore, ensure you do your homework. The things to research include:
Insurance requirements
Speed limit
Additional rental charges
Age requirements
Also, read more about the standard driving practices, like the right of way and passing lanes.
Other requirements for international drivers when renting a van in the U.S. include having an international driving permit and valid driver's license.
11. Compare Prices
Rental agencies reward longer keeps. Most have weekly rates that are more cost-effective than daily ones.
For instance, a three-day rental could be $60 per day, while a weekly contract could be $30 per day. Most agencies define a week as five days. Though it may not seem possible, the five-day rental could be cheaper than or even the same cost as the three-day keep.
Remember to look at the available rates when determining the best rental duration. Avoid focusing strictly on your needs for the van and then booking for that given time frame.
Fuel costs also use this approach. If you want to know if you have to pay for the gas in a rental van, the answer depends on the agency. While some agencies will provide you with a full tank and expect the same when you return it, others will give you a half-tank of gasoline and expect the same level when returning. Failing to do so attracts a penalty. You will either donate gas to the agency or pay a refueling penalty.
Rental car companies know these plans will work in their favor. Chances are you won't hit the estimate appropriately, and the company will benefit from the miscalculation.
Ensure you comprehend the pricing options before signing the contract.
12. Get an Accurate Return Time Estimate
Customers often want to know if you pay for the rental vehicle before or after. If you rent a van on Monday and take it back on Wednesday, you could pay for three days instead of two. Many rental agencies charge on a 24-hour basis. Therefore, if you keep the van for 25, you will pay for another full day, even though you only went one hour over.
While the time you say you will pick up and take the vehicle back seems arbitrary, the rental agency will take note of it and charge you accordingly. Some firms will offer you an hour of grace time.
You might be surprised to learn that some companies will charge you for returning the van a day or two early, while others will give you a prorated refund.
Ensure you inquire from the clerk about the policy. Also, give yourself a time cushion and return the vehicle at least an hour before the company expects you to.
Tips for Driving a Rental Van
Now that you know what to do before you get your rental van, it's time to prepare for getting behind the wheel. Safe driving will help protect your wallet, but more importantly, it will save you and your investment. If you've never driven a large vehicle like a van before and are used to compact cars, you'll want to prepare for the difference. Consider the following tips when driving your rental van for the first time.
Keep an eye on your mirrors: In larger vans, especially those that seat 12 to 15 passengers, you'll have more prominent blind spots. If you've never driven a vehicle that large before, you'll need to keep an eye on your mirrors while driving to make sure another driver isn't sitting in your blind spot before you try to pass or change lanes. Adjust your mirrors as soon as you get in your rental for the best possible view of your surroundings.
Remember, vans are heavier and bigger: If you typically drive a small, compact vehicle, don't forget a van is much larger and heavier than what you're used to. You'll need to take turns slowly at first until you get the hang of the weight and size difference. Vans will also take longer to stop than the average car, so you want to start braking earlier than you typically would.
Stay aware of your surroundings: Since rental vans are bigger, you'll want to monitor your surroundings. Take note of where other drivers are and how much space you take up in a lane. Keeping an eye on everything around you will help keep you safe driving a new, unfamiliar vehicle.
Practice parking: Parking will likely be unfamiliar for you if you've never driven a big vehicle, especially a 12- to 15-passenger van. When you first get your rental van, you might find it valuable to practice parking in an open lot. Try backing into spaces, so it's easier to leave. Parallel parking can also be more challenging due to the van's size, so it's essential to take a little time to practice.
Secure your belongings: Large vans can carry many passengers and belongings. If you have a lot of luggage or personal items in your van, you must safely secure everything. Belongings that roll around as you drive can risk your and your passengers' safety, so you want to keep everything packed away and tightened down.
Driving a large passenger van is safe if you follow the tips above. Large vans are excellent rental vehicles to help you and your group reach your destination in comfort and style.
Read and understand the contract before signing it. Ask questions and clarify all vague elements. Ensure you comprehend the pricing options and terms and conditions before signing. If you sign the contract without reading it, you risk paying for things you do not require.
Find a Reliable Van Rental Company Near You
Are you renting a van for the first time? Hiring a van can be simultaneously challenging and exciting, as a vehicle rental brings a world of possibilities when you travel. However, to ensure you feel a sense of adventure without a downside, there are pitfalls you should avoid.
You need a rental company advising you beforehand on what to expect after renting a van. Contact State Van Rental at 424-404-5391 for reliable, cost-effective van rental services. We serve Los Angeles and Las Vegas.