You have many options when it comes to travel. Flying and driving are two of the most popular choices, and both have pros and cons. Maybe you're traveling across the country, and driving would take too long. Perhaps you want to enjoy a scenic trip with your friends and family, and driving would allow you to experience more.
Understanding the differences between flying and driving can help you find a cost-effective way to travel.
Questions to Ask Yourself When Determining if You Should Fly or Drive
When deciding whether you should fly or drive to your location, the best thing to do is ask yourself a set of questions so you can weigh the pros and cons. Below is a list of questions you can use to help you determine which option to choose:
Do you like road trips?
How do you feel about airports?
How much control do you need to plan your trip?
Is there an exact time you need to arrive?
Can you afford additional costs if your flight is canceled?
Do you want a connecting or direct flight?
How long are you staying at your destination?
How far are you traveling?
Is your car reliable?
Is it faster to drive or fly to your destination?
How many people are traveling with you?
Answering these questions will help give you perspective and make the decision process more manageable. For example, driving might be the best option if you're a big fan of road trips and have a reliable vehicle. However, flying would be the better option if you must travel across the country and arrive quickly.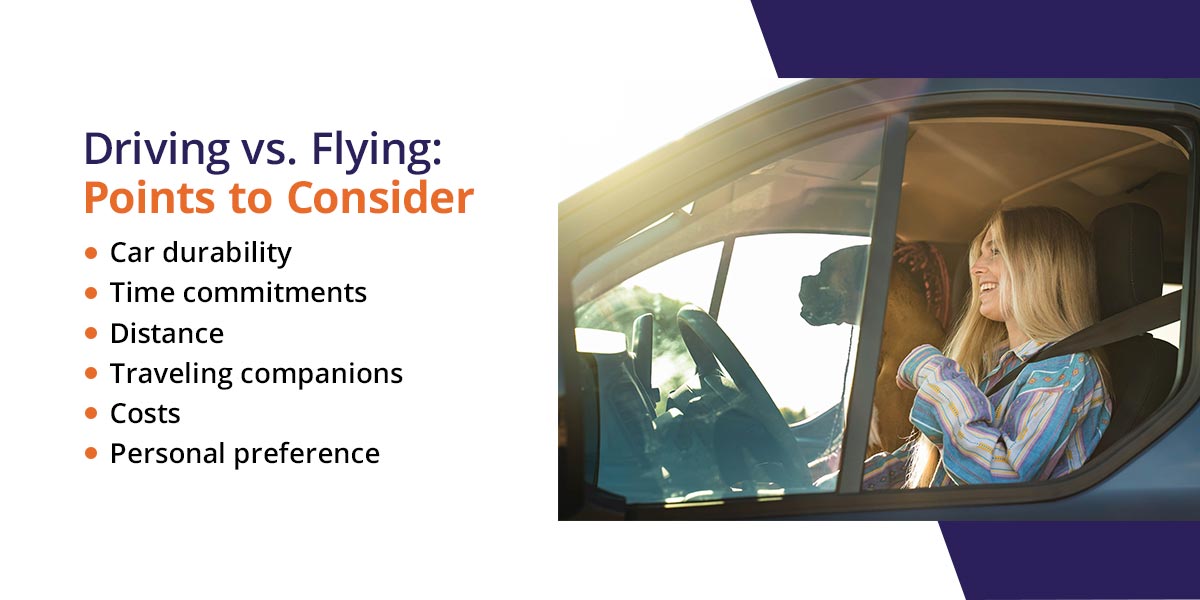 Driving vs. Flying: Points to Consider
When you're trying to decide whether you want to drive or fly to your destination, there are various factors to consider:
Car durability: One of the first things you should consider is if your car can handle a road trip. If your vehicle is older and has various mechanical or electrical issues, it may not withstand the wear and tear from a long road trip. Taking a plane may be better for the sake of your vehicle so that you don't miss a breakdown at any point during your trip.
Time commitments: You may have a deadline for when you need to arrive at your destination, or you may need to return home at a particular time for work or other responsibilities. Flying may be better if you're on a time crunch, as you can quickly cross long distances. However, if you have plenty of free time, you may decide to drive so you can enjoy the scenic route.
Distance: The distance to your destination will likely affect your decision. Traveling across the country can take multiple days of driving to reach where you're going, and the costs can add up, especially if you're stopping each night for lodging. If you're only traveling across a few states, driving may be more cost effective because you'll likely only be on the road for a few hours.
Traveling companions: You'll also need to consider who's joining you on your travels. Driving might be better when traveling with a large group, as multiple plane tickets can add up. You may also be better off driving if you're traveling with pets. However, flying may be the best option if you're only traveling with a small group or going solo.
Costs: Cost is one of the most significant deciding factors when people choose to drive or fly. Depending on the time of year, airline tickets can be expensive, and that's before you account for some of the hidden costs of flying. However, driving across the country can also add up depending on gas prices, lodging and food. Before making your final decision, compare the pricing for each option and understand what you'll need to budget.
Personal preference: Choosing to drive vs. fly sometimes can come down to something as simple as personal preference. Some people don't enjoy long, drawn-out road trips and would instead get to their destinations quickly. Others may have a fear of flying. All that matters is you've chosen the option that best suits your personal needs and preferences.
Weighing the pros and cons of driving vs. flying can help you make an informed decision that helps save you time and money.
What Are the Hidden Costs of Driving?
Some hidden costs can affect your final decision if you're considering driving to your destination. Below are some of the hidden fees that can affect your budget when traveling by car:
Insurance
Federal law requires that all drivers have car insurance to protect themselves, other motorists and pedestrians. While it's possible to get on the road without car insurance, it's usually not in your best interest. If you need insurance before taking your car on a road trip, it's another significant cost that can affect your budget and travel timeline.
Gas Prices
When you're driving, you'll have to budget for gas. Even if gas prices in your area are low, they could be higher as you enter new towns and cross state lines. If you're making a cross-country trip, paying for gas can quickly add up. It's essential to consider how much you'll have to pay in gas if you choose to drive, as it can add up to the same cost of airfare.
Parking and Tolls
Depending on where you're traveling, you may have to pay for toll roads unless you want to take the scenic route, which can add unnecessary time to your trip. You'll also need to consider the potential of parking fees at locations you visit. Many tourist destinations and big cities will charge for parking, often by the hour, which can add up.
Before you decide to drive, look up the places you want to go and the roads you'll travel to determine if there will be any parking fees or tolls.
Lodging and Food
Driving to your destination means you'll have to at least stop for food and drinks, even if your trip only lasts a day. However, if you're driving across the country, you'll need to get lodging before you arrive. You'll have to account for your lodging and food costs, which can add to everything else, such as gas, parking and tolls.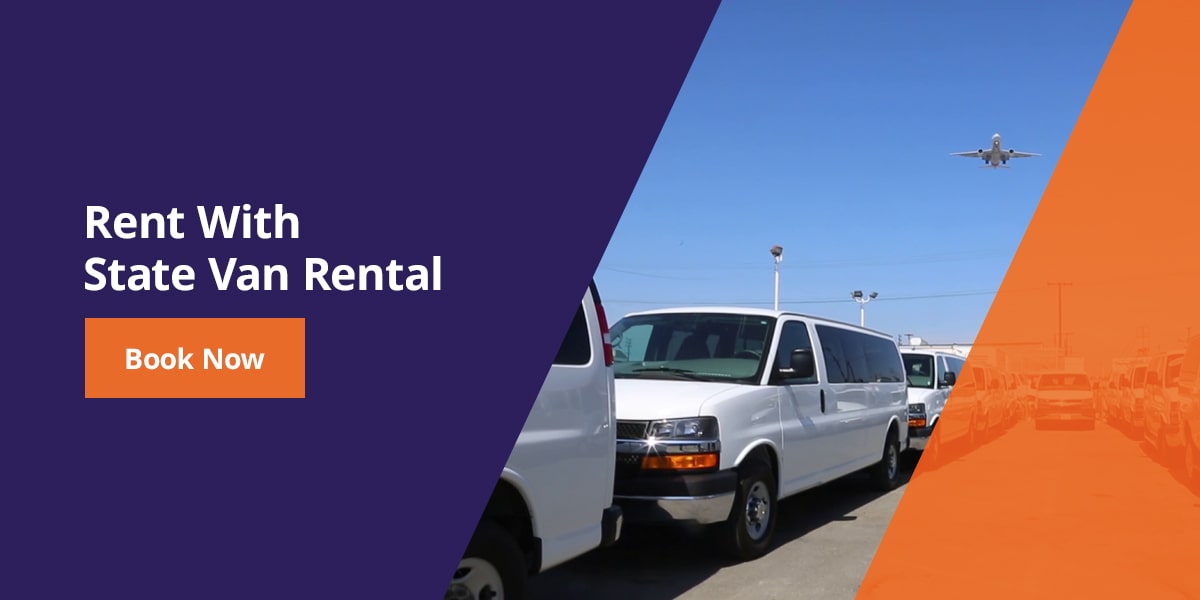 Rent With State Van Rental
You don't always have to choose between flying and driving. Sometimes, you can get the best of both worlds. Once you reach your destination by plane, you can rent a passenger van to help you get around town!
State Van Rental offer rentals in Los Angeles and Las Vegas, allowing you to get into a van as soon as you get off the plane. You can rent one of our vans at one location and drop it off at another for your convenience.
We also offer various services and features, including pickup, delivery, GPS navigation and Wi-Fi to make your trip more comfortable. You can choose from our different van sizes to find one to accommodate your entire group, plus your luggage. Make a reservation today!