Have you ever been in a situation where you and your friends want to take a trip, but none of you have a car big enough to fit everyone and their luggage? Renting a van that can hold up to 15 people can be the way to go. When renting for a group of people, you might also want to know if you can tow with a rental vehicle.
Often, vacationers want to bring along camping gear, bicycles or other equipment, and towing a trailer would make it even easier to bring bulky items — but can you make that work with a rental vehicle? Before answering that question, you may need to learn more about towing and rental vehicles. This guide answers the most common questions about towing with rental vehicles so you can determine if towing with a rental may be an option for you.
Do Rental Vehicles Have Hitches?
Many rental vehicles have hitches, though each company has its own policies and equipment. Depending on what rental service you choose, the options will vary regarding which vehicles have hitches and are appropriate for towing.
Most rental companies will install their own tow bar and package if they approve the vehicle for towing. Vehicles like vans, SUVs and trucks are more likely to be approved for towing and equipped with a hitch. In most cases, you can request a vehicle with a hitch and may have to pay an additional fee to use the rental vehicle to tow. Some companies may not have any vehicles equipped with hitches, though they may be willing to install one upon request.
If you rent a vehicle without a hitch and later decide you need one, be sure to contact the rental company rather than install your own hitch. Most rental companies are specific about which vehicles can tow and what hitches you can use.
Can I Tow With a Rental Vehicle?
Many rental vehicles can be equipped with hitches intended for towing heavy-duty trailers. Some rental companies are strict about what they will allow you to tow and which vehicles you can use for towing. Depending on the trailer and vehicle, rental companies may deny towing for safety reasons.
Some rental companies may offer trailers and towing accessories to rent. When considering your options, contact the company customer service representative to discuss towing capabilities and regulations before you choose a rental. Communicating your needs ahead of time helps the rental company put you in a vehicle that will best meet your traveling and towing needs.
Before making the call to the rental company, consider what your vehicle and trailer needs are:
How far are you going to be traveling?
What do you want to pull?
What kind of equipment will you need?
What size vehicle do you need?
How much are you willing to spend on a rental?
The answers to these questions can determine what kind of vehicle will be appropriate for your needs and help the rental company find a suitable vehicle and equip it properly to pull the trailer suited for your purposes.
What Happens If You Tow With a Rental?
If you plan to tow with a rental vehicle, you'll need to consider a few different things. First, work with your rental company to rent an appropriate vehicle for towing. Ensure you understand and follow the rental regulations and have the proper towing equipment. If you use a rental vehicle to tow without the rental company's approval, you may face legal repercussions.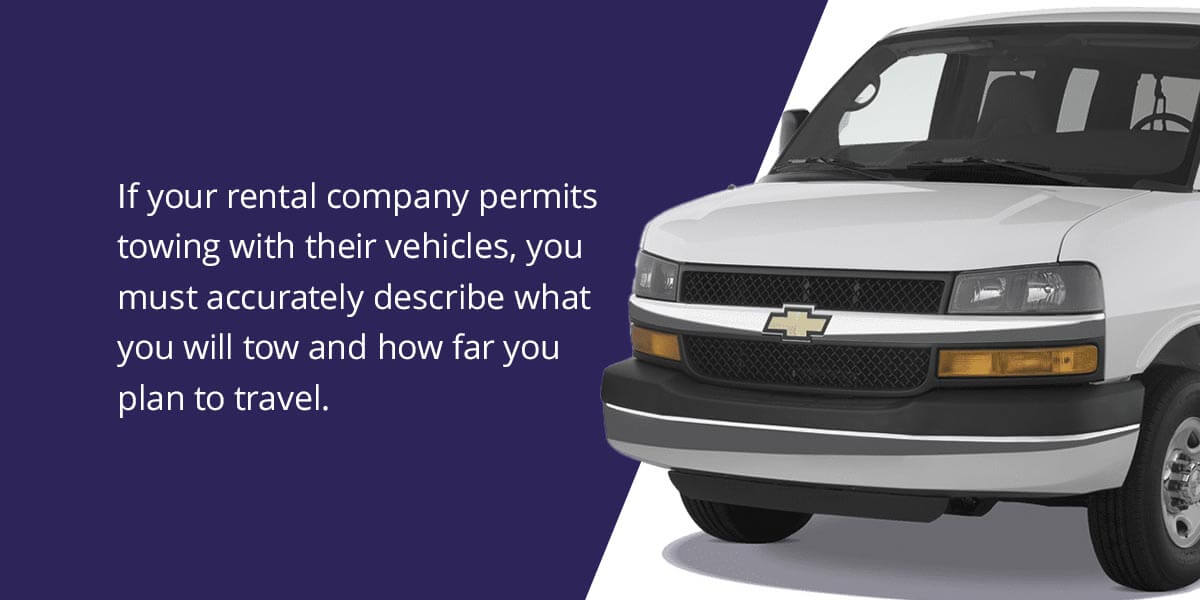 If your rental company permits towing with their vehicles, you must accurately describe what you will tow and how far you plan to travel. Every vehicle and hitch together have a suggested maximum weight they can safely tow. Accurate descriptions of what you're towing are crucial to ensuring you rent a vehicle with a hitch that can safely tow the weight of your trailer and belongings. Using the wrong vehicle or hitch could damage the vehicle or your trailer, resulting in heavy fees and legal consequences.
What Optional Services Are Available When You Rent a Vehicle?
Depending on the rental company, many different services may be available with your rental. Some vehicle rental companies simply do not allow towing with their vehicles. However, other companies may allow towing under certain circumstances, like the type of vehicle, vehicle's weight, available hitches and towing accessories. In most cases, the vehicle rental company is responsible for installing the tow bar and other equipment.
As for optional services, some companies offer towing packages you can purchase when renting your vehicle. You may also be able to have seats removed, add drivers to the rental agreement, get roadside assistance and more, depending on the company.
It's always best to work closely with your rental company. Determine what you need, and work together from there. When you need a vehicle with lots of passenger space and hauling capabilities, a van is a sensible and versatile option. With heavy-duty towing and payload capacity, vans are built to meet the needs of big families and groups of friends.
Tips for Picking the Right Rental Van
When choosing the right rental van to take out onto the open road, do your research beforehand. If you have a preferred rental company, start there and ask what their towing capabilities, policies and fees are. If they don't offer towing packages or they don't have a van that meets your needs, check with other rental companies. Compare prices, packages, optional services and vehicle choices to determine the best company to rent your van from.
When looking at specific vans, consider how many travelers you are taking on the journey and make sure you have the right insurance. You'll also want to know some details about the van you want to rent and what you want to use it for. If you plan on towing, work with your rental company to find the best options for you. Ask questions about your choices and read and understand your rental agreements.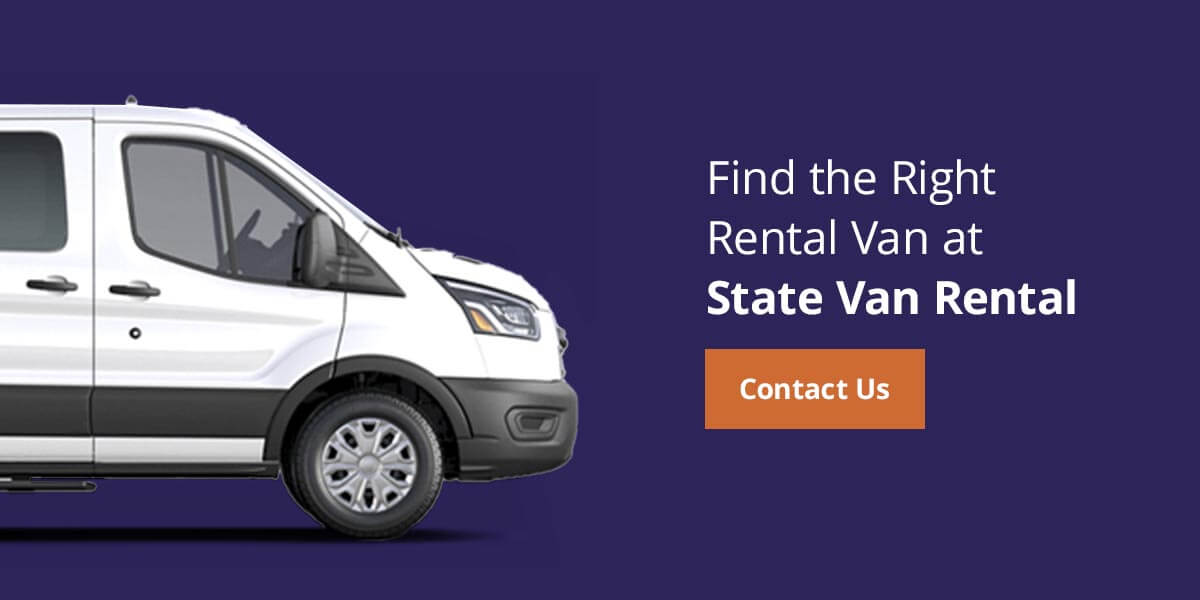 Find the Right Rental Van at State Van Rental
Some standard rental companies may not offer the right rental van for towing. Consider working with a rental company like State Van Rental. We specialize in van rentals and offer various sizes ranging from eight-passenger vans to full-size vans. With our optional towing packages, we'll ensure you're fully equipped to tow with our vehicles. To learn more about our vehicle options and towing with our vans, contact our team or visit our offices in Los Angeles or Las Vegas.