Traveling can be chaotic, but it can also be relaxing and fun. Part of the fun is enjoying the journey, which can be difficult to do if you constantly worry you forgot to do or bring something. The best way to avoid worrying is by being prepared.
Many people organize trips by creating schedules and packing lists, and traveling with a sports group is no different. You are not alone if you are wondering how to plan a sports trip or travel with a team. Whether you are the coach, assistant coach or someone in charge, this checklist and these top tips for traveling for sports will help your trip go smoothly.
Reasons Players May Travel for Sports
Away games are the most common reasons players travel for sports, but it isn't the only reason. You could travel for team-building retreats, training, community service or competitions. Whatever your reason for traveling is, there are many benefits to traveling together as a team, including:
Increased bonds: Traveling together strengthens old bonds and creates new ones. The team will connect as they journey together, and these connections will benefit them throughout the season. Coaches can get to know their athletes away from the pressures of school and home, allowing them to form personal connections with the team members.
Reduced stress: Athletes often stick to a rigid schedule. They must balance practices, tournaments, games, home and work or school. Traveling for a game as a team gives everyone a much-needed breather. It allows the athletes to have a vacation of sorts before returning to their everyday life.
Character growth: Playing sports builds character, and the team will face challenges together, whether from games, community service, team-building or training. They can help each other learn and grow to overcome difficulties.
Tips to Prepare for Sports Travel
Group trip planning can be hectic. You must keep the team motivated and excited while finalizing all the last-minute details. Trying to keep everything organized can be challenging, especially when a team generally consists of 15 athletes or more.
These tips for traveling for sports will help keep you and your team organized. Following them gives you a clear idea of everything you might need to do before the trip, allowing you to have a smooth journey and preventing stress or anxiety about forgetting something.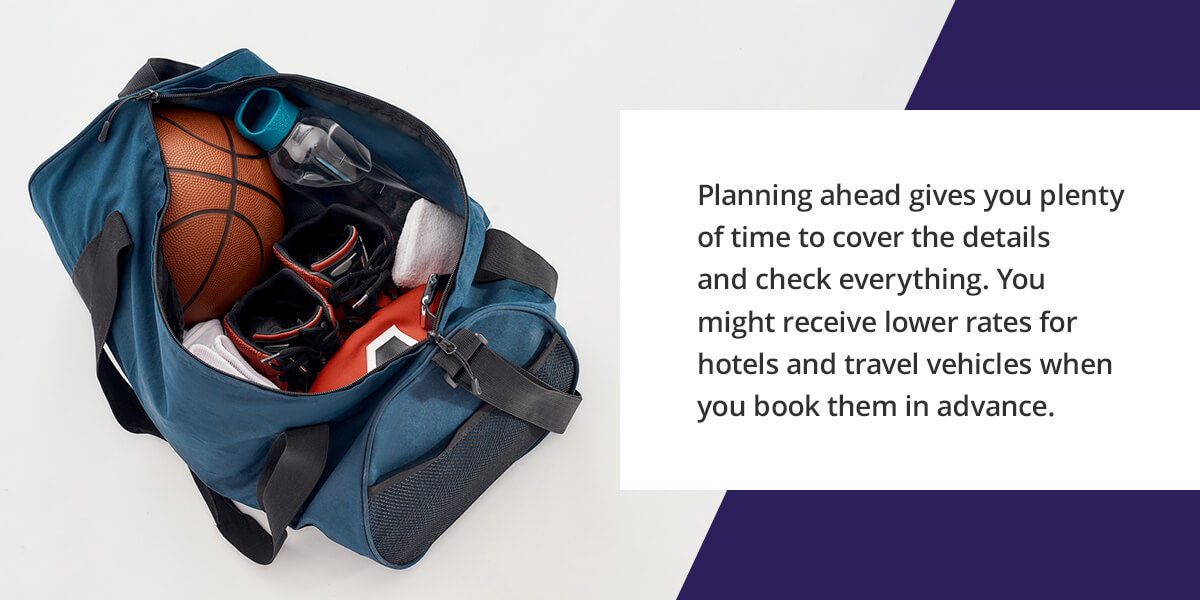 1. Start Planning Early
One of the first goals of your travel plan should be to start planning early. How early you start planning depends on how long the trip is, how many stops, how many games and other similar factors. There is no such thing as planning too early for a trip.
Generally, planning three to four months in advance is good practice. Planning ahead gives you plenty of time to cover the details and check everything. You might receive lower rates for hotels and travel vehicles when you book them in advance.
2. Build Excitement
Part of pre-trip planning is building excitement about the trip. When your team looks forward to the trip, they will be excited about the upcoming competition, and everyone will have a more enjoyable experience. When players return happy to tell others about the trip, it creates excitement for future trips and can increase participation.
You can build excitement for the trip in a few ways. The easiest one is to set up communication and social channels for the participants — and their parents, if you have student-athletes. Create a separate channel for each group or one for everyone to share. A good platform for this is Facebook.
Most people have a Facebook account, and it is easy to create a private group. You can invite people to the group once they have registered for the trip and paid their deposit. On the group page, you can post destination pictures, information about the other teams, itinerary ideas or anything related to the trip.
3. Collect Payments
Collecting payments might be the most crucial aspect when organizing a trip. It lets you know how things are financially. If you don't have enough funds for the trip, your group can do fundraisers.
You can send players home with payment reminders, but an automated platform for collecting fees could be more efficient. A computerized platform can send automatic reminders to your team and collect the payments electronically.
4. Create a Driver List
It's essential to have a driver for your vehicle. By creating a list of potential drivers, you can choose a primary driver and a backup one. If you have a student team, remember that the driver should be a non-student employee. Depending on your vehicle type, your driver may need a special driver's license.
5. Create an Emergency Contact List
Accidents can happen at any time. Part of preparing for them is gathering all participants' current emergency contact information. You can give a contact information sheet to each athlete and have them or their parents or guardians sign it. Once they return the form, you can compile the information into an emergency contact list. Copy the emergency contact list and keep one in the travel vehicle and the other on hand.
6. Prepare and Send Documentation
You must send documents to your athletes before the tour. If you have a student team, send these to students' families and school stakeholders as well. Documents include itineraries, emergency plans, packing lists, waivers and dossiers.
Get copies of travel visas and complete indemnity and travel insurance forms when necessary. Completing this documentation ensures you are ready for traveling. It is easiest to keep track of all the documentation when it's in the same place. You should store accommodation, transport, hosting teams and other valuable trip information in one location.
7. Solicit Feedback
Getting feedback from the team before the trip ends is essential. Your group will have insight that can help you streamline the planning process or add items to the itinerary that everyone would enjoy. You can ask them for general feedback about the trip overall or more specific feedback.
You can hold a meeting, ask for feedback on the road or stop for lunch. If it's impossible to obtain the feedback before you return home, get it at the next practice. You will receive more valuable feedback when the trip is fresh in the athletes' minds.
Checklist for Traveling With a Sports Team
Having a checklist you can refer to as you plan the trip ensures you don't miss any details. You can review the list before departure to see if you've forgotten anything and relieve any last-minute anxieties.
1. Choose the Right Hotel
When choosing a hotel, you want it to have all the amenities you and your team desire to make your stay comfortable. It is a good idea to ask your group what amenities they want. You can compare hotels based on your budget and their location and amenities.
Once you have a hotel in mind, be strategic about room locations. It is best to keep your group together. Your group may be noisy when conversing or traveling the hallways, so keeping them together is one way to be considerate of the other guests. Some hotels offer group blocking, meaning you can block off a section of rooms for your team.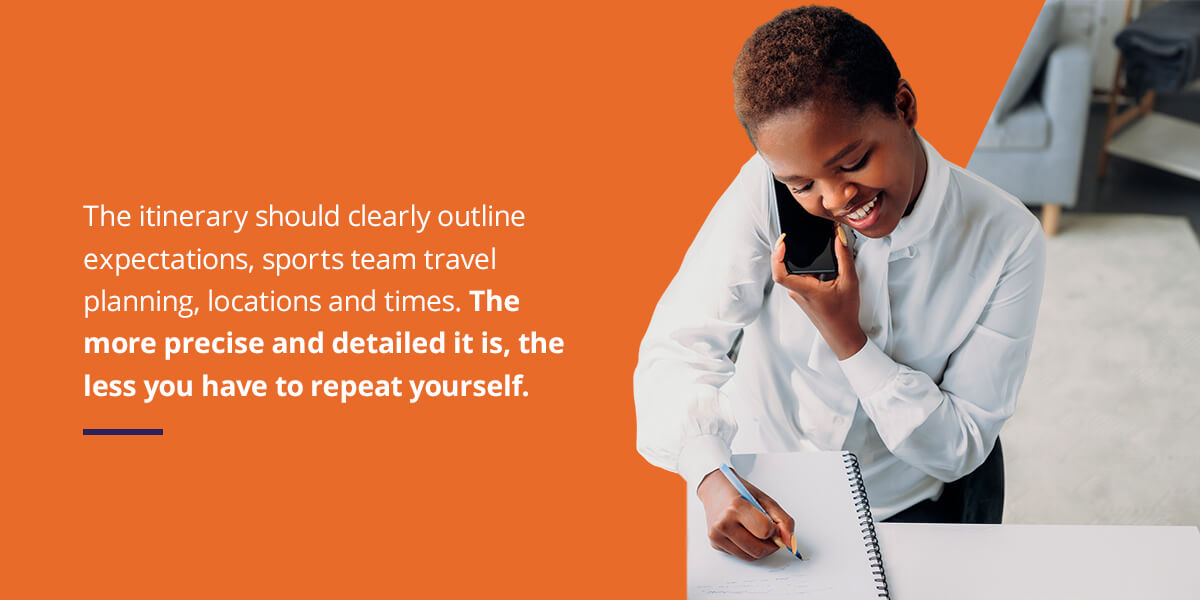 2. Create an Itinerary
Make an itinerary that is available online and offline. You can create a PDF or other file to share with the team by printing it to hand out in person or sending via email or another online platform. This allows everyone to access the itinerary at any time.
The itinerary should clearly outline expectations, sports team travel planning, locations and times. The more precise and detailed it is, the less you have to repeat yourself. Try to keep certain activities the same every day to avoid confusion. For instance, keep mealtimes the same. It can also be helpful to color-code the schedule. For example, meals can be blue blocks, and practices can be yellow.
3. Distribute a Packing List
A sports team needs a lot of things. The team members may overlook a necessity when packing. By creating a sports tour packing list for the group, you can include the essential items you don't want them to forget. Create a separate checklist for the person in charge of handling emergencies.
You also need a checklist for items related to the team, such as water coolers and sweat towels. Before you leave, you can review the checklist with your team and have them check their bags to ensure they have everything on the list. You could also check their bags yourself or have them pair up with a buddy and check each other's bags.
4. Plan for Food
In your budgeting, you have to plan for meals. Know where the team will eat and how you will pay for it. Whether you eat at restaurants or the hotel café, bring your own food or encourage them to order room service, having a basic meal plan will help you and your athletes budget for them. They can bring their own money, or you can use the trip money to cover the meals.
It's also a good idea to keep snacks in your travel vehicle. The athletes may bring their own, but keeping snacks in the vehicle ensures everyone can access them. You can provide nutritious snacks to prevent hunger and increase energy while on the road.
5. Prepare for Emergencies
Though you can't fully prepare for an emergency, it's best to have protocols in place if something happens. Ensure you have a first aid kit in the travel vehicle and know where the local hospital is. Another suggestion is to find a sports therapy center near your destination. An injured athlete may need professional joint and pain relief.
Since you are in charge of so many things, you may want to place an assistant or someone else in charge of handling emergencies. If something happens, the person in charge of emergencies must get athletes to the emergency room. Someone other than yourself could stay with the athlete and update you on their status. This person can ensure team members have their medical insurance information with them.
Having a system in place keeps things from becoming chaotic during emergencies. When you have a designated go-to person, it prevents too many people from trying to get involved or figure things out. Instead, the person in charge takes action and follows a plan that keeps everything organized.
6. Debrief Your Team
Debrief your team before the trip and during it. Ensure you keep your group updated about meal locations and any changes to the schedule. Debriefing everyone before and after a scheduled event is a good idea. For instance, when the team gathers for breakfast, you can review the day's itinerary with them. Throughout the day, remind them about what comes next. This keeps everyone on the same page and prevents confusion.
Gathering your team after events also helps keep everyone together. You can ensure the entire group is with you before moving on to the next item on your schedule.
7. Be Efficient
When traveling for sports, you might need to bring many items to your events, like a tent. A tent can give your team a place to cool off during practice or games or avoid wind and rain. However, having numerous bulky items to carry around can slow you and your team down unless you are efficient. Consider using wagons to wheel around coolers, tents and large items.
8. Make Time for Relaxation
Making time for relaxation helps you honor your team's needs. Nutrition, rest, sleep and warm-ups are crucial when traveling for sports. You don't want your athletes to experience burnout, so make time for relaxation during the trip. It can't all be about games and practices. Plan rest days and sightseeing or fun days.
Sightseeing creates valuable memories your team can take home with them. It makes your trip more memorable and enjoyable and prevents your athletes from feeling overworked. They will have something to look forward to that will take their minds off the game, and their happiness and performance will increase. Even if they don't win, they will have a good time on the trip and want to return the following year.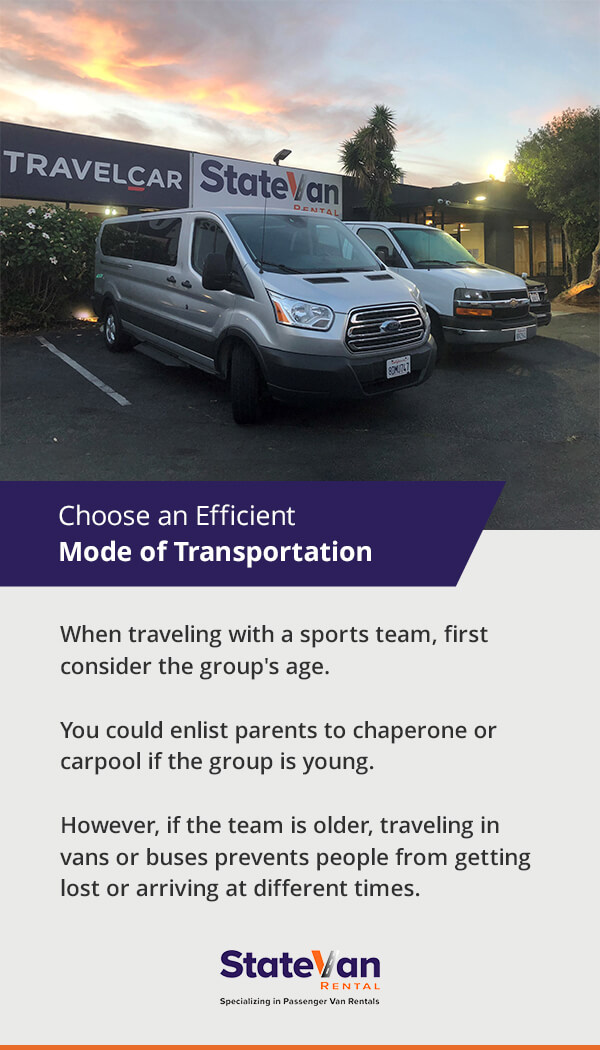 9. Choose an Efficient Mode of Transportation
One of the biggest questions when traveling is how you will reach your destination. When traveling with a sports team, first consider the group's age. You could enlist parents to chaperone or carpool if the group is young. However, if the team is older, traveling in vans or buses prevents people from getting lost or arriving at different times.
As with the hotel, you should reserve transportation three to four months in advance. If you are traveling for a game, other sports groups are as well. Reserving transportation in advance helps you beat the competition and get what you want.

Learn What Size Vans Are Right for You
With so many options available, deciding which travel van is right for you can seem daunting. Many types and sizes of vans are available, but we can help you choose the one that best fits your needs.
Look no further if you are looking for a van rental service in Las Vegas, Nevada, or Los Angeles, California. State Van Rental has vans of various sizes and offers additional products and services such as GPS navigation. We provide vans for large groups so you can all get there together. You can pick up your van at one location and return it to another. Schedule a van rental online for your next sports trip.